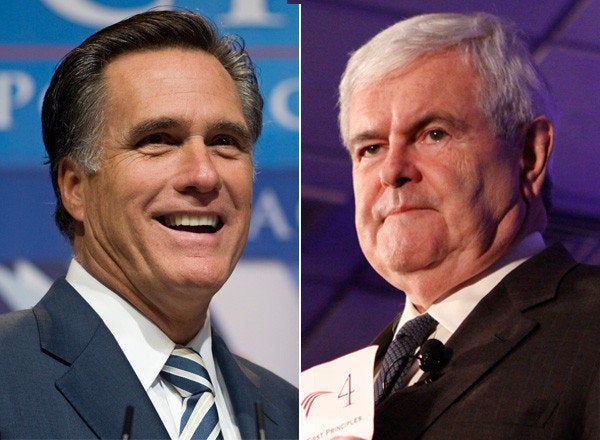 NEW YORK -- The first sustained attacks against presumptive Republican presidential nominee Mitt Romney over his tenure at the helm of Bain Capital took place in mid-January, during the heated days leading up to the South Carolina primary.
It was in that time period that former House Speaker Newt Gingrich began amplifying charges he first made just before the New Hampshire contest, when he referred to private equity as a bunch of "rich people figuring out clever legal ways to loot a company." Texas Governor Rick Perry joined him days later, declaring that Romney's only concern about pink slips was "whether he was going to have enough of them to hand out." A super PAC allied with Gingrich soon jumped into the fray, airing ads in the Palmetto State attacking Romney on the same lines.
Behind the scenes, however, Democrats were taking notes. And the data they gathered and lessons they drew from the days when Bain Capital was at the epicenter of the campaign are now proving useful as the general election ramps up.
Priorities USA Action, the super PAC aligned with President Barack Obama, was paying particularly close attention. The group hired a pollster to gauge how voters in South Carolina were reacting to the Bain attacks. The results were illuminating.
"South Carolina was the only real test of Bain in that Gingrich sort of wimped out on it afterwards. And even in South Carolina, he didn't do it particularly well," said Geoff Garin, the prominent Democratic pollster who did the work for Priorities USA Action.
"The fundamental issues that Bain raises in terms of Romney's values as a businessperson and being all about returning money to investors, as opposed to creating jobs, turned out to be very powerful to even working-class Republicans. And for blue-collar whites in South Carolina, over half said that the substance of the Bain critique gave them major doubts about Romney."
Bill Burton, a founder and senior strategist at Priorities USA Action, shared a bit of the polling data from that study. When read a description of Romney's work as CEO of Bain Capital, 53 percent of the 511 likely Republican primary voters polled expressed major doubts about supporting him in the primary. (Burton didn't share the text of the description provided to voters.) The results were likely colored by Romney's already tepid support in the state. The description of his Bain years, then, reaffirmed rather than created skepticism over his candidacy.
But the data still stood out as politically lucrative, not least of all because Priorities USA Action conducted the survey before the Gingrich-allied super PAC had even begun airing its ads.
"We had a recognition even then that this would be an important topic for us and we wanted to understand how it all played out with voters," said Garin.
Four months later, Priorities USA Action is up with its own ad targeting Romney's work at Bain. The spot echoes an ad the Obama campaign is airing that attacks Romney on the same grounds. Both ads have led to criticism from both the usual suspects -- business and finance groups and Republicans -- and some traditional allies, like Wall Street-backed Democrats.
But while the president's reelection team has been sensitive to the criticism, affirming again and again that it is not attacking private equity itself, there is virtually no chance that it or the super PAC will drop the topic like Gingrich did. As one Democratic operative who consults with the campaign noted, the current ads are just the first step in an multi-layered effort to tie Romney's work at Bain to his tenure as governor of Massachusetts -- and, from there, his platform for the White House.
"The one place there has been a real road test of this in 2012 suggests that the voters, particularly working class voters, find all of this relevant, material and telling," said Garin. "Remember how the first ad ends: [it says] 'He is going to give America exactly what he gave us, which is nothing.' There is a real link to be drawn, and we will be doing that."
REAL LIFE. REAL NEWS. REAL VOICES.
Help us tell more of the stories that matter from voices that too often remain unheard.
BEFORE YOU GO