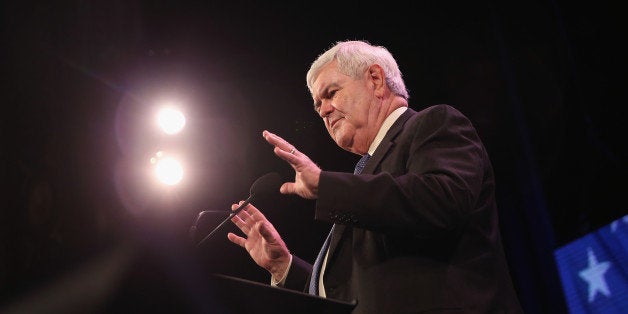 WASHINGTON -- Former House Speaker Newt Gingrich on Wednesday morning called for doubling the budget of the National Institutes of Health, writing favorably in the pages of The New York Times about the chief federal spigot for science research.
"House and Senate negotiators are at work on a budget resolution for the fiscal year that starts on Oct. 1, and the N.I.H. should be a priority," Gingrich wrote. "Doubling the institutes' budget once again would be a change on the right scale, although that increase should be accompanied by reforms to make the N.I.H. less bureaucratic, to give the director more flexibility to focus resources on the most common and expensive health problems, and to place a stronger emphasis on truly breakthrough research."
Of all Republicans to make the case for doubling investment in the NIH, Gingrich ranks among the more likely candidates. The former speaker is a self-described man of science, prone to taking positions heterodoxical to those of his party. He also was there the last time the NIH's budget was doubled: the much-ballyhooed years at the end of Bill Clinton's presidency (though he was gone by the time that doubling was completed at the beginning of George W. Bush's first term). And he played a critical role in sparing the NIH from the GOP budget axe when they took over the House in 1994.
He cast a good light on those days at the beginning of his op-ed and made the case to duplicate them, which isn't news in itself. But it's the broader movement within which his op-ed was published that's increasingly remarkable.
The above tweets are from more traditional advocates of federal investments in science research. But other Republicans have also begun making the case for devoting money to the NIH, which is currently operating on a budget of roughly $31 billion but is threatened with cuts at the end of this September. Former Majority Leader Eric Cantor (R-Va.) told The Huffington Post a few weeks ago he believed Republicans should spend more on the NIH and not feel guilty if they don't offset it with spending cuts elsewhere.
Meanwhile, on the pseudo-campaign trail, former Florida Gov. Jeb Bush (R) -- whose entire modus operandi right now is to show off his fiscal conservative bona fides -- made the case for more federal spending on science research. And in Congress, two tea party members recently stunned a room full of science advocates by saying they would love to see the NIH's budget increased -- and in one case, would be fine if that increase wasn't paid for.
For all the pro-spending vibes, however, the mood within the science research community could be described, most generously, as cautiously optimistic. Republicans control both chambers of Congress, and their budgets include such dramatic reductions in discretionary spending that, absent some other agencies taking huge cuts, the NIH won't see much more money next fiscal year. President Barack Obama can change that with a tough negotiating line -- which he has pledged to take -- but that likely would yield only a modest uptick in funding.
The best hope for a major investment likely would come from outside the budget process. And there are a few pieces of stand-alone legislation that seem promising to the advocacy community. But the same obstacles remain. More Republicans are speaking out in favor of NIH funding, but the clear majority of them will demand that it be offset with cuts elsewhere. And that, in turn, doesn't leave much room for operating.
"I don't think anybody is concerned about increasing NIH funding," Rep. Raul Labrador (R-Idaho), a prominent conservative member, said Wednesday morning at a monthly event called Conversations with Conservatives. "I think whatever we do to increase NIH funding has to be offset with cuts somewhere. I think any kind of NIH funding is important funding. I just don't buy the argument that government spending actually creates growth. If [it] created growth, we wouldn't have had the recession that we just had. So I guess somebody needs to go back to Economics 101. I guess even Nobel Prize winners make this argument, and it's been refuted again and again and again."
Elise Foley contributed reporting.
Calling all HuffPost superfans!
Sign up for membership to become a founding member and help shape HuffPost's next chapter
BEFORE YOU GO
PHOTO GALLERY
Newt's Vision For Life On The Moon