How is a twice-divorced serial cheater whose ex-wife has accused him of wanting an "open marriage" also able to tout his credentials as a devout Christian and remain in good standing with his family-oriented Catholic Church? And in the Palmetto State, where 60 percent of voters are expected to be evangelical Protestants, does it matter?
Political observers and religious Americans are asking such questions after Thursday night's television interview with Newt Gingrich's ex-wife shed details on the failed marriage that the former speaker of the House left for his now-wife Callista Gingrich.
But it's unclear how much damage -- if any -- Gingrich's personal faults will do to his campaign.
"On the issue of him cheating on wife one with wife two, and on wife two with wife three, and the hypocrisy that comes along with Gingrich being a key figure in the Bill Clinton impeachment process, it's not going to be lost on many evangelicals, who do care about sexual morality," said Laura Olsen, a political science professor at Clemson University in South Carolina.
"But a big part of evangelical theology is that we are a fallen humanity and we are never going to live up to perfect ideal. ... It's more of a question of saying 'I have made a mistake, I acknowledge that mistake and I need to turn to God,'" Olsen said.
Roman Catholics such as Gingrich -- he converted to the religion of his wife in 2010 and has fashioned himself as a Christian fighting an increasingly secular world -- differ substantially from evangelical Protestants in several ways, from their belief that bread and wine transform into the body and blood of Christ during Mass to the role of the pope and priesthood.
But when it comes to forgiveness, there are similarities. While Catholics confess their sins to priests in order to be absolved, they are also encouraged to pray and confess in private to God, as is common among evangelicals, who tend to identify with an experience of personal conversion, a strong personal relationship with God and a need to spread the gospel. Both strains of Christianity uphold the varied interpretations of the original sin, the idea that either humans or humanity lost innocence after the fall of Adam and Eve.
In the Roman Catholic Church, where civil divorces aren't recognized, Gingrich also has needed to convince authorities that his previous marriages were not valid marriages.
Church records on annulments are kept confidential and Gingrich's current priest, Msgr. Walter Rossi of the Basilica of the National Shrine of the Immaculate Conception in Washington, D.C., declined to talk specifics about his parishioner. Experts in canon law, the internal rules of the church, say it's unlikely that a twice-divorced and twice-remarried man could join a Catholic church without his previous marriages being annulled.
It's unclear why Gingrich's first marriage would be annulled. He asked for his marriage to Marianne Gingrich to be annulled because she had previously been married. Even though they were married by a Lutheran priest, the wedding wouldn't count by Catholic standards unless Marianne Gingrich had annulled her prior marriage, according to Catholic marriage experts.
Infidelity is not typically an accepted reason for annulment. Still, "if the person had the intention that there would be an open marriage from the beginning, we could have some questions about the fidelity of the marriage," said Msgr. Thomas Green, a canon lawyer at the Catholic University of America in Washington, D.C. Other reasons for the church to declare a marriage null are when the "persons entering into a Catholic marriage chose to exclude children from the marriage," as the church promotes child rearing, or if the couple "did not understand the full implications of a long-term marriage," said Green.
Gingrich -- who bristled during a South Carolina debate on Thursday when asked about his second wife's "open marriage" claims -- has nonetheless appealed to religious conservatives at smaller campaign stops by expressing regret. At an event in Iowa, he said that his current marriage "has required a great deal of pain ... which I regret deeply, all of those required having to go to God to seek both reconciliation."
It may help that the divorce rate among evangelicals is nearly as high as among the broad population, according to studies, though it remains to be seen if women, who were less prone than men to vote for Gingrich in Iowa caucuses, will surge against him in South Carolina after more revelations about his past marriage.
"People who put moral conservatism at the top of their personal agenda will be very troubled by his infidelities," Clemson's Olsen said. "But there is no actual true bona fide evangelical in the race anymore. Evangelicals who are in the majority here will have to say, 'I have to support somebody who isn't the same as me.'"
Richard Land, president of the Ethics and Religious Liberty Commission of the Southern Baptist Convention, the largest denomination in South Carolina, said Gingrich may be forgiven. "There are a number of evangelicals who will give him a second chance. We're a redemptive people, but one has to claim that redemption," said Land .
In a recent article in World Magazine, editor-in-chief Marvin Olasky, an evangelical who was an unofficial Gingrich adviser in the 1990s, said he had mixed views on Gingrich, but remained hopeful.
"Even the apostle Paul wrote about his own ongoing struggle with sin," Olasky wrote. "This means that we cannot choose sinless political leaders -- they don't exist."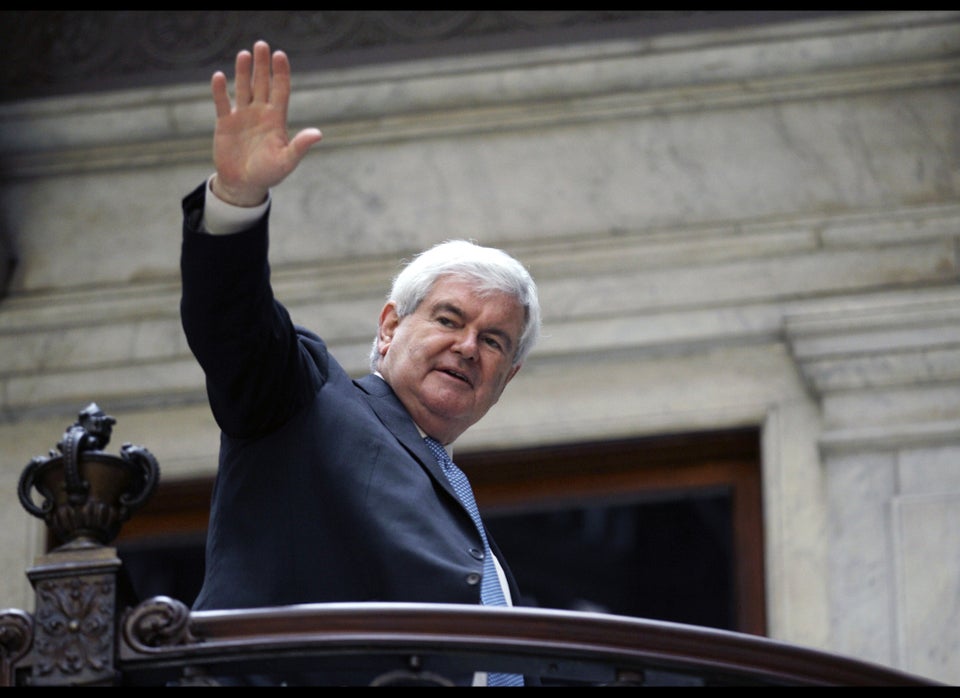 Newt Gingrich 2012
Popular in the Community