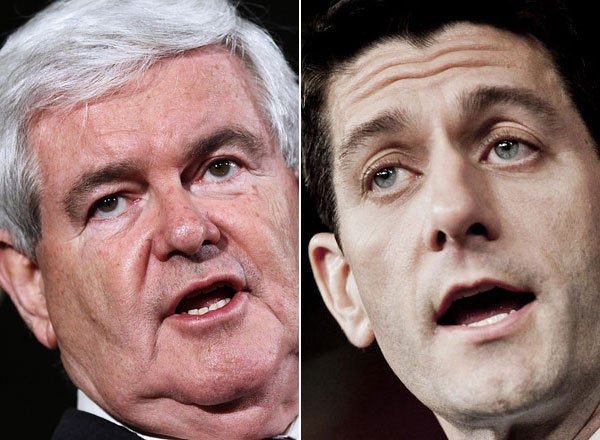 In a Tuesday interview on Fox News Radio's Kilmeade & Friends, Newt Gingrich bestowed praise toward fellow Republican Paul Ryan's budget plan.
"I think what Ryan is doing is courageous," Gingrich said. "He's essentially right and the gap between him and Barack Obama is all that you need to know about why you want to beat Obama. I mean Paul Ryan represents a serious adult effort to get back to a balanced budget and save our children and grandchildren from drowning in debt."
The Ryan-led Republican budget blueprint was released on Tuesday. It includes a controversial approach to overhauling Medicare. According to the AP, Americans under age 55 would experience a switch from a "fee for service" setup (where the government pays for doctor/hospital care) to a "premium support" plan (where the government subsidizes health insurance).
Back on May 15, 2011, Gingrich's stance offered a stark contrast. He was critical of Ryan's Medicare plan, casting the cuts as "too big a jump" for the American people. He added that the "radical" change would contribute to "right-wing social engineering".
"The fact is that I have supported what Ryan's trying to do on the budget … the budget vote is one that I am happy to say I would have voted for, I will defend, and I will answer any Democrat who attempts to distort what I said," he told Fox News.
Democrats ended up going forward with Gingrich's words, launching a website called "Thanks Newt" to commend the former House Speaker's "radical" viewpoint. One week after Gingrich's initial comments, Ryan appeared on NBC's Meet The Press, calling the characterization "deeply inaccurate." But he added that "we've got to get beyond this," citing fiscal problems that need to be tackled.
Popular in the Community