WASHINGTON -- Four new national polls show Newt Gingrich edging ahead of Mitt Romney as the first choice among Republicans for their presidential nominee in 2012. Although Gingrich is now the third candidate since the summer to lead in national polling, these surveys suggest that his rise may be rooted in something substantial: a perception that the former speaker of the House is the Republican most knowledgeable and qualified to serve as president.
The four new polls from CNN/ORC International, Quinnipiac University, USA Today and Gallup, and Fox News, all conducted over both landline and mobile phones, have Gingrich leading Romney by margins of between 1 and 4 percentage points (with both candidates winning support in the mid to low 20 percent range). Although none of these margins is large enough to constitute statistical significance on any individual poll, the consistency of the results suggests that Gingrich now holds a slight lead.
As illustrated by the HuffPost Pollster chart (below), which is based on all available national polls, Gingrich's support has grown rapidly, from roughly 4 percent in September to 23 percent in mid-November.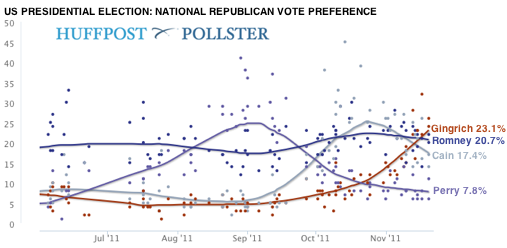 The surveys have also been consistent about the kinds of voters gravitating to Gingrich. His support "skews way old," as Gallup's Frank Newport puts it, and is greater among self-described conservatives and Tea Party supporters. Both the Gallup and Quinnipiac polls show Gingrich with roughly twice as much support among conservative Republicans as among moderate and liberal Republicans. And Gallup shows him winning 34 percent of the vote from Republicans over age 65, but just 4 percent among Republicans between the ages of 18 and 29.
The Quinnipiac poll includes a hypothetical question that reveals Gingrich's support could rise much further if other Republican candidates exited the race. When GOP voters are asked to choose between just Gingrich and Romney, Gingrich leads by 10 points (49 to 39 percent). The ideological divide among Republicans also holds true: Conservatives support Gingrich in a Romney match-up by 21 points (56 to 35 percent), while moderates back Romney by nearly the same margin (53 to 33 percent).
The most striking thing about the new polls, however, is the way Gingrich has come to dominate questions of knowledge and experience. On the CNN/ORC poll, for example, he leads by a wide margin (43 percent to 18 percent for Romney) as the candidate "most likely to understand complex issues." He does very well (leading Romney 36 to 20 percent) as the candidate "most qualified to be Commander-in-Chief."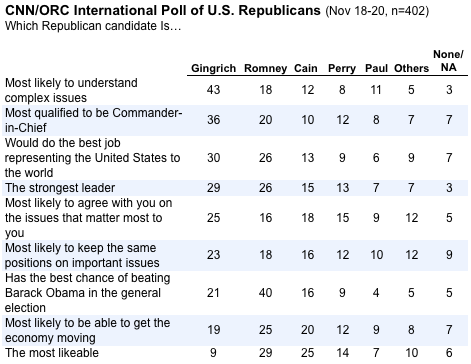 At the same time, these surveys highlight the Gingrich qualities that give Republicans pause. Only 9 percent choose Gingrich as the "most likable" candidate (to 29 percent for Romney). They give Romney a huge (40 to 21 percent) advantage over Gingrich as the candidate most likely to beat Obama, and Romney runs slightly ahead as the candidate most able "to get the economy moving" (25 to 19 percent).
The Quinnipiac poll helps complete the picture. While showing Gingrich with a huge lead over Romney (48 to 22 percent) and the rest of the field on "having the knowledge and experience necessary to be a good president," Quinnipiac's results also illustrate what may ultimately be his Achilles' heel: Only 9 percent say Gingrich is best described as "having a strong moral character."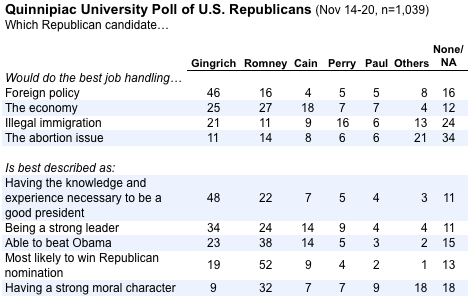 The Republican primary is far from over, of course. The CNN/ORC survey reports that only 27 percent of Republicans have found a candidate they will definitely support, while 67 percent say they may still change their minds. But with the Iowa caucuses now just six weeks away, Republicans appear to have more clarity about the choice before them: a highly experienced, knowledgeable candidate who carries some significant personal baggage or a less reliably conservative choice with a better shot at beating President Obama.

Popular in the Community