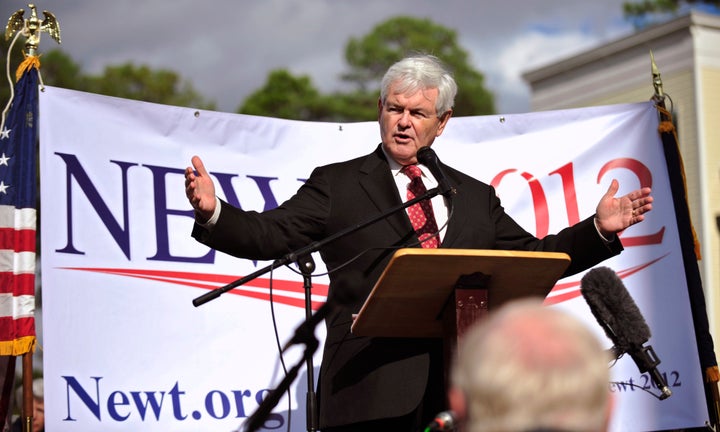 WASHINGTON -- Even as he becomes the latest Republican presidential aspirant to revel in anti-Mitt Romney grandeur, former House Speaker Newt Gingrich faces a real trust deficit. Not among voters. But among fellow politicians.
During a lengthy and tumultuous history in Washington D.C., Gingrich has lost nearly as many allies as he made. The 1994 Republican class that was elected on his coattails largely turned on him over his handling of policy and political affairs (even joining a coup to oust him from the speakership). The remaining members still largely respect his instincts. But they, like many top-ranking members of the political class, aren't exactly rushing to offer support.
A Huffington Post tally of endorsements from governors, senators and members of the House of Representatives shows that Gingrich enjoys the backing of just eight lawmakers. Romney has 46 endorsements; Texas Governor Rick Perry has 13. (Far fewer endorsements have been made across the board than they had been at this point in previous election cycles.) On Thursday, Roll Call ran a story about one of Romney's endorsers -– Sen. John Thune (R-S.D.) -– titled "Thune's Choice a Sign of Worry over Gingrich."
This isn't necessarily a bad thing for Gingrich. It's easier to proclaim that you are anti-Washington when those in Washington don't like you.
But endorsements do serve a practical electoral purpose: they provide candidates with surrogates to help disseminate a message and persuade voters. And for Gingrich, the problem is not just that he isn't winning the backing of his fellow pols. It's that some of those fellow pols have, in the past, been willing to rip him publicly.
In his book "Breach of Trust," Sen. Tom Coburn (R-Okla.), who was part of that '94 congressional class, went after various members of GOP leadership he worked with while a member of the House. He saved some choice nuggets for the one-time Speaker. Discussing Gingrich's push to increase committee spending limits even after having cut them two years prior, Coburn wrote: "The Republican 'team' [under Gingrich] was no longer being held together by principles but by careerism and the desire for power for its own sake."
"Gingrich's vitriolic response to us bringing down the rule for the bill confirmed to us that he was willing to trade our principles for a short term political advantage," he added.
Moving on to the pork-laden 1998 highway bill, Coburn lashed out not only at those members of Congress who requested the pork but also at Gingrich for shepherding the bill to a vote.
"What shocked us was the fact that Gingrich, who was supposed to be the torchbearer for fiscal responsibility, let this budget-busting amendment come to the floor for a vote when he had to know it had a chance of passing. This was yet another event that led us to contemplate his removal [as Speaker]."
And then there were the general swipes that Coburn took at Gingrich's personality and management style.
"Gingrich would receive our input, but he rarely took it seriously," he wrote. "He usually made us feel as if we didn't have much value because we didn't know anything about the political game in Washington."
The Gingrich campaign did not return a request for comment. The Huffington Post's Mike McAuliff did track down Coburn in the halls of Congress on Wednesday to ask him about those choice words. While the Oklahoma Republican has been willing to criticize Gingrich more recently, on Wednesday, he chose to keep mum.
"I don't have any comments on Newt Gingrich," he said. "We need to comment on what's getting ready to happen to our country. I'm not paying attention to the presidential race [right now]."
Popular in the Community