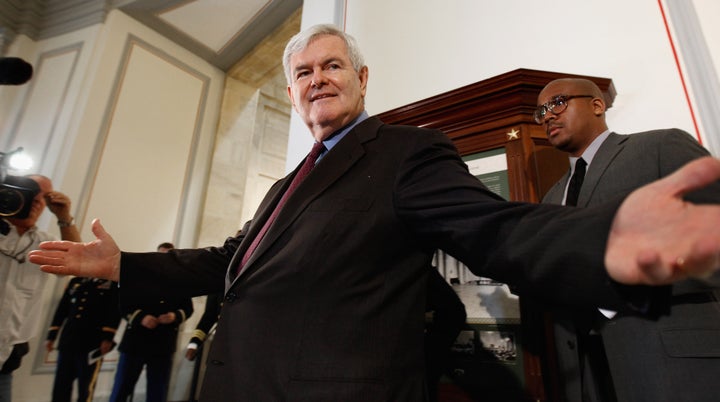 WASHINGTON -- Democrats enjoyed hearing GOP presidential hopeful Newt Gingrich rip the budget plan of fellow Republican Paul Ryan (Wis.) on Sunday so much that they're now launching a "Thanks Newt" website, signaling that they won't let the mercurial former House speaker's words die.
The Georgia Republican has since retracted his pointed criticism and apologized to Ryan. He also declared to Fox News that quoting his remarks in the future would, in fact, be misquoting him.
"Any ad which quotes what I said on Sunday is a falsehood, because I have said publicly those words were inaccurate and unfortunate," he said. "When I make a mistake -- and I'm going to on occasion -- I'm going to share with the American people that was a mistake, because that way we can have an honest conversation."
Bah, say Democrats, who are rolling out the new website Thursday designed to thank Gingrich for what they see as momentary honesty -- and to keep his quotes alive in their ongoing push to batter the GOP with its budget that privatizes Medicare and makes it more expensive.
"Thanks, Newt! Your assertions that Paul Ryan's budget plan is too 'radical' and represents 'right-wing social engineering' were right on," reads the new site crafted by the Democratic Senatorial Campaign Committee.
"The plan to dismantle Medicare, reward billionaires with more tax breaks, and repeal health care reform is a strong example of how extreme today's Republican party has become," the site says, in its own critique of the Ryan budget. "If only other Republicans saw things the way you did, we'd be much better off."
But the site does a little more than just say thanks. It also includes a bit of partisan torture for Gingrich, with a petition and an offer to signatories to forward their personal expressions of gratitude to the former GOP speaker.

"For every person that signs our petition, we'll send Newt Gingrich a 'Thank You' note for revealing Republican extremism," it says.
The move furthers the comments of New York Sen. Chuck Schumer -- the Democrats' message maestro -- who declared Wednesday that Party will keep reminding the nation of Gingrich's briefly held position. "It was refreshing to hear such candor from a top Republican," Schumer said in a conference call noted by Greg Sargent of the Washington Post.
Schumer said that the bruising Gingrich took for uttering his words -- and his subsequent apology -- show the GOP is beholden to the more extreme members of its base. The Senate Democrats' campaign team, headed by Washington Sen. Patty Murray, offered similar sentiments.
"Newt Gingrich was exactly right when he called the Ryan budget radical," Murray said. "Ending Medicare and giving tax breaks to oil companies is wrong, but that is exactly what the Republican party is demanding,"she added in a reference to Republican opposition to a measure to end oil company subsidies.
Support HuffPost
The Stakes Have Never Been Higher
Popular in the Community