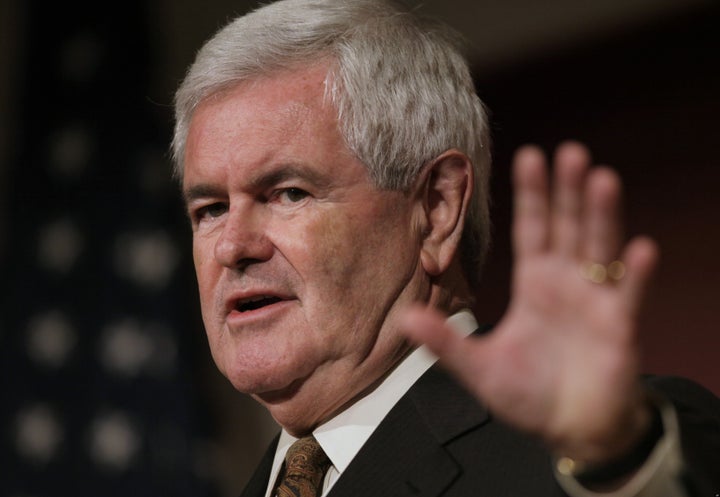 The churches I grew up in have remarkable Veterans Day celebrations. They are like Father's Day, Mother's Day and Valentine's Day all rolled into one. I love those celebrations. The church choir sings "God Bless America," and the preacher or deacon calls out the various branches of military service: Army, Navy, Air Force, Marines... And old soldiers stand.
They stand with pride and a sense of duty that has never left them since the day they stormed the beaches of Normandy, fought for inches of earth on the Korean peninsula or patrolled the Mekong in Southeast Asia. They did it for freedom, for America, for you and me. You look in their eyes and realize they would do it again.
Newt Gingrich does these patriotic American war veterans -- and every American, really -- a gross disservice when he says a mosque should not be built in New York City because it would be too close to Ground Zero and it would be for the Muslim religion, which he associates in its totality with terrorism. Then he says we should not allow such a religious institution be built on American soil because Muslim nations don't allow Christian and Jewish churches and synagogues on their soil. (Read: Gingrich calls for America to be like Saudi Arabia.)
Basically, in his sprint back to power, Gingrich shreds the constitution both in its enshrined verbiage and practical application. The bedrock freedom of religious liberty is encapsulated into our most sacred national documents such as our constitution. And the belief and practice has been dearly held by each subsequent generation of God-fearing Americans.
We're really left no doubt that a World-War-II-era Newt Gingrich would have been quick to arrest and place Japanese Americans in internment camps because, well, they looked like the enemy. Courage and hope and resolve made us the victors in World War II, not those sad moments when the constitution was trampled on out of fear and a sense of helplessness.
But it's fear and helplessness that Gingrich embraces in his belief that America should simply shred the constitution and begin denying the religious freedom for which our fathers, mothers, grandfathers and grandmothers sacrificed and fought over our history. Mercy, we have sons and daughters, sisters and brothers fighting for those very freedoms in Iraq and Afghanistan right now.
Yet Gingrich says we should act like those very nations and deny religious freedom.
Reagan once borrowed from St. Augustine, calling America a "shining city on a hill" that demonstrates for the world how democracy works and empowers people through freedom, trust and dialogue. Gingrich, in one fell swoop of political desire, dethrones Reagan's imagery and calls on Americans to follow the example of other nations that do not hold to a belief in religious freedom.
What did our ancestors fight for, Mr. Gingrich? What are our friends and family fighting for right now?
The Golden Rule is essential to all of us. We all hold it as a belief, a philosophy, to strive for. It is both simple and profound in reminding us to treat others as we would want to be treated.
As an Evangelical, I hold the Golden Rule high as a core tenet of my faith. Yet Gingrich trashes that, too. In saying that we should not allow a mosque to be built because other nations don't allow churches or synagogues built on their soil, Gingrich is really saying that we should treat others as they treat us. Don't lead; for God's sake, follow. Don't seek the moral and ethical high ground; seek a get-even-often-and-quick strategy that only Machiavelli could love.
Mr. Gingrich is simply wrong. And he must know how he spits in the face of those who have defended our constitution on the battlefields of war, with so many precious lives taken away from us in defense of our liberties. He must know that a "shining city on a hill" does not follow examples of others but rather leads and sets examples.
We are Americans. Gingrich is calling us to be less.
And, Gingrich must know that turning the Golden Rule on its head is a house built on the shifting sand. It cannot stand. My faith and my confidence in that faith and in my nation compel me to seek the truest meaning of the Golden Rule.
Gingrich's desire to rise back to power, maybe even through an attempted run for the White House, makes me more deeply consider FDR's admonishment that the "only thing we have to fear is fear itself."
We can't allow our fears to overtake our pursuit of a more perfect union.
We can't allow our fears to undermine the very freedoms we seek to uphold.
And we certainly can't allow political fear-mongers like Newt Gingrich to divide us -- not only from our national tenets and our faith but also from each other.
We have nothing to fear when we act like Americans and embrace living up to the wonderful and lofty tenets, goals and freedoms we have always sought. Destroying our freedoms by seeking to emulate the rules of other nations for the sake of protecting the values of our own nation is ridiculous.
Shame on you, Mr. Gingrich.