LAKELAND, Fla. -- The Newt Gingrich campaign has a robocall out in Florida claiming that Mitt Romney once took kosher food away from Holocaust survivors.
The allegation made in the call, obtained by anti-robocall activist Shaun Dakin, is undoubtedly targeted at Florida's large Jewish and elderly populations.
As governor of Massachusetts, Mitt Romney vetoed a bill paying for kosher food for our seniors in nursing homes. Holocaust survivors, who for the first time, were forced to eat non-kosher, because Romney thought $5 was too much to pay for our grandparents to eat kosher. Where is Mitt Romney's compassion for our seniors? Tuesday you can end Mitt Romney's hypocrisy on religious freedom, with a vote for Newt Gingrich. Paid for by Newt 2012.
The call is referencing Romney's veto of a 2003 bill. It came at a time that some nursing homes were considering eliminating their kosher kitchens during a period of budget cuts. Their plan was to instead bus in kosher food from other locations. The bill Romney vetoed would have given an additional $600,000 in funding to nursing homes, therefore making it possible for them to continue cooking kosher food on site.
"It's sad to see Speaker Gingrich lashing out in a desperate attempt to try and save his floundering campaign," said Romney spokeswoman Andrea Saul. "Speaker Gingrich will say anything to distract voters from the fact that he suffered an unprecedented ethics reprimand, was forced to pay a $300,000 penalty, and resigned in disgrace at the hands of his own party. His record is one of failed and unreliable leadership and simply one Americans can't risk."
The Gingrich campaign did not return a request for comment.
Commentary magazine notes, "Whether you believe he was right or wrong to veto it, this was clearly a position that made Romney appear insensitive to the elderly and Jewish communities."
The funding for kosher kitchens, however, was never actually eliminated.
"In the end, the veto was overridden by the Massachusetts state legislature, and the facilities kept their kosher kitchens after all. But Romney's decision was not, as Gingrich claims, a choice to 'eliminate kosher food for elderly Jewish residents under Medicare,'" added Commentary. "First of all, it was a choice made by the nursing homes themselves, not the Massachusetts government. Second, it was never actually going to prevent kosher residents from accessing kosher food. And third, Romney's decision wouldn't have cut anything -- he simply vetoed additional funds, keeping funding at the status quo during a budget crisis year."
The 2003 bill gained attention recently after the New York Post published an article about it on Friday. Gingrich mentioned it while campaigning in Jacksonville on Saturday, telling voters that Romney "eliminated serving kosher food for elderly Jewish residents under Medicare." Gingrich did not, however, go as far as the claim made in the robocall.
UPDATE: 4:00 p.m. -- At a campaign stop in Plant City, Fla. on Tuesday, Gingrich denied any knowledge of the robocall. When asked by a reporter whether it was "over the top," Gingrich replied, "I have no idea what you're talking about."
Gingrich spokesman R.C. Hammond confirmed the calls were going out statewide on Tuesday.
Support HuffPost
The Stakes Have Never Been Higher
Before You Go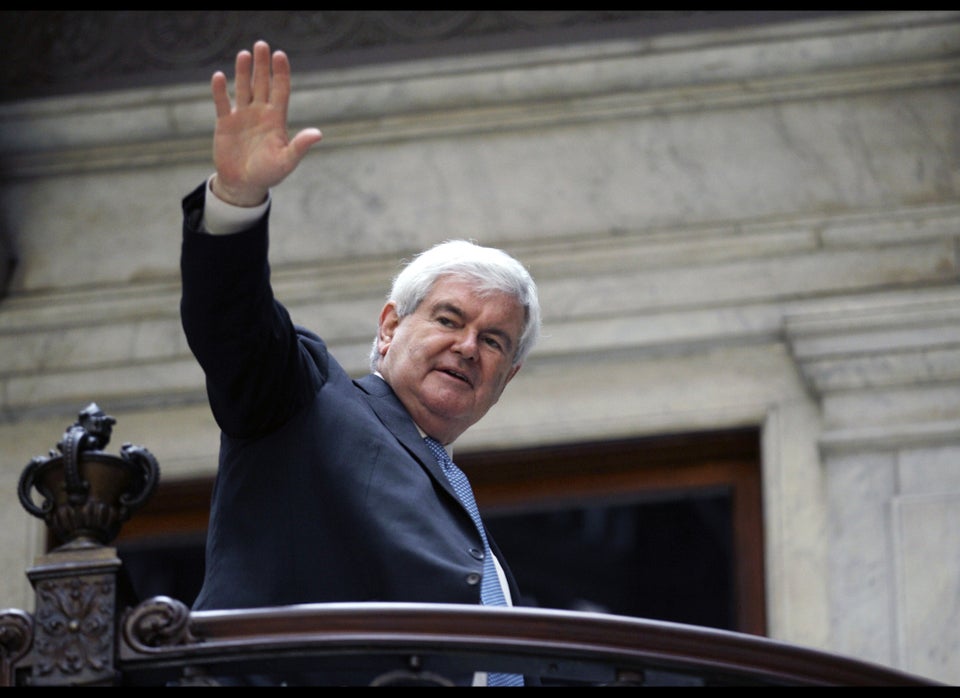 Newt Gingrich 2012
Popular in the Community