WASHINGTON -- First it was Donald Trump. Then Michelle Bachmann, Rick Perry and Herman Cain all took turns surging to first or second place in national polls on the Republican presidential contest, alongside Mitt Romney. Now it's Newt Gingrich's turn, as two new national polls show Gingrich rising to the top.
A survey of Republicans conducted by CNN and ORC International shows Gingrich supporters increasing from 8 percent in mid-October to 22 percent over the weekend, just 2 points behind Romney supporters (at 24 percent, although the small gap between the two is not statistically significant). Meanwhile, Cain's support in the CNN polls has fallen 11 points (from 25 to 14 percent).
A new automated telephone poll of likely Republican primary voters from the Democratic-affiliated firm Public Policy Polling similarly shows Gingrich gaining 13 points (from 15 to 28 percent), but its results for Cain and Romney are different. PPP shows a smaller decline for Cain (from 30 to 25 percent) and puts Romney well behind (at 18 percent).
The differences in candidate rankings across these and other surveys likely results from variations in the way pollsters go about choosing Republicans to interview and measuring their national vote preferences. Since this exercise is somewhat artificial -- parties select their nominees through a series of primary elections and party caucuses featuring highly variable turnout rates, rather than a single national primary -- the precise level of support for any candidate is less important than consistent trends across different polls.
On that score, the new CNN and PPP polls confirm what seven other national surveys updated in November have shown: Support for Gingrich is rising fast. A Marist/McClatchy survey released last week showed his support rising 13 percentage points since September (from 6 to 19 percent). Six more national surveys conducted earlier in November show support for the former House speaker increasing by between 4 and 9 percentage points since earlier in the fall.
The nine November polls differ most in the trends they reveal in support for businessman Herman Cain, but that is to be expected since only four were fielded all or in part after Sharon Bialek came forward to make sexual harassment allegations against Cain. The four most recent surveys all find Cain's support declining.
The HuffPost Pollster trend chart, which combines all available public polls, shows the sharp increase in support for Gingrich along with the more modest downturn for Cain.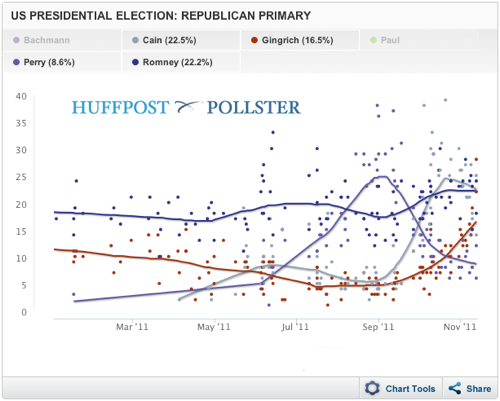 The one constant throughout 2011 has been support for Mitt Romney. While Romney's numbers vary across individual polls, our combined estimate of his support has never strayed far from the 20 percent mark. Our chart now shows Romney at 22 percent, his highest level since March.
The various national polls find another consistent pattern in Romney's support: It is always weaker among self-described conservatives and those who consider themselves Tea Party supporters. On the new CNN poll, for example, Romney runs worse among conservatives (20 percent) than among moderates (29 percent), and worse among Tea Party supporters (17 percent) than nonsupporters (29 percent). The new PPP poll yields similar results, and both are consistent with what most other polls have shown all year.
The rise in support for Gingrich may seem familiar. As our chart shows, other candidates have experienced similar gains (followed by similarly steep declines) earlier in the year. The Gingrich surge is different, however. The gains for Bachmann, Perry and Cain coincided with a sudden surge in name recognition. But according to Gallup's weekly tracking, Gingrich had roughly the same level of name recognition last week (85 percent) as in January (84 percent).
For Gingrich, the change has been a slow, steady recovery in his favorable rating since the summer. His negatives rose sharply in May, after his criticism of the Medicare plan of House Budget Committee Chairman Paul Ryan (R-Wis.), followed by a quick reversal of that criticism. The Gallup tracking shows Gingrich's unfavorable rating among Republicans rising to a high of 41 percent in late June.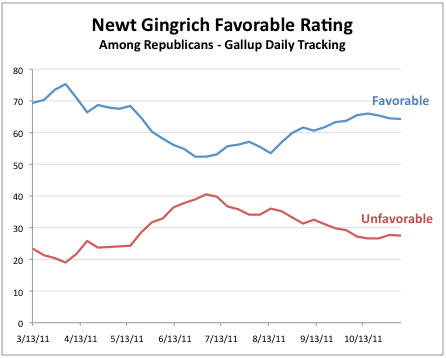 Since then, Gingrich's ratings have steadily improved. As of last week, the Gallup tracking reports that Gingrich is rated 64 percent favorable vs. 28 percent unfavorable among Republicans.
On the two new polls released Monday, Gingrich receives the highest favorable rating of any of the Republican candidates: 61 percent favorable vs. 21 percent unfavorable on the CNN poll; 68 percent favorable vs. 23 percent unfavorable on the PPP survey.
The CNN survey also shows that roughly three out of four Republicans say they agree with Gingrich on the issues that matter most (76 percent) and agree that Gingrich has "the personality and leadership qualities a President should have" (74 percent). Romney does slightly better on personality and leadership (82 percent) and slightly worse on issues (70 percent), but Cain and Perry now receive lower ratings on both questions than either Romney or Gingrich.
Of course, most Republicans are still a long way from making up their minds. Just 31 percent, according to the CNN poll, have made a choice about whom they will "definitely support"; more than two-thirds (69 percent) are either totally undecided or say they could still change their minds. That adds up to a contest that will likely remain volatile for the next few months.

The slideshow below has more on the Newt Gingrich campaign: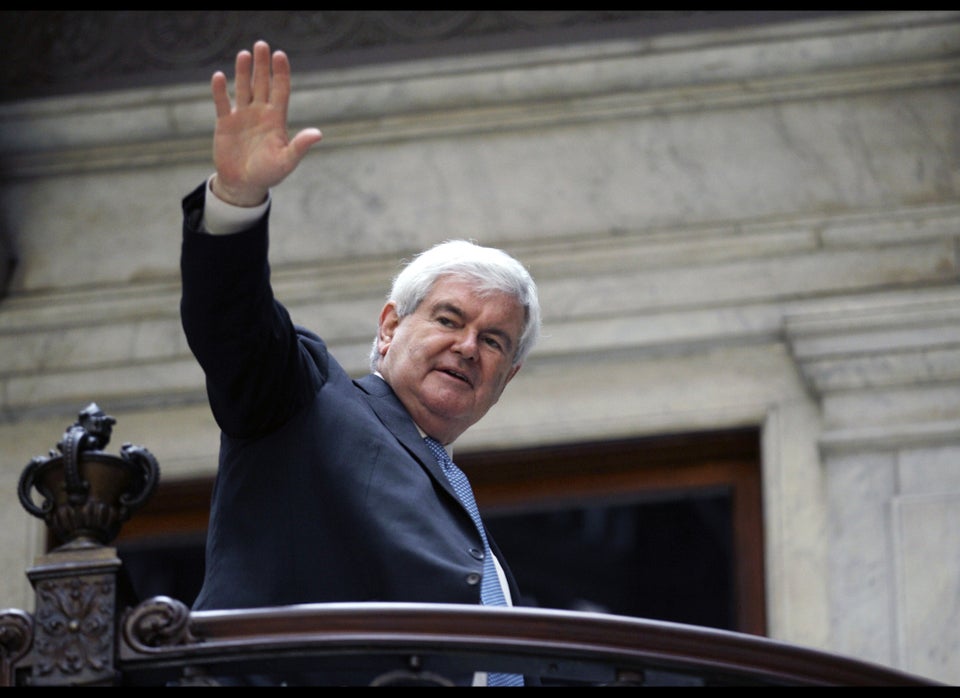 Newt Gingrich 2012
Popular in the Community