Twitter. Everybody talks about it, but no one seems to want to do anything about it. Until today, anyways! In case you haven't heard, Newt Gingrich, along with RNC Chair also-ran Saul Anuzis, is thinking about suing someone on Twitter. This would, indeed, be a BOLD NEW IDEA for the GOP to pursue. And that's This Day In Pointlessness!
All right, so you probably deserve a fuller explanation. Here's the issue. There is a Twitter account in the name of EFCANow that has, as you might imagine, been blasting out tweets in favor of the Employee Free Choice Act. Recently that twitterer has started adding the handles of Gingrich and Anuzis to his posts, in an attempt to argue directly with their twitter followers, and perhaps win converts. Here is a representative example: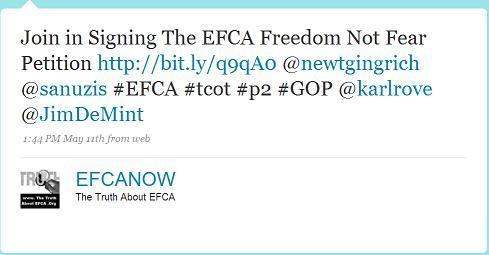 Twitter allows users to tag messages with the @ symbol followed by another account name, associating the message with the other account and subsequently reaching subscribers to the other account's news feed.

In linking to feeds controlled by former House Speaker Newt Gingrich (R-Ga.), who boasts more than 238,000 followers, and former Michigan Republican Party Chairman Saul Anuzis, who has 8,000 followers of his own, the pro-EFCA group's message reached those who follow two anti-EFCA activists.

Some of Anuzis's followers have been duped into signing the petition, Anuzis told The Hill on Monday.

The misleading campaign first showed up on Saturday, when EFCANow posted to its Twitter account: "Join @newtgingrich @sanuzis in signing the EFCA Freedom Not Fear petition," followed by a website.

Since Saturday, nearly a dozen entries into the group's Twitter feed mention Gingrich, the general chairman of American Solutions, and Anuzis, who heads American Solutions' anti-EFCA campaign.
Basically, in Gingrich's opinion, the inclusion of his Twitter handle in these posts essentially misrepresent his position on EFCA. So he's considering legal action! Naturally, this makes me wonder: since opponents of EFCA consistently misrepresent the law by suggesting that it would ban union elections by secret ballot outright, should they be filing lawsuits of their own?
But even Kanye West doesn't threaten legal action about being impersonated on Twitter, instead choosing to express his rage to the world with an all-caps rant on his blog (the all-caps lets readers know that Kanye means business). Exactly why is Kanye SO ANGRY about this twitterjacking? Because he feels the constant Tweets appearing to come from him via @kanyewest lower his 'coolness quotient' and make it seem like he has nothing better to do all day than...Tweet:

I'M TOO BUSY ACTUALLY BUSY BEING CREATIVE MOST OF THE TIME AND IF I'M NOT AND I'M JUST LAYING ON A BEACH I WOULDN'T TELL THE WORLD. EVERYTHING THAT TWITTER OFFERS I NEED LESS OF.
For some reason, however, Newt and Saul can't seem to shake this one off--they're even more pissed than Kanye. Who would've thought two politicians could become so enraged over the use of an "@" sign...This may end up redefining what we classify as a "frivolous lawsuit."
SEIU spokesperson Christy Setzer adds, "We stand with Twitterers everywhere when we say, thank you Newt, for sparing us a Kanye West-like all-caps rant on first contract arbitration."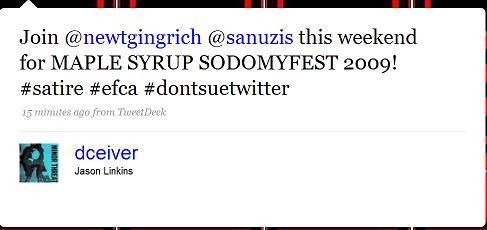 [Would you like to follow me on Twitter? Because why not? Also, please send tips to tv@huffingtonpost.com -- learn more about our media monitoring project here.]
Popular in the Community