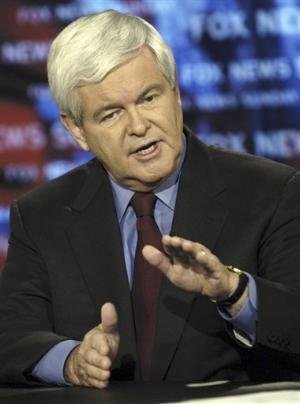 In an interview that was fiery even by his standards, former House Speaker Newt Gingrich accused the Obama administration of coddling terrorists, tarred the idea of investigating the Bush administration as modern day "McCarthyism," and falsely charged that the Democratic-controlled Congress never tried to outlaw torture.
It was, if nothing else, an unrestrained tour de force in oppositional politics. Sitting down with Chris Wallace on Fox News Sunday, Gingrich claimed that the former firm of Attorney General Eric Holder had represented 17 alleged terrorists on a pro-bono basis. "For no fee," he added, for good measure. "It is the largest single thing they were doing for free, defending Yemenis."
Firms like Holder's Covington & Burling, of course, have represented alleged terrorist under the notion that everyone deserves a legal defense, not out of some shared ideology or political sympathies. But context and clarification weren't Gingrich's order of business on Sunday. There was, he claimed, a "weird pattern" of Democratic administrations "defending alleged terrorists," as opposed to Bush officials, who "defend[ed] Americans."
"You look at the Obama administration," he said, "the number of attorneys that have been appointed who were defending alleged terrorists. There's this weird pattern where the Bush people wanted to defend Americans and were pretty tough on terrorists. These guys are prepared to take huge risks with Americans in order to defend terrorists."
And yet, even as he was asking the Obama administration lawyers whether they are now or have ever been representing terrorists, Gingrich managed to make accusations of McCarthyism. On the topic of investigating the authorization of torture by the Bush administration, he claimed: "What we're seeing now, in a very sad way, is as bitter a partisan attack on the Bush people, as much as we've seen since the McCarthy era. The degree that they're putting specific people at risk for criminal prosecution is unprecedented in modern America."
Making further political hay out of national security, Gingrich derided the White House Guantanamo policy as "nuts" and "crazy," declaring that the president was trying to "put alleged terrorists on welfare and have you pay for them and me pay for them so they get to be integrated into American society."
Where Guantanamo detainees will be shipped once that facility closes is in the process of being determined, with a report expected this summer. One place they surely will not end up is the typical American Main Street.
Even host Chris Wallace had to remark at Gingrich's chutzpah. Asked about Obama's planned commencement speech at the University of Notre Dame, Gingrich, who converted to Catholicism earlier this year, was typically strident. Obama has "voted to protect the right of the abortionists to kill babies still alive," he said, and is "the most radical of proabortion [sic] of any president." But then he stopped himself, and feigned modesty. "I'm a new convert. I will let the Vatican speak for the Church." Wallace chuckled, "A couple of years and you can speak for the Pope."
Clearly, Gingrich was not holding back many punches, despite having met with the president this past week to discuss education policy. His quips were aimed at Democrats in Congress as well, as he derided leadership in that party for not moving to stop the enhanced interrogation policies they currently criticize.
"They have had control since January 2007," he said. "They haven't passed a law making waterboarding illegal. They haven't gone into any of these things and changed law."
In February 2008, the Senate voted on the Intelligence Authorization Bill, which would have outlawed the use of waterboarding. President Bush vetoed the measure.
Popular in the Community