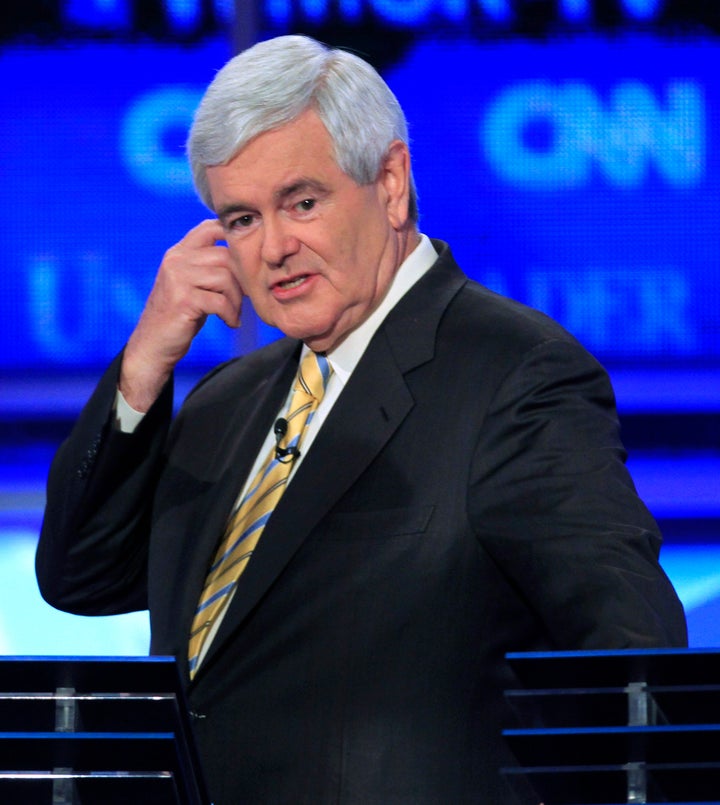 In the wake of former House Speaker Newt Gingrich coming under scrutiny for a debt he and his wife owed to Tiffany & Co. in 2005 and 2006, a spokesman for the presidential candidate says that the Republican hopeful had a second line of credit with the jewelry store, Chris Cillizza at the Washington Post reports.
Joe DeSantis -- one of the few top aides still working on the Gingrich campaign after a mass exodus of top staffers from the political operation -- says disclosure filings on the personal finances of the GOP contender and his wife will show "a $500,000 to $1 million line of credit at Tiffany's, that it has a zero balance, and it has been closed."
The AP reported on the initial flare-up involving Tiffany's last month:
Callista Gingrich filed ethics disclosures in 2006 and 2007 that indicated she or her husband owed anywhere from $250,000 to $500,000 to Tiffany & Co. House ethics rules require disclosures of debt more than $10,000 and allow aides to report the figures in broad ranges.

The ethics form also indicated she or her husband owed between $15,000 and $50,000 to American Express.
A spokesman to Gingrich, a former House speaker who left office in 1999, did not immediately respond to a message seeking details about the debt, which was first reported by Politico.

Callista Gingrich was a clerk with the House Agriculture Committee until 2007. The most recent report on file says the couple had between $1 million and $2.5 million in assets during 2006.
News of the second line of credit at Tiffany's comes on the heels of reports that Gingrich's campaign finance team jumped ship from his political operation. The AP reports:
Newt Gingrich's top two fundraising advisers resigned on Tuesday, and officials said the Republican candidate's hobbling presidential campaign carried more than $1 million in debt.

The departures of fundraising director Jody Thomas and fundraising consultant Mary Heitman were the latest blow for the former House speaker who watched 16 top advisers abandon his campaign en masse earlier this month, partly because of what people familiar with the campaign spending described as a dire financial situation.

These people, who spoke on the condition of anonymity because they were not authorized to discuss the campaign inner workings, said the former Georgia lawmaker racked up massive travel bills but money had only trickled in since he got into the race earlier this spring.

These officials said that he is at least $1 million in debt...
Gingrich addressed the state of his personal finances last month during an appearance CBS' "Face the Nation" in defending himself against criticism sparked by initial reports of the money he and his wife owed to Tiffany's.
"We're private citizens," the Republican hopeful explained roughly one week after launching his presidential campaign. "I work very hard. We have a reasonably good income. I currently owe nothing except I owe one mortgage on a house that's a rental property in Wisconsin. Everything else is totally paid for. My home is paid for, my cars are paid for, we don't have a separate house. We don't do elaborate things."
Several days later, Reuters reported that Gingrich characterized himself and his wife as "very frugal."
Popular in the Community