WASHINGTON -- Newt Gingrich says there is little chance he will quit the race for president before the Republican convention in August, but pundits and pollsters have still speculated about what might happen if he does. Two new national polls indicate that Gingrich supporters divide relatively evenly between Mitt Romney and Rick Santorum or perhaps tilt only slightly to Santorum. History suggests caution about assuming those preferences will hold if Gingrich actually withdraws.
The new polls from Fox News and Gallup both show Romney leading Santorum by six percentage points, with Gingrich and Ron Paul running a distant third and fourth. Results from the two polls are very similar, although the Gallup poll finds more Republicans who say they are undecided or support another candidate (13 percent) than does the Fox News survey (5 percent).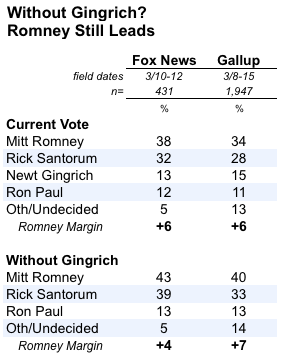 Both surveys also asked Republicans which candidate would be their second choice. Gallup reports that current Gingrich supporters divide almost evenly between Romney (40 percent) and Santorum (39 percent), with fewer favoring Paul (12 percent) or uncertain about which candidate they might support (10 percent). Thus, with the Gingrich voters reallocated based on their second choice, Gallup shows all candidates gaining support but Romney's margin over Santorum essentially unchanged at seven points (40 to 33 percent).
The Fox News release does not report the second choices of Gingrich supporters directly, but like Gallup, the Fox pollsters did recalculate Republican preferences with Gingrich voters allocated to the other candidates based on their second choices. This tabulation shows Romney's lead decreasing slightly to four points (43 to 39 percent), indicating that Gingrich's supporters narrowly favor Santorum over Romney on the Fox survey.
Some Santorum supporters have argued that Gingrich voters would flock to their candidate if the former House speaker exited the race. For example, Tony Perkins, president of the Family Research Council, told ABC News that the combined Santorum-Gingrich vote "drowns Romney. ... It just totally eclipses him." Should Gingrich withdraw, "the lion's share would go to Santorum," Perkins claimed.
The survey results counter that contention. Gallup shows Gingrich supporters dividing evenly and argues that Santorum has little room to increase his support among the "very conservative" Republicans who already back his candidacy. Fox News reports that Gingrich backers "mainly say they would go to Santorum, yet the shape of the race would look about the same" with Gingrich out of the race.
That said, history shows that these second choices, like all other poll results, are just a snapshot in time. Should Gingrich actually withdraw, it could alter the dynamics of the race and affect voter preferences in a way that may be hard to predict.
Consider a survey conducted by the Pew Research Center in January 2008, just days after Barack Obama won a surprise victory in the Iowa caucuses and then lost to Hillary Clinton in the New Hampshire primary. Although Obama's support had risen significantly (from 23 to 31 percent since November 2007), he still remained 15 points behind Clinton (at 46 percent nationwide).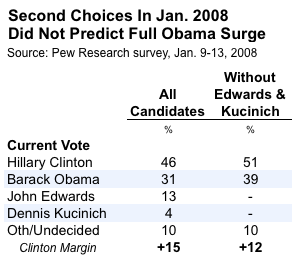 A new Huffington Post analysis of the Pew Research survey data (above) shows that supporters of John Edwards and Dennis Kucinich, who were still active candidates after the New Hampshire primary, preferred Obama over Clinton as their second choice (44 to 26 percent). Reallocating Edwards and Kucinich supporters based on those second choices narrowed the race, but it still left Clinton comfortably ahead (51 to 39 percent).
After Kucinich and Edwards both exited the race in late January, the swing in voter preferences did not conform to those earlier-stated second choices. As the Pollster.com chart (below) shows, support for Clinton across all public polls remained stable in the mid-to-low 40 percent range, while Obama gained significant support, drawing even with Clinton on the eve of the Super Tuesday primaries, moving ahead just after and maintaining that lead for the rest of the primary campaign.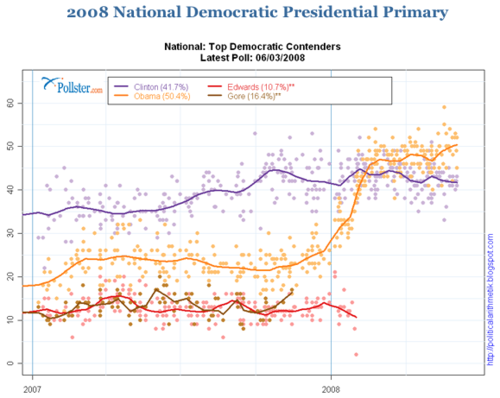 The narrowing of the field of candidates was arguably not the most significant campaign event of late January and early February 2008. Obama's victory in the South Carolina primary, plus his endorsement by nationally known Democrats like Sen. Edward Kennedy, Caroline Kennedy and others in late January, also had an impact on voter preferences. But the departure of Edwards and Kucinich helped free up a number of potential voters and likely accelerated Obama's gains.
So the lesson here is that second choices are subject to change. While polls can do a good job measuring current views, voters are often poor predictors of their own future attitudes. Should Newt Gingrich leave the race, the results may not turn out the way the current polling snapshot suggests.

Calling all HuffPost superfans!
Sign up for membership to become a founding member and help shape HuffPost's next chapter
BEFORE YOU GO