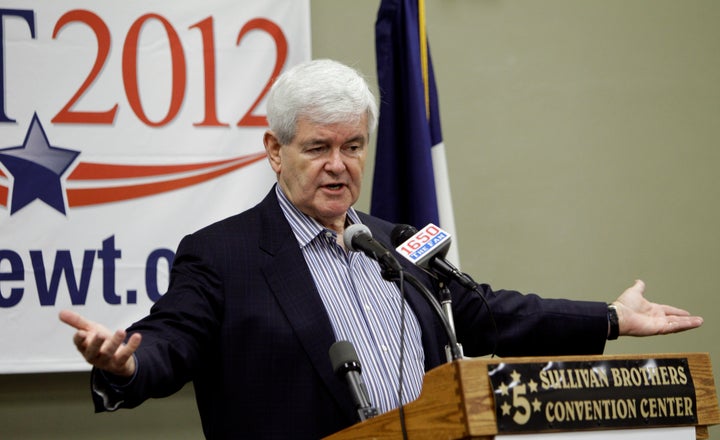 WASHINGTON -- Even before he sat down for his 36th appearance at the Christian Science Monitor breakfast series -- a regular gathering of journalists from the capital's most respected publications -- Newt Gingrich was scheming to make one point particularly clear.
He was, above all else, a Washington outsider.
The former House Speaker and current Republican presidential candidate may have spent 20 years in the House of Representatives, after which he continued to live in a cushy suburb of D.C. to earn a good salary in the world of advocacy and think tanks. But on Monday morning, as he sat in a conference room in the confines of the highbrow St. Regis hotel, those biographical details were simply catnip for critics.
"I'm not a Washington figure, despite the years I've been here," Gingrich said. "I'm essentially an American whose ties are across the country and is interested in how you change Washington, not how you make Washington happy."
"I am the people's candidate, not the capital's candidate," he added later.
Making politics out of revolutionary zeal is Gingrich's common trick. He rode anti-Washington sentiment to the speaker's throne in 1994; and has more or less tried to reprise the act during his presidential flirtations since.
Simply saying you are an outsider does not make you one, of course. And as he yapped it up with reporters on Monday morning, it was impossible not to see Gingrich as something diametrically different: dependent on the political culture he decries.
The day before, he had partaken in another venerable press event -- a taping with "Face the Nation" on CBS. A week before that, it was NBC's "Meet the Press." Two weeks before that, he had delivered a speech at the Brookings Institution, one of D.C's gilded think tanks, "on health solutions for lower costs, younger lives, more independent living and more American jobs." At various points in his Monday presentation, Gingrich noted that he had cast 7,300 votes in his lifetime, delivered 5,000 speeches, sat down for 10,000 interviews and written 23 books (which, mid-way through the hour-long question and answer session he corrected to 24, to account for the next book he will have published sometime in June).
As he brushed aside the eggs, bacon, sausage and potatoes he was offered, the former speaker appeared awestruck at his own introduction.
"That is the most different introduction. I don't know where it comes from," he said to the host of the breakfast, David Cook, the Senior Editor & Washington Bureau Chief of the Christian Science Monitor. "This is my 36th time having breakfast with you guys. I think this is the first time it's been quite that elaborate."
That may be because Gingrich has been going to the breakfasts longer than Cook has been hosting them. Later at the affair, he gently teased two other gray beards in the room, liberal columnist Mark Shields and Ralph Hallow, the chief political writer at the Washington Times.
"In terms of American civic culture and bipartisanship, to see these two guys sitting next to each other is a sign that you can have civility in America," he said, before expressing his belief that scrambled eggs can bring even the greatest of foes to the same table.
On Monday, however, kind words for the press were few and far between. A foil was needed for an anti-Washington message to work. And for Gingrich, whose first few days on the trail were marked by sharp questions over his evolving positions on Medicare and the individual mandate, it was time for a bit of rhetorical retribution.
"I stipulate in advance: all of you can play gotcha. I'll be glad to say 'that was good' and then we will go to the next question," he said, before a single question had even been asked. "I don't blame [Meet the Press host] David Gregory, but I've decided I'm going to be much more relentless in reframing things," he said at another point, in reference to the Sunday show appearance that precipitated his early stumbles.
"[L]ook at the front page of the New York Times yesterday, which devoted one-quarter of the front page to Lindsay Lohan above the fold," Gingrich said, when pressed about why he felt the 'gotcha' questions were unfair. "That should tell you all you need to know about the current state of where we are. We are in a society in which gossip replaces policy and everyone wrings their hands about how hard it is to have a serious conversation. By definition, if you run for president, anything is on the table. Ask Grover Cleveland, ask Andrew Jackson. Anything is on the table."
Neither Cleveland nor Jackson were available for comment.
Gingrich is taking some steps to establish distance with D.C. He has whisked his way through dozens of early stops in critical primary and caucus states, chief among them Iowa. He remains, very much, a man who can draw a conservative crowd. And in terms of verbal bombast, there are few in the Republican Party -- let alone the presidential field -- who can drum up the type of disdain for all things Washington that he can. Without any prodding, Gingrich will recite a list of four policies or executive orders he would issue immediately as president: replacing the Environmental Protection Agency with an Environment Solutions agency; re-establishing the Mexico City policy, which requires NGOs that receive federal funds to refrain from performing abortions; enforcing the conscience clause so that no doctor can be forced to do something against their will; and instructing the State Department to place the American embassy in Jerusalem.
It remains to be seen, however, whether Gingrich can at once tout the breadth of his own, largely D.C.-based experience while simultaneously arguing that he's the agent of change that conservatives desire.
"Everywhere I go across Iowa, everywhere I see people randomly, they have figured out I'm the guy who wants to change Washington and they can tell it because the people they see on TV from Washington aren't happy with me," said Gingrich. "And the fact is, if you look at my platform, I will clearly be the most change-oriented, the most fundamental reform candidate in this race, in either party. And I will offer a much more dramatic alternative future than any traditional candidate will dream of."
Calling all HuffPost superfans!
Sign up for membership to become a founding member and help shape HuffPost's next chapter