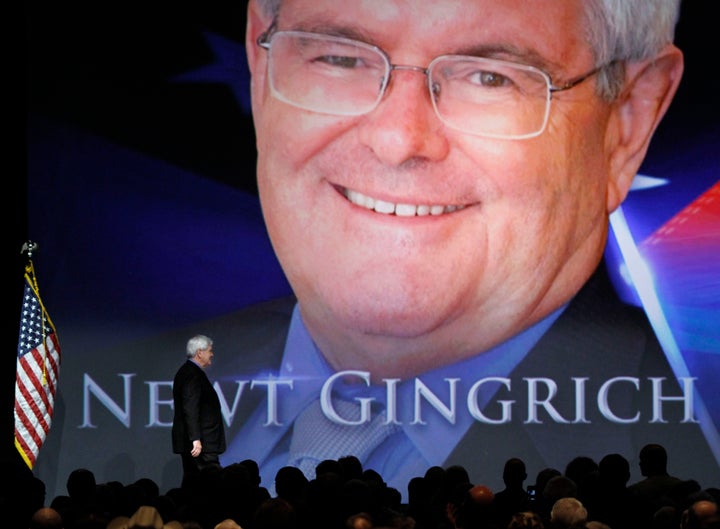 WASHINGTON -- The name is as essential as Trump's.
The Newt Gingrich empire includes Gingrich Productions, the Gingrich Group, Gingrich Holdings and Gingrich Communications. The network has provided Gingrich with ample means to burnish his credentials as a contender in the 2012 presidential race, whether he's jetting around on the lecture circuit or extolling American exceptionalism in a pamphlet in your mailbox.
Anyone can download the presidential hopeful's speeches at Newt.org. Dubbed iNewts, listeners are duly warned: "You may not edit or modify the iNewt or podcast content or links in any manner whatsoever."
Through these groups and others, such as his policy/lobbying arm, American Solutions for Winning the Future, Gingrich brought in tens of millions of dollars from real estate, banking and energy industry heavies.
As House Speaker in the 1990s, Gingrich made philanthropy a centerpiece of his revolution against Big Government, championing the idea that charities should be used to replace welfare programs. And he used charities to help pull it off. Running afoul of the House ethics committee and Internal Revenue Service, these tax-exempt nonprofits helped further his partisan agenda.
But tax records show that Gingrich's subsequent endeavors, however successful they've been at keeping Newt's name in the news, have been much less effective when it comes to the more traditional purpose of nonprofit organizations: Doing something useful for society. Gingrich, a prolific fundraiser, has been able to make it rain on Gingrich Holdings. The charitable ventures that bear his name, on the other hand, have suffered a drought.
Casino mega-mogul Sheldon Adelson essentially started American Solutions, Gingrich's most powerful group, with $1 million in seed money in 2006. He's contributed at least another $6 million into Gingrich's coffers since. In 2010, American Solutions spent $3.6 million just on travel expenses and another $4 million on salaries and benefits. Since 2008, Gingrich's American Solutions entity has racked up more than $50 million. The rest of his network brings in millions more.

Little of Gingrich's largess trickles down to his charity, the Gingrich Foundation. The Foundation lists his wife, Callista Gingrich, as its president; Gingrich serves as a board member. Both are unpaid in their roles. Gingrich's charity gets its money almost exclusively from Gingrich Holdings.
According to the Gingrich Foundation's 2009 tax records, the charity gave away just $135,000 to various organizations. That same year, Renewing American Leadership, a right-wing Christian non-profit with heavy ties to Gingrich, spent more than double that amount just on direct mailings.
Gingrich's biggest gift totaled $30,000 in 2009, tax records show. The money went to Luther College in Decorah, Iowa, a frequent recipient of Gingrich cash through the years. The donation appears to have been used for branding, this time, paying for the "Newt and Callista Gingrich Scholarship" awarded to music majors studying piano, organ or wind instruments.
Other recipients of Gingrich gifts appear to be a mix of high and low culture, established causes and minor interests: $2,500 to the Atlanta Ballet, $500 to the American Cancer Society and $25,000 to the American Museum of Natural History -- not enough to get his name on a building or build a new wing by Frank Gehry.
Gingrich can't blame the economic downturn on his lack of giving. He was equally stingy in 2008, according to the Gingrich Foundation's 2007 tax records. That year, he donated a total of $202,900 to various charities: the City of Fairfax Band Association received $5,000, Oliver North's Freedom Alliance got a $2,500 check. The Mount Vernon Ladies' Association received $12,500. The Pentagon Memorial fund netted $1,000. An education nonprofit with ties to Gingrich received $5,000.

In 2007, the Gingrich Foundation gave out $111,600, which included another $12,500 check to the Mount Vernon Ladies' Association and a $2,500 donation to North's Freedom Alliance. The foundation also gave $100 to the Pine Mountain Gold Museum in Villa Rica, Georgia, a place where visitors can actually pan for gold and other gemstones ($5 per bucket).
There may be a personal reason for Gingrich's donations to the City of Fairfax Band Association: Callista plays french horn in the band. "I think for the past eight years they have sponsored our holiday program, our Christmas program," said Robert Pouliot, the band's music director. "They've been a regular sponsor of our Christmas program. Callista is normally there....She's a good solid section player. She also plays piano on occasion."
Gingrich has also made several donations, totaling $18,000, to the San Marcos Baptist Academy, a Texas boarding school. When asked about the gifts, Monty Lewis, the school's vice president, replied: "That does not sound like a donor that I recall. Do you have a phone number or name? This does not sound familiar at all."
Gingrich's own staffers aren't even familiar with some of his charitable giving. His Center for Health Transformation has its own nonprofit wing, the Center for Health Transformation Foundation, established to support various causes. When asked about the foundation, his lead spokesman, Rick Tyler, replied that no such charity existed. The Center's media representative, Susan Meyers, wasn't sure if it still ran. "What I'm trying to find out is the status of it," she admitted, adding she thought she read about it a few months ago.
There's good reason for the confusion. In 2009, the Foundation donated just $3,500 to charity -- $3,000 of which went straight to Catholic Charities USA, despite the organization's focus on health-related issues. Even this donation Gingrich can't quite take credit for. "He doesn't serve on that board or make any of the decisions," explained Nancy Desmond, the Foundation's CEO.
Tyler takes issue with the characterization of Gingrich's giving as paltry. "Is your charitable giving on par? Speaker Gingrich is very generous," he said. "Newt has used his name to help charities. Ask anybody in the industry you want."
Focusing only on giving misses what else Gingrich has done for the nonprofit world, said Tyler. "He has raised and hosted events. March of Dimes have named him man of the year," Tyler pointed out. (Georgia March of Dimes named Gingrich Citizen of the Year in 1995.)
"I'm not going to get into this game of whether that's a lot," Tyler added. "They set up a foundation specifically to give money. The idea whether you are going to pass some judgment misses the point of giving."
Gingrich did manage to get his name on one brick in front of the John Wayne birthplace in Winterset, Iowa. It cost him $100 and joins others from Ann Margaret, Henry Kissinger and Charlie Daniels.
In the coming months, Gingrich may get an opportunity to visit his Iowa brick. "He's been invited, as has everyone else who has a brick out there," said museum director Brian Downes. "There's about 500 bricks in all."
Calling all HuffPost superfans!
Sign up for membership to become a founding member and help shape HuffPost's next chapter