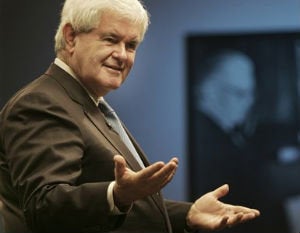 A new Esquire profile of Newt Gingrich offers a rare glimpse into the personal life and political ambitions of the former House Speaker as he vies to make a comeback after resigning in disgrace over a decade ago.
Gingrich himself was interviewed for the feature story; however, some of the juiciest insight into the life of the prominent conservative voice comes from his ex-wife, Marianne Gingrich, whom he divorced in 2000.
"He asked me to marry him way too early," she revealed. "And he wasn't divorced yet [from his first wife Jackie Battley]. I should have known there was a problem."
Marianne Gingrich suggested that the former House Speaker found himself in the same relationship pattern eighteen years later when he sought to marry his current wife, then-congressional aide Callista Bisek.
"I know," she explained. "I asked him. He'd already asked her to marry him before he asked me for a divorce. Before he even asked."
The profile paints a silhouette highlighting the intersection of Gingrich's personal life and political career:
"There's somebody else, isn't there?"

She kind of guessed it, of course. Women usually do. But did she know the woman was in her apartment, eating off her plates, sleeping in her bed?

She called a minister they both trusted. He came over to the house the next day and worked with them the whole weekend, but Gingrich just kept saying she was a Jaguar and all he wanted was a Chevrolet. "'I can't handle a Jaguar right now.' He said that many times. 'All I want is a Chevrolet.'"

He asked her to just tolerate the affair, an offer she refused.

He'd just returned from Erie, Pennsylvania, where he'd given a speech full of high sentiments about compassion and family values.

The next night, they sat talking out on their back patio in Georgia. She said, "How do you give that speech and do what you're doing?"

"It doesn't matter what I do," he answered. "People need to hear what I have to say. There's no one else who can say what I can say. It doesn't matter what I live."
As for 2012, Marianne Gingrich shared her take on speculation swirling over the possibility of Newt Gingrich making a run for the White House in the next election cycle. The bottom line, she said, is that "there's no way" he'll be president.
"He could have been president," she explained. "But when you try and change your history too much, and try and recolor it because you don't like the way it was or you want it to be different to prove something new . . . you lose touch with who you really are. You lose your way."
Marianne Gingrich suggested that her ex-husband "believes that what he says in public and how he lives don't have to be connected" and added, "If you believe that, then yeah, you can run for president. ... He always told me that he's always going to pull the rabbit out of the hat."
Gingrich's second wife zeroed-in on what she suggested might be her ex-husband's achilles' heel:
"He was impressed easily by position, status, money," she says. "He grew up poor and always wanted to be somebody, to make a difference, to prove himself, you know.
Popular in the Community