A year ago, Mark Barden hadn't really thought about his views on gun violence. Alissa Parker did not yet know she was a writer. Nicole Hockley spent her days as a stay-at-home mom in Newtown, the suburban Connecticut town she'd recently moved to after nearly two decades in her husband's native England.
It has been both an eternity and a moment since the Bardens, Parkers and Hockleys lost people they loved in the shooting at Sandy Hook Elementary School in Newtown. A year in which everything has changed, but not nearly enough.
The day the families refer to as 12/14 was one filled with both intimate moments of raw hopelessness, outside of the public eye, and also public spasms of grief, as the whole world seemed to mourn together. Parents who wondered how their own lives could possibly go on; strangers who vowed that the tragedy would turn the tide, upend the politics, rewrite the laws governing our gun policy. This time would be the last time. This one could not be ignored.
"It was a year of survival, of getting through it," says Alissa Parker, whose 6-year-old daughter, Emilie, was among the 20 children and six adults who were killed. "That was the only goal, to deal with the new reality of my life." Emilie Parker. Photo courtesy of Alissa Parker.
A few days before the shootings, Alissa watched Emilie scour the toy aisles in Target, looking for a birthday present for her classmate, Josephine Gay, whose party was set for Dec. 15. The little girl, known as Joey, had autism, and had not learned to speak, but communicated with Emilie in so many other ways, Alissa says -- hence the search for the perfect gift.
It took an hour, but Emilie finally settled on a Belle Barbie doll dressed as a ballerina. "'Joey loves Barbies and she loves tutus,'" Alissa remembers Emilie saying. "'Joey can't talk, Mom, but she always touches my fluffy skirts and my Barbie backpack, so I just know she will love this.'"
When Alissa found Joey's name alongside her daughter's on the list of the dead, she called Michele Gay, whom she did not know well, and through sobs described the gift that would never be given.
"You know what," Joey's mother responded. "I know these kids are having a birthday party in heaven."
Before dawn on the morning of 12/14, Mark Barden was walking his 13-year-old son James to the bus when 6-year-old Daniel came flip-flopping down the driveway to join them. Awake hours earlier than usual, he said he wanted to kiss his brother goodbye before school. He was still awake when 11-year-old Natalie left, too, and then he and his father spent breakfast time cuddling on the couch, playing foosball and learning "Jingle Bells" on the piano. When it came time to walk Daniel to the bus, his father held his hand the whole way. The Bardens with a photo of Daniel.
Back then Mark worked as a professional jazz guitarist, with most of his gigs at night, a schedule that meant he could be around for his children during the day and his wife, Jackie, a second grade teacher, could be home while he played. He was in his downstairs studio when the first automated call came, saying that Sandy Hook was in lockdown. He was soon racing to the scene.
Nicole Hockley was also having what was looking to be a lovely morning when she first heard of the shooting. She and her husband, Ian, met in England and had lived there for nearly 20 years before moving back to the U.S. -- to Newtown -- just under two years earlier. Nicole had worked in marketing back in Britain, but had chosen to stay home with her two sons, Jake, who is now 9, and Dylan, who was 6, and recently had been diagnosed with autism.
Dylan was happy in his new school, thriving even. The family was readying to celebrate Nicole's 42nd birthday on Dec. 18, followed by their second Christmas in the U.S. and the couple's 20th wedding anniversary in January. As had become her routine, Nicole had seen her boys off to school that Friday morning and was taking a kickboxing class when a call from a friend alerted her to the shootings. Soon, she too was standing in the local firehouse, with the Bardens, the Parkers, the Gays and dozens of other terrified family members, hearing the governor of Connecticut tell them that if they were still in the room, the child they were waiting for wasn't coming back.
Mark Barden no longer works much as a musician. Nicole Hockley is no longer a stay-at-home mom. Both are full-time employees of Sandy Hook Promise, whose pledge -- signed by nearly 270,000 on the internet -- reads:
This is a promise to truly honor the lives lost by turning our tragedy into a moment of transformation, to be open to all possibilities … to have the conversations on all the issues, conversations where listening is as important as speaking. … This is a promise to do everything in our power to be remembered not as the town filled with grief and victims; but as the place where real change began.
"[This] work is now my whole life," Mark said in a phone interview from Washington, D.C., where he and Nicole were on a fundraising trip. They spend a lot of time in D.C., and were among the dozen family members of Sandy Hook victims who met with senators last spring, asking them to expand required background checks for gun purchases.
They were sitting in the Senate gallery when a bill designed to do just that failed by seven votes. Mark stood with President Obama in the White House Rose Garden soon after and vowed, "We'll return home now, disappointed but not defeated. We return home with the determination that change will happen -- maybe not today, but it will happen. It will happen soon. We've always known this would be a long road, and we don't have the luxury of turning back. We will keep moving forward and build public support for common-sense solutions in the areas of mental health, school safety and gun safety."
Earlier this month Mark renewed that vow, noting that there have been victories -- improved funding for mental health care and strengthening of gun laws in some states -- but declaring that the dream of a real difference had not been realized. The latest initiative of Sandy Hook Promise, called Parent Together, aims to harness the energies of parents toward changing public opinion in a way that leads to measurable change, in much the same way as Mothers Against Drunk Driving has done. President Obama embraces Nicole Hockley while honoring shooting victim's families during a visit to the University of Hartford Monday, April 8, 2013. (AP Photo/Charles Krupa)
"A marathon," Nicole calls it. She is speaking specifically of the campaign, but also, of course, describing life after the loss of a child. "It's just begun."
From the first word of a shooting at Emilie's school, Alissa Parker was haunted by the thought that she should have said something about safety sooner. She had often silenced herself. She didn't want to be that hovering parent. She wanted to believe the wonderful staff had everything under control.
But in the months that followed, she found herself fixated on the question of how that school -- any school -- could have been made safer. "It never left me," she said during a telephone interview recently, "the question of what happened in the school, what happened with Emilie, could it have been prevented."
In the course of grief, questioning is "part of the bargaining stage," she says, and it led her to join forces with Michele Gay -- who is now a close friend, and whose daughters now treasure the ballerina Barbie that would have been Joey's birthday gift. Together they founded Safe And Sound Schools, to teach parents and educators around the country how to make their schools less vulnerable. The new friends have travelled the country speaking about how everything from landscaping to practice drills to door locking systems can decrease an intruder's odds of doing harm.
"These are all things that schools are capable of doing right now, not waiting for legislation, not waiting for permission to act," Alissa says. "So many things are out of our control. But not everything has to be."
Regaining control, she now understands, was the reason she started her blog, "The Parker Five," last January. The name comes from its anchoring drawing -- one Emilie made of herself, her two little sisters and her parents, all playing on the swings -- and from her mother's belief that "she is still part of our family and will be forever."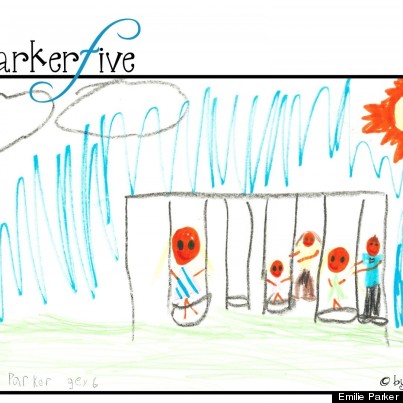 It began as a private site, "a chance to say what I wanted on my terms," Alissa says, and sometimes to figure out what she was thinking and feeling through the act of writing it down. Eventually she opened the blog to the public, and she herself has blossomed into an eloquent voice for the families of Newtown -- a role that surprises and comforts her.
None among the families, "had any idea how we were supposed to handle ourselves," she says. "The things we found ourselves doing found us rather than us choosing them. This was just something I was meant to do."
Now Nicole Hockley's mornings begin by kissing the urn that holds her son's ashes. Her family has moved to a new home. Their old one was around the corner from that of the Sandy Hook gunman, a proximity that was unbearable. They are not leaving Newtown, though. The way the community rallied around them in the past year, she says, makes it clear that "this is home."
Her personal marathon means running Sandy Hook Promise while her husband runs the Dylan's Wings of Change Foundation, created to bring technology to special needs programs in schools.
It also means keeping a watchful eye on Jake, who was so distraught after his brother's death that he asked his parents not to say Dylan's name in his presence. A year later, Nicole says, she hears Jake talking aloud to Dylan while playing on his own. "I think about the adult he's going to become, he and a lot of the other children of Newtown," Nicole says. "There will be an amazing group of adults coming out of this. They've seen the worst that humanity can offer, but also the goodness that can come out of it."
The Parkers, in turn, are moving across the country, heading for a new life in the Pacific Northwest. "I don't want to say it's a new start," Alissa says. "But maybe a new chapter."
They will be here until January, though, and particularly want to be in Newtown for Christmas, surrounded by those who have become family. On the 14th of this month, however, the Parkers will be leaving town, to be alone together, away from the cameras, but not the memories. "It will just be a day of quiet remembrance," she says. "It will be a hard day for me."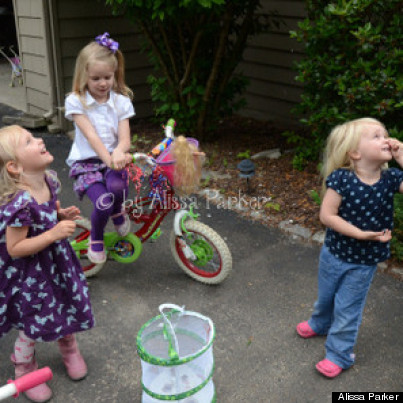 The three Parker girls, Emilie, Madeline and Samantha, release butterflies in the spring of 2012.
Jackie Barden has been on leave from her teaching job since the shootings, but will return to work in the new year. She and Mark will also spend quiet time on 12/14 remembering those they lost, and hoping that the rest of the country never forgets, either. The shooting that took his son, Mark says, "is going to be looked back on as the moment of transformation."
"I believe that completely. It's what keeps me going."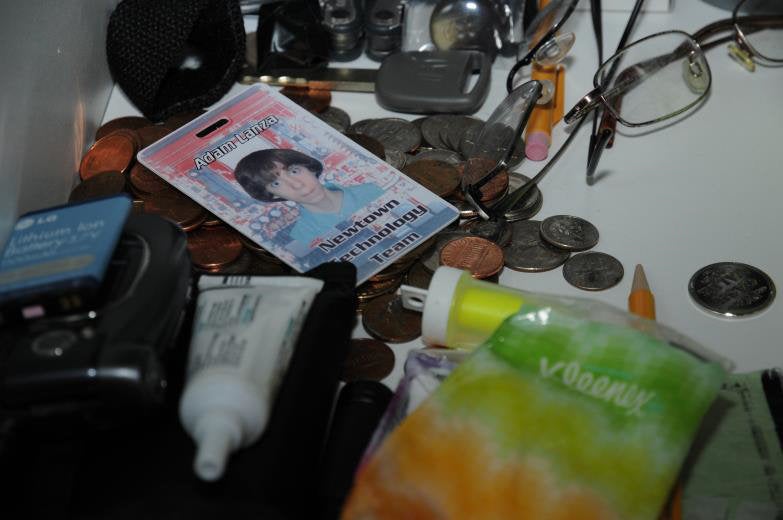 Sandy Hook Elementary School Shooting