WASHINGTON -- It's been almost six months since the elementary school massacre in Newtown, Conn., and the families of those victims are on Capitol Hill this week with a message for lawmakers who opposed legislation to tighten background checks on gun sales: Get used to us.
"We're here for the marathon that this is," said Bill Sherlach, whose wife Mary was the school psychologist at Sandy Hook Elementary School, one of six adults and 20 children killed in the Dec. 14 attack. "I really have no choice. Because I'll spend the rest of my life without my wife."
"It's six months later and my heart breaks not only for my family, but also for the eight families a day that will suffer a loss of a child to gun violence in this country," said Nelba Marquez-Greene, whose 6-year-old daughter Ana was killed in the shootings. "We're not going away. We're not going away."
Both were part of a group of eight Newtown family members meeting this week with House and Senate lawmakers on both sides of the debate over gun reforms. On the House side, they met with House Speaker John Boehner (R-Ohio), House Majority Leader Eric Cantor (R-Va.) and House Minority Leader Nancy Pelosi (D-Calif.). On the Senate side, they've been meeting with some senators who opposed the background checks bill in April.
"There are quiet efforts underway in the Senate to try to bring five to six senators to the point of supporting the bill," Sen. Chris Murphy (D-Conn.) told HuffPost, referring to the bill's failure to pass by five votes. These Newtown families "are speaking with those senators to try to find a path for them to get to 'yes.'"
A group representing the Newtown families declined to say which lawmakers agreed to meetings. HuffPost reached out to the offices of senators likely being lobbied: the four Democrats who voted against the background checks measure in April -- Sens. Max Baucus (Mont.), Mark Begich (Alaska), Heidi Heitkamp (N.D.) and Mark Pryor (Ark.) -- and a handful of Republicans previously targeted as potential supporters, including Sens. Kelly Ayotte (N.H.), Jeff Flake (Ariz.), Lisa Murkowski (Alaska) and Rob Portman (Ohio).
Some responded. A Begich aide said the senator met with Newtown families on Tuesday, and that their discussion likely centered on mental health issues. Aides to Murkowski and Baucus said the families hadn't scheduled meetings with them, though a Baucus aide noted that the senator met with them in April.
Senate Majority Leader Harry Reid (D-Nev.) has vowed to bring the bill up again this year, but so far, there are no signs that anyone who opposed it in April would be willing to support it now, even with changes. During a Wednesday press event with Sen. Joe Manchin (D-W.Va), who has been the measure's leading supporter, the families described what the last six months have been like -- and signaled that they're not giving up.
"It's been the longest six months of my entire life," said Nicole Hockley, who lost her 6-year-old son Dylan in the massacre. "The more time that goes by, in some respects, the stronger we are getting and more comfortable in our voices and what needs to be done. It just strengthens our resolve to continue this."
"That's what faith is. You just have faith that you do what you feel is right," said Francine Wheeler, whose 6-year-old son Ben was killed in Newtown.
House Republican leaders have said they won't act on gun legislation until the Senate sends them something. That didn't stop them from meeting with Newtown families on Wednesday. Aides to Boehner and Cantor declined to give a readout on their meeting. Ahead of the meeting, Boehner spokesman Michael Steel said GOP leaders want to find ways to work together on the issue.
"Speaker Boehner's heart goes out to the victims of this senseless tragedy, and their families. He wants to hear their stories and talk about ways to reduce the culture of violence in our country," Steel said.
Top House Democrats warned against reading into Boehner's meeting as a sign that the speaker may be warming to considering gun control legislation.
"I don't see any indication that the Republican leadership, even Mr. Boehner or Mr. Cantor ... has any intention of doing something," House Minority Whip Steny Hoyer (D-Md.) told reporters Tuesday.
"I think [Boehner] is an empathetic person ... They want to meet with the speaker, and I think it shows respect for them, and he will listen to them," Hoyer said. "But I don't know that they will move him to action."
Families and friends of Newtown victims are making sure they get attention to their issue while they're in Washington. They're planning public demonstrations at the Capitol on Thursday, including a daylong reading of the names of the 4,800 Americans who have been killed by guns since the Newtown shootings, a press conference with members of Congress and the formation of a human "Ribbon of Remembrance" on the front lawn of the Capitol.
The White House is trying to keep the drumbeat going on the issue, too. Vice President Joe Biden is hosting a White House event next week to highlight how far gun control advocates have come since the Newtown shootings. President Barack Obama recently nominated B. Todd Jones as director of the Bureau of Alcohol, Tobacco, Firearms and Explosives, one of several executive actions he can take to affect gun safety.
Still, advocates for the background checks bill say their best hope for moving past politics and getting something done lies with the voices of those personally affected by gun violence.
"Listen, these families are tired. They've been grieving and lobbying over the last six months ... But that hasn't stopped them from coming here," said Murphy. "I just see time and time again how they change the debate."
Before You Go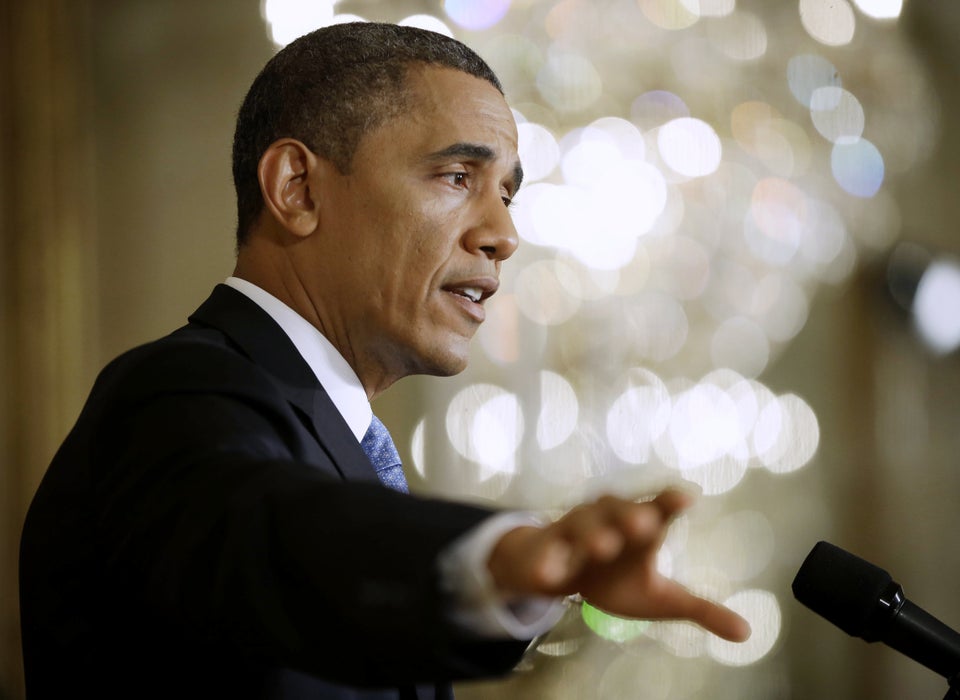 Obama's Executive Actions On Gun Violence
Popular in the Community