 NEWTOWN, Conn. -- On a bitingly cold Friday night 11 days before Christmas, hundreds of people spilled out of St. Rose of Lima Catholic Church, hours after the staggering murder of 20 children and six adults at an area elementary school.
Many wept as a small group sang "Silent Night," the familiar lyrics turned achingly poignant in the aftermath of one of the worst mass shootings in U.S. history.
"These parents lost their hearts today," Monsignor Robert Weiss, who leads the congregation, said after the vigil.
Weiss said that "a number" of families of the victims were members of the congregation, and that the gunman, identified by police as Adam Lanza, 20, had attended the parish school for several months. "The family was known to us," Weiss said.
Mourners leaving the picturesque brick church filed past wreaths tied with red ribbons and under a sign reading "Love One Another." Some held children in their arms no older than the morning's victims, said by authorities to be from 5 to 10 years old.
Rebecca Hill, 56, drove 130 miles from Brattleboro, Vt., to attend the vigil.
"I could not get that image out of my mind, what those classrooms must look like right now," Hill said. "That young man has also been very much on my mind. We should be praying for his soul."
St. Rose was one of many area churches marking the tragedy. Another memorial service was held at Trinity Episcopal Church, where at least one family of parishioners lost a child, according to Bishop Ian T. Douglas, leader of the Connecticut Episcopal diocese. Dozens more candlelight vigils and prayer services across the state are scheduled for the weekend.
The rector at Trinity, the Rev. Kathleen Adams-Shepherd, arrived early at the scene of the shooting and counseled parents as they learned of their childrens' fates, Douglas said.
"Kathy has been in many ways a rock for those families," Douglas said.
Outside St. Rose with a group of friends was Michael Eisele, 15-year-old who was holding up better than his parents.
His 10-year-old sister had hid in a gym locker during the rampage. His sister in kindergarten stayed home sick today. Their close call unleashed emotions he didn't know his parents possessed.
"I've never seen my father cry before," Eisele said. "He's traumatized and my mom is a wreck."
The 26 victims will be officially identified on Saturday, said Lt. J. Paul Vance of the Connecticut State Police, according to Patch. Next of kin for all the victims have been contacted, Vance said.
For some, the shooting challenged their long-held views of this New England town about 60 miles northeast of New York City. "As a community we have so much strength," said Dena Daum, a dental hygienist with a middle school daughter and high school son. "Now they're going to compare us to Columbine."
Until Friday, residents said Newtown existed in a warp where time stands still.
"The big joke around here is that nothing ever happens," said a 21-year-old who gave his name as Josh. "And now this."
At the first word of catastrophe, Daum rushed to the middle school to pick up her daughter. But because of the area-wide lockdown, she had to wait at the school's door until her daughter was released, crying hysterically.
"What can I say to my children when they go to school on Monday," Daum said. "If they go to school on Monday?"
Related
Before You Go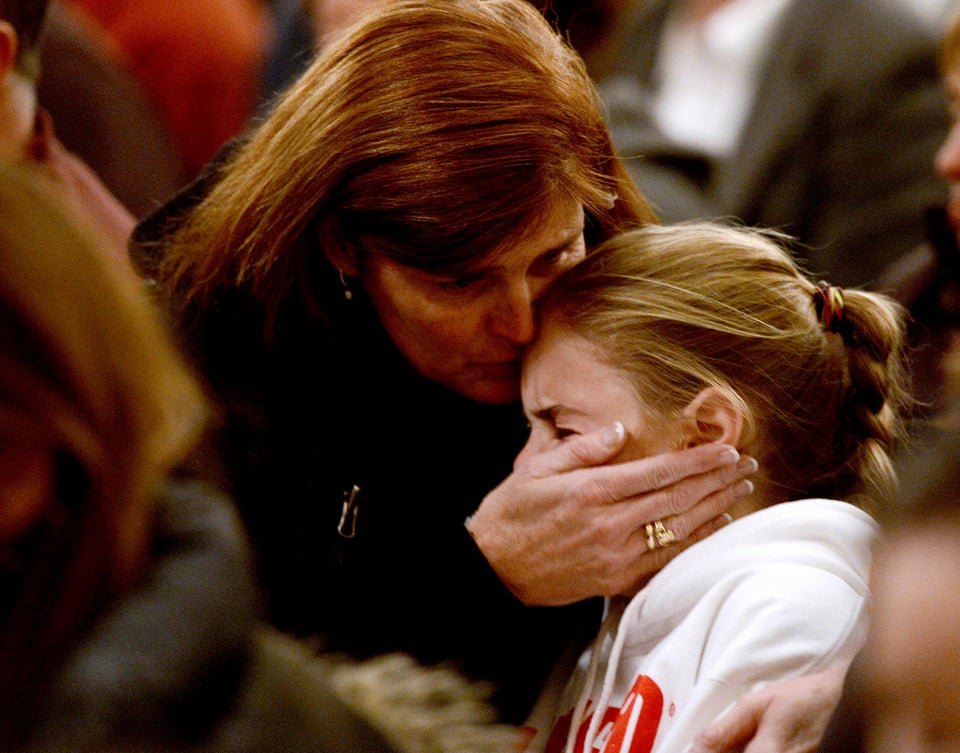 Newtown Vigil
Popular in the Community