 Newtown, Connecticut continued to endure a crush of reporters on Tuesday, as its residents struggled with the aftermath of Friday's shooting. Many have expressed that they want the media to leave — and some journalists, it seems, feel the same way.
Twenty-six victims — including twenty children — were shot and killed in a horrific shooting at Sandy Hook Elementary School on Friday. The gunman also killed his mother before killing himself. The country watched with horror as the story broke and developed on Friday.
The tragic event has dominated news coverage non-stop, and brought scores of reporters to Newtown. Some residents have told reporters that the media attention is simply too much right now. Poynter compiled some of their reactions in a piece on Tuesday.
"Please tell them to just ease up," Teri Brunelli, a Newtown store owner, told reporter Adrienne LaFrance. "It happened and we're going through it. Just let it be for now."
The BBC's Jonny Dymond reported being told, "Go home, please, go home, all of you," by a man who said that he knew four or five of the families who lost children.
Like some journalists, Dymond agreed with residents. "I have covered stories for 15 years in the field, some of the biggest, and have never seen anything like this, nor felt so uncomfortable about being part of it," he wrote, lamenting the "exceptionally heavy" media presence in Newtown. "After a while, you have to wonder what more there is to say," Dymond added.
Other members of the media have acknowledged the difficulty of covering the shooting, on a personal level, as well. CNN's Don Lemon reported from Newtown during Sunday night's vigil, where President Obama spoke. "I know it's my job but I hope it's ok to say I'm dreading this drive from hotel to Newtown to anchor on #CNN," Lemon tweeted. "Overwhelming sadness."
In interviews with the New York Times, CNN's Wolf Blitzer and "Good Morning America" executive producer Tom Cibrowski spoke out about the conflicts presented by such a tragic story.
The media has already come under much scrutiny for its reporting of the story. Television reporters were hotly criticized for interviewing eyewitnesses, many of whom were children at Sandy Hook Elementary School, right after the trauma of that morning.
Some, including Anderson Cooper, have refused to cross certain lines in their coverage. "In answer to your tweets, no, Of course i will not be interviewing children from the school," the CNN host tweeted on Friday. "I do not think that is appropriate at this time."
Related
Before You Go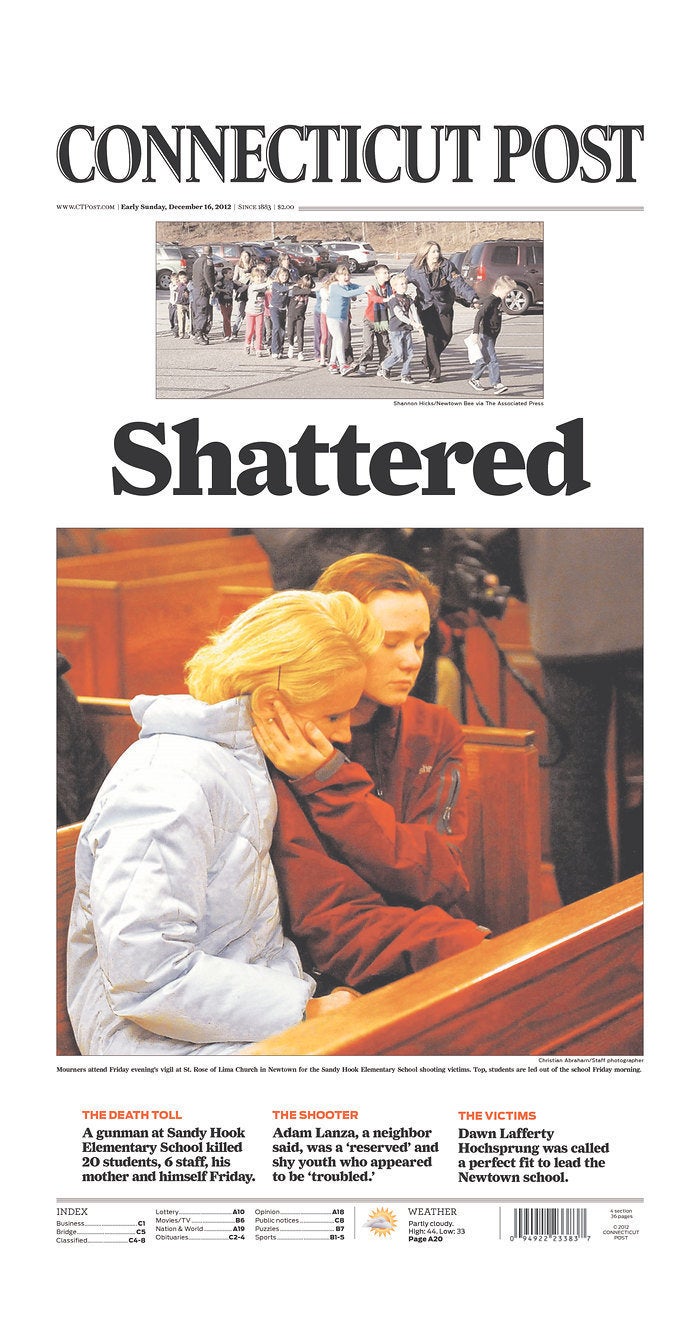 Newtown Shooting Coverage
Popular in the Community