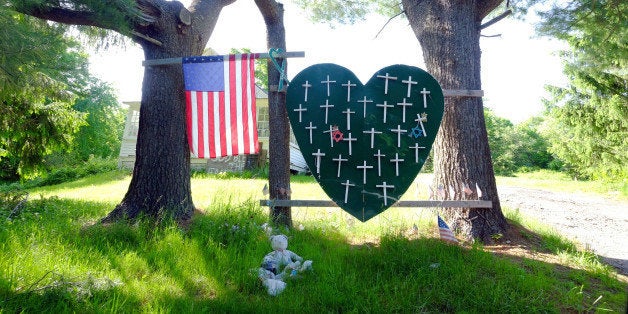 Today marks two years since the tragic mass shooting at Sandy Hook Elementary School that killed 20 first graders and six educators. Sadly, Sandy Hook was not the last shooting to impact our schools... far from it.
According to an updated report by Everytown for Gun Safety and Moms Demand Action, there have been at least 94 shootings at schools across the country since the Sandy Hook tragedy, resulting in 44 deaths and 78 injuries. That's 94 times a gun has gone off in or around an American school. These incidents include suicides, gang-related gun violence, accidental shootings, and simple arguments that may not have been fatal had a gun not been present.
When people discuss school shootings, what immediately comes to mind are those like Sandy Hook that shatter entire communities within minutes, even seconds. And yes, mass shootings take a devastating toll, but they are not the only senseless acts of gun violence that threaten our schools.
Often times, the media dismisses school shootings that resemble so-called "gang violence," not to mention accidental shootings and suicides at schools. But the bottom line is that any time a gun goes off at school, children and parents should be terrified. Should a victim's mother feel any less heartache knowing her child was killed in an accidental shooting or because of gang activity?
I recently met a Chicago mom -- Pamela Wright -- whose only son, Tyrone, was shot and killed nearly two years ago following a high school basketball game -- one of the 94 school shootings since the Sandy Hook tragedy. Tyrone was doing nothing wrong -- he was simply leaving a basketball game on Friday night, like any other high school kid. Is his death any less meaningful than those who have died in mass shootings? It is irresponsible and dangerous for the media to dismiss Tyrone's death as just another kid in the wrong place, at the wrong time. Anytime a gun is fired on school grounds, fear strikes the parents and members of that community. That could be my son, or yours.
This week, Moms Demand Action released a powerful video that depicts the lockdown culture in American classrooms, and reminds us that these kinds of threats confront kids in schools everywhere, every day. While our children are facing these fears in their classrooms, our elected officials are hesitant to take action. We owe our children a world where they don't have to practice shielding themselves from a barrage of bullets in their classrooms, and a country where our leaders take the security of our schoolchildren seriously.
We do not send our children to school to learn how to hide from gunmen, nor should we expect sharpshooting to be a job requirement for educators. The work to change the culture of gun violence in America has begun, but with nearly 100 school shootings since Sandy Hook, it is apparent there is so much more to be done. Until Americans step up and demand policies and laws that will keep guns out of dangerous hands and keep our schools safe, these tragedies, this new normal, will continue. It's time we hold our elected leaders accountable and demand more.
I will never forget Sandy Hook, nor will the moms and other supporters who have joined me in this fight. But we also must never forget the 44 young lives that have been ripped from their families and loved ones in the school shootings since. We cannot allow these victims to become merely statistics, and Moms are more determined than ever to make real progress on this issue in their name. Join us.
Related
Popular in the Community