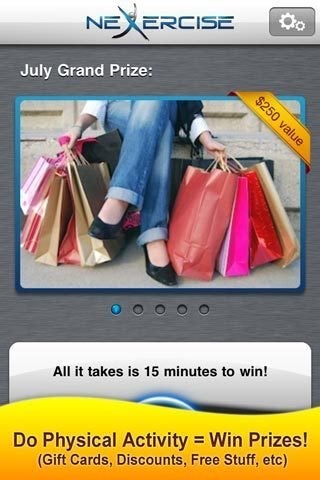 So far in my Fitness Apps For Lazy People series, I have been using applications like RunMeter and adidas miCoach that could be used to track, train and inspire a runner once he actually got up off the couch to run. This week, for the final installment of Fitness Apps For Lazy People, I'll be looking at an app that was actually made and designed for lazy people like me. It seeks to give lazymen and lazywomen a tangible incentive to exercise rather than just wanting to be in shape and/or not fat, and it is called Nexercise.
Nexercise CEO and co-founder Ben Young said that, after earning a degree in computer science, he saw his weight go up and down while working a series of inactive, totally draining desk jobs. It was at Wharton Business School in 2010 that he got the idea for Nexercise, an app that he hoped would inspire people to exercise not by promising them faster times or longer distances, but by promising them something more appealing to the non-athletic: Free stuff.
"Technology makes us sedentary, and leads to us making bad, unhealthy choices," Young told HuffPost. "So I thought, 'Is there any way that technology could help us make incrementally better choices?'"
That question led Young to "game-ify the exercise experience and reward people for it." The final "game-ified" result is Nexercise, released in the App Store in early 2011 and already seeing hundreds of downloads per day.
BEST REASON TO GET OFF THE COUCH: Fitness Is No Longer A Pointless Exercise In Self-Preservation
No, I don't really think that being physically fit is pointless, but it does feel that way sometimes -- especially when you're starting out, or when you feel your calves the morning after your first run, or when you get home after a long day of work and there's ice cream in the freezer and a movie about dinosaurs on television.
Nexercise corrects this existential crisis of exercise meaninglessness by awarding points that go toward winning products from boutique healthy food vendors, fitness apparel retailers and bigger stores like Sephora. It turns exercise into an arcade game, where instead of tickets, you can win points that lead to actual stuff.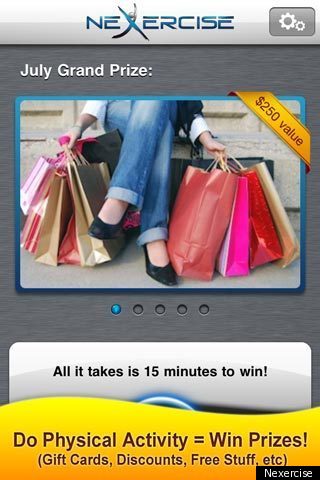 "If you can give people incentives and use that as the carrot and have fun engaging tools in the app," Young says, "then maybe people will do more physical activity."
These incentives are the points you earn from exercising for a minimum of 15 minutes with the Nexercise app open on your iPhone. The points cannot be redeemed like air miles -- Young worries that this would lead to rampant cheating -- but the more exercise you do, the more points you accrue, and the more points you accrue, the better your chance of winning.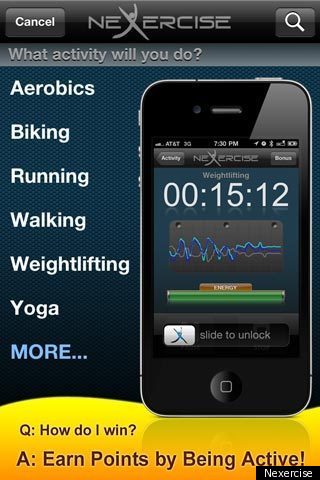 I only exercised three times with Nexercise, which didn't earn me very many points. Sharing my accomplishments to Facebook earned me a few more points, as did running on a Monday (I am apparently a "Monday Maniac," which my boss can tell you is certainly not true). The points I earned did get me a nice discount on some exercise bars, but nothing substantial enough to make me say, "Wowee zowee, Nexercise is going to get me some sick swag if I keep up with it!"
I suspect, though, that as time goes on, and Nexercise gains users and popularity, companies will start lining up to give out their merchandise through Nexercise (perhaps the Nexercise marketing department should contact the people over at Hewlett-Packard, who I hear have a few hundred thousand Touchpads lying around).
The quality of the potential merch isn't the biggest weakness of Nexercise, however -- I know that the app isn't going to give me a plasma screen just for signing up. The biggest weakness, right now, is in the user experience.
BEST REASON TO STAY ON THE COUCH: Don't. Go. Anywhere.
The biggest problem right now for Nexercise is that it only counts your workout if you do not run the app in the background. This wouldn't be a problem if Nexercise came fully integrated with workout plans, GPS-tracking and all the other wonderful things that apps like Runkeeper and miCoach come preloaded with. Unfortunately, the Nexercise exercise screen is fairly barebones: An in-app music remote (good), a timer that, in my tests, may or may not be slow (bad) and nothing else (frowny face).
Nexercise would be fantastic to use in conjunction with a robust exercise app, but right now it is impossible to do so because I can't run it while I'm in my training app checking out my pace and miles. Young told me that this is an iOS problem, and that until Apple pushes through the ability for motion-tracking to run for apps in the background, Nexercise will be stuck between a rock and some hard abs, so to speak.
Luckily for Nexercise, I have a feeling that this very functionality just might be coming in iOS 5 (a little unnamable birdie told me). This could make Nexercise -- or at least the Nexercise model of prizes-for-pounding-the-pavement -- a very valuable app indeed, both for lazy people looking for inspiration, merchandise companies looking to disseminate their goods to the public and Nexercise's bank account.
Of the apps that I tried, Nexercise is the closest to what I would call a true Fitness App For Lazy People. It was made for the express purpose of making exercising more fun, like a game. Nexercise also tacks on some social features that many other fitness apps are banking on, in the hopes that peer pressure or competitive streaks will lead its users to work out more. But the true gold of Nexercise lies in its prizing platform, and Young knows it.
"The final version is nowhere near where we're at now," he told me, implying that there are more changes, more points and more vendors down the road. And when it does -- if it can become a fully realized mammoth of a prize platform rather than a smallish startup with coupons for chewy bars -- then it will really be the best thing to happen to lazy people looking to get fit in quite some time.
NEXERCISE ESSENTIALS (In Bullet Form, For The Lazy)

Price: Free

Platforms: iOS

Things It Can Do:
Total Facebook integration
Earn points for exercising that can lead to winning material prizes
Challenge and compete against friends for points
In-app timer and music control
This is part of a series of articles profiling fitness apps for lazy people. I am training for an August 27th 5K, despite my better instincts. For the introduction and mission statement, click here. You can follow my progress on Twitter @gilbertjasono, or by "liking" my reporter page here. Stay tuned for next week's Fitness Apps For Lazy People series installment, when I recount my 5K experience and run down my favorite fitness apps.
Related
Popular in the Community