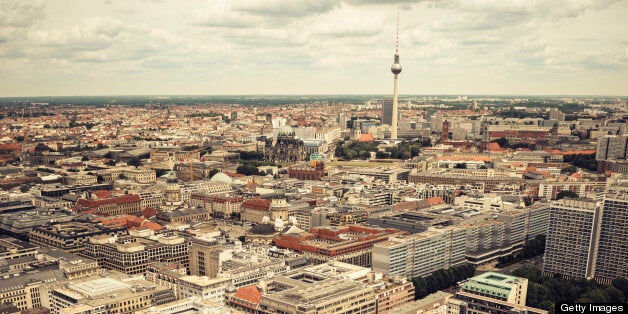 Berlin always feels like an unfinished business to me. In Alexanderplatz, the picturesque ugly square is as laden with underground history as a clogged liver.
Once has to feel that all of us in modern Austerity Europe have become the hangers-on at the Alexanderplatz: the aging hippies, the tattooed dropouts, the beggars as artists, the dissidents as intellectuals... There's no sign of any particular trouble as Merkel's police roll by politely.
Berlin Alexanderplatz is also that legendary Fassbinder movie serial from the eighties, based on the novel by Alfred Doblin. The iconic history of the modern metropolis, the human destinies warped by it.
Before the wall, before the fall of the wall, and today walking through the ghost of the wall, Alexanderplatz is still an atemporal movie set. It bewitches you into becoming the actress of your own self, another weird rambler in the crowd with the hucksters, lunatics and street gurus who came to the plaza long before you and never left it alive -- Europe's unfinished business.
The Berlin NEXT 2013 conference, abuzz with start-ups and other high-tech goodies, put up its tent in the Alexanderplatz. Geeks and geekettes from every tech scene in Europe, (most of them men, however, as always in places where money and technology dominate), joined together in a two-day venture on social technologies -- how to change the world while making money?
Quite a happy and knowledgeable crowd, talking about the many dragons of their business and how to keep those monsters on your side if you don't dare to disrupt them. The obvious well-known positive sides of the Internet were all stated adamantly; these people have no desire to waste even a day with any slow, handmade industrial processes.
They think and scheme on the network, produce and sell on the network, and have a network identity. The lightweight devices they carry on their bodies, such as iPhones, pads, pods, Google Glass and other electronic wearables, are mere fashion accessories for a tech revolution that seems inevitable, and therefore may be glorious.
Some are corporate people, some are freelancers, but they and their favorite Eurocrats are all hauntingly aware of the huge unemployment rate today, the precariousness that stalks even the rich and powerful. The West's prosperity machine is broken, and the children of the Cold War victors have to reinvent their jobs, their lives, themselves.
They are young and they don't lament, which is a good thing. However, they do not stop and criticize, either, which is an excellent thing if you are already entirely set on what you are doing.
But will they prosper? Think of the many other times various Internet bubbles have promised riches, and then been shattered by their financiers. Every disruptive network empire has a thousand vulnerabilities, to be shattered by further disruptions.
Everybody is an instant expert thanks to new technologies and their implementation -- with digital signal processing the deaf can literally hear, the blind will literally see. The network empowers you as long as you pay its power bills; it renders you independent as long as you depend on it every day.
Those who wear the network become its surveillance devices, those who track are tracked in return, those who anticipate will increase the pace of the events that befall them, those who know their customers in deep detail are eagerly spilling their own guts on the forensic slab of Big Data. No product or service will go untouched by low-cost sensors, augmented reality, health probes and instrumented self-hood; it's mindshare as well as marketing, all in a cavalcade of meter-high break-dancing robots and personalized anti-Barbie dolls.
You redesign yourself as a network maven bendable in all directions: real content direct from real people, crowdsourced design stars, architecture as landscape, hard-and-soft open source, conceptual Valium, women coders who instantly generate through interfaces the patterns their grandmothers once hand-knitted on long winter nights, the silent casinos of the Bitcoin machines...
Berlin Alexanderplatz is trampled by the high heels of beautiful multi-ethnic girls, each with a personalized scarf colorfully nested round her neck. We are all Alice Taylor's avatar dolls, creating our deepest intimate archaic fantasies in the global fablab. Berlin is a city of nightclubs infested with huge screens, where futuristically intricate techno music is as native as jazz in New Orleans.
Just this month, in a Turinese cinema, I encountered Ingrid, the ex-wife of the late Rainer Maria Fassbinder. Ingrid was in the ladies room, anxiously redoing her massive and extravagant makeup before jumping onto the stage to receive the aptly-named Dorian Gray Prize from the gay and lesbian film festival.
Before recognizing her as an entirely genuine Berlin diva, I thought she was some stray Torino esoterica witch -- maybe a jittery femme fatale from early silent cinema. There are many such in the Italian capital of black magic. But the magic in Turin is an industry in Berlin.
Popular in the Community