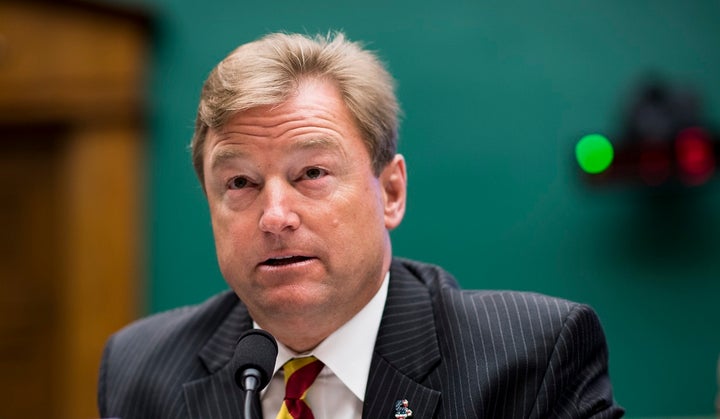 Even with the 2018 midterm elections still 18 months away, both Republicans and Democrats are making moves to strengthen their most vulnerable incumbents.
One way they're doing it: By contributing through their candidate committees and leadership PACs. Already, more than $3 million changed hands this way in the first three months of 2017 — nearly $2.6 million in the House and $769,000 in the Senate.
These are the 2018 candidates who are the top recipients of funds from their colleagues: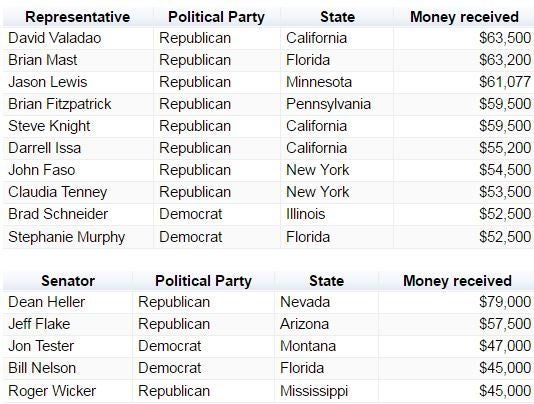 Currently the GOP holds the majority in the House by a wide margin — 241 seats to the Democrats' 194. Thirty-four seats in the Senate will be on the ballot. But the president's party usually loses seats in Congress in the midterm elections.
To gain a majority in the Senate, the Democrats will have to cling to its 25 seats that are up for re-election and fight for three more. (Two of the 25 are held by Independents who caucus with the Democrats.) Republicans, meanwhile, have their eyes on a 60-seat supermajority so they can block Democratic filibusters (that's if filibuster rules still exist by 2019). To get there, they would need eight more seats and couldn't lose any of their nine incumbents up for re-election.
While the Democrats' goal in the Senate might be gettable, winning the House would be a reach, said Laurel Harbridge Yong, an associate professor of political science at Northwestern University. That's partly due to a "bad map," she noted: Where people live across the country and how they're divided up into House districts in general leans more in favor of Republicans, she said, and that's not just from gerrymandering; it also has to do with the fact that a lot of Democratic voters are concentrated in cities, rather than spread out in rural areas like GOP voters often are.
"The tricky thing is what are the Republicans going to accomplish between now and the election?" Harbridge Yong said. "They probably aren't going to get a lot done due to in-party fighting, in which case the Democrats can say, 'you had control and you didn't do anything.'"
The most vulnerable candidates in the upcoming election, Harbridge Yong said, are the people whose partisanship doesn't align with how their state voted in the 2016 presidential election.
Sen. Dean Heller (R-Nev.), the lawmaker who has received the most funding so far from his colleagues, is looking at what's expected to be one of the most difficult races in 2018. He is the only Republican senator up for re-election in a state that voted for Hillary Clinton in 2016. This makes him one of the primary targets for the Democrats, who are desperately reaching for the Senate majority.
Twelve different politicians have contributed to Heller's campaign so far to give him his $79,000 total. His top four supporters are Sen. Bob Corker (R-Tenn.), Sen. Ted Cruz (R-Texas), Sen. Deb Fischer (R-Neb.) and Sen. Cory Gardner (R-Colo.), who each gave $10,000 through their separate leadership PACs — $5,000 for the primary and the same for the general election.
The top donor to his colleagues, naturally enough, is a member of the leadership. Speaker Paul Ryan (R-Wis.) has given a cool $564,000 to his fellow House members. House Majority Leader Kevin McCarthy (R-Calif.) has given $317,000, including $112,000 to the eight GOP House candidates on our list of top recipients; he contributed $10,000 to each of the eight through his Majority Committee PAC, and they all got another $4,000 each from the Californian's campaign committee.
On the Democratic side, Minority Leader Nancy Pelosi (D-Calif.) has provided her flock with $279,000 from her leadership PAC, PAC to the Future, and her candidate committee, including $28,000 to the Democrats who are among the top 10 recipients. Like McCarthy with his Republicans, Pelosi gave $10,000 to each of those candidates through her PAC, and through her campaign committee she gave another $4,000 each.
Among senators, Tim Kaine (D-Va.) has been the most generous, redistributing $97,500 from his leadership PAC, including $20,000 to those on our leader board.
While leadership PACs can give $5,000 per election, candidate committees can only give $2,000 (so $4,000 for the primary and general together). McCarthy, Pelosi and several other believers in early money have already maxed out what they can give directly to some of their colleagues for 2018.
Calling all HuffPost superfans!
Sign up for membership to become a founding member and help shape HuffPost's next chapter