Translated from the Wolof language as "Peace only," it is the "Aloha" and "Shalom" of Senegal. The phrase is uttered in almost every conversation in that African nation, spoken to pass your peace on to others and accept their peace in return.
I learned of this tradition from a trio of our students who have now joined the Peace Corps, like so many of our alumni. The ritual is a reminder of our ultimate goal - international exchange to inspire peace.
It's easy to be discouraged. We're currently witnessing what the United Nations has deemed the world's largest migration in history. We've seen terrorist attacks rack the globe, inciting fear and begetting more violence.
Indeed, the sole American to be killed in the Paris terror attacks was a gifted and promising college senior studying abroad. Nohemi Gonzalez exemplified today's Global Citizen. A first generational Mexican-American student, she was the first in her family to attend college. She was a digital native who carried the world in her pocket. She was brave and smart, and she was taking control of her education.
Her loss evokes the words of Senator John William Fulbright:
"The one thing that gives me some hope is the ethos that underlies the educational exchange program. That ethos, in sum, is the belief that international relations can be improved, and the danger of war significantly reduced, by producing generations of leaders, especially in the big countries, who through the experience of educational exchange, will have acquired some feeling and understanding of other peoples' cultures--why they operate as they do, why they think as they do, why they react as they do--and of the differences among these cultures.
"It is possible--not very probable, but possible--that people can find in themselves, through intercultural education, the ways and means of living together in peace."
Although these words, from his book The Price of Empire, were written in 1967, they are as apropos now as they were then. Senator Fulbright was a prominent and gifted American statesman of the 20th century whose more than 30-year career in the U.S. Congress was distinguished by his unequaled contribution to international affairs. His vision of mutual understanding shaped the extraordinary exchange program bearing his name as well as his role as honorary chairman of CIEE.
Fulbright's words deepen my commitment to nurture the next generation of global citizens through international exchange.
When it comes to the biggest problems facing our world--issues like hunger, the water crisis, and religious extremism-- real solutions are possible, and most effective when considering an intercultural perspective. In order to understand and tackle the problems facing the world on the global stage, we need to globalize ourselves.
Be encouraged. The official Open Doors data that tracks the pace of Americans that study abroad was just published and shows the number of U.S. students studying abroad increased in 2013 and 2014. In fact, we experienced the highest rate of growth since before the 2008 economic downturn.
Students are signing up to live in homes with local families, flying halfway around the world to spend a semester studying in Jordan or Costa Rica or Senegal or Paris or Peru. They leave home with a sense of adventure, but also with open eyes and open hearts.
"We were warned at the beginning of our semester that the generosity of our host families could seem overwhelming at times," writes Rosa Cuppari, a Georgetown University student currently living in Amman, Jordan. "What I didn't expect though, was the generosity I would see from others."
Her first week in Jordan, she was surprised by an offer of free dessert. Soon, she found herself receiving sweets from shopkeepers and gifts from her host family. Cuppari is learning about an important global currency, one that crosses cultures and spans the globe. As she learns foreign words and values, she also learns about kindness, graciousness, empathy, and the cross-cultural impact of giving.

Graduates from study abroad programs are better equipped than their peers to work in our rapidly globalizing world. Study abroad students are the most desirable in the post-graduate marketplace. Studying abroad gives kids a leg up, a framework to explore and appreciate similarities and differences in other cultures and perspectives. It also gives them a sense of the common threads that connect us all, the things that make us, no matter our skin color or culture, human.
We want to see study abroad programs become accessible for all students.
I have just returned from our annual conference in Berlin, where we reaffirmed our commitment to expanding opportunities for young people around the world. As we make study abroad experiences accessible to a more diverse student profile, we can only do so by taking away the barriers that stop students from studying abroad, barriers like cost, culture, and curriculum.
We are dedicated to nurturing this new generation of peacemakers because the world needs peace, peace now, peace only. Jamm Rekk.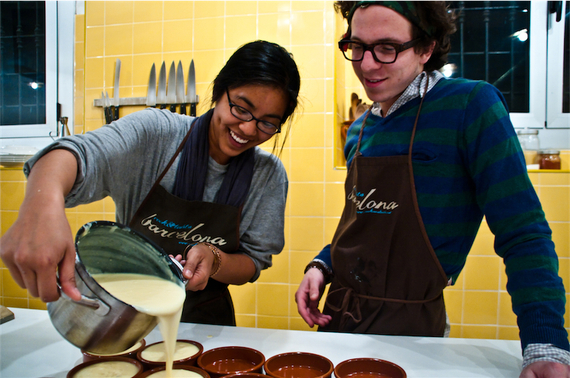 REAL LIFE. REAL NEWS. REAL VOICES.
Help us tell more of the stories that matter from voices that too often remain unheard.