 All four people charged with finding Microsoft a new CEO are men. All but two of its nine board members are men, and nearly 80 percent of its U.S. employees are male. The only two CEOs in Microsoft's history, Bill Gates and Steve Ballmer, have been men.
Microsoft's gender imbalance -- skewed, but standard for the technology industry -- suggests there's plenty of room for more female leaders at the top of the world's third most-valuable tech firm. So when Ballmer, Microsoft's current CEO, resigns next year, what's the likelihood a woman might get the top job?
Though industry analysts agree Microsoft should hire the most qualified candidate, regardless of gender, some argue that appointing a woman as Ballmer's successor could potentially bring additional benefits a male executive would not. Hiring a talented female chief executive officer could curry goodwill among investors, consumers and even employees, they say, noting it could be seen as a move away from a business-as-usual mindset and an effort to attract more women to the tech industry.
"If Microsoft wants its next CEO to help push the company into the future, appointing a female leader could bring some much-needed positive attention and a reputation as a visionary leader among its peers. That's a change Microsoft could take to the bank," argued Emily Parkhurst in a recent story for the Puget Sound Business Journal. "Choosing a woman […] could not only help the company recruit young female talent that could join the next generation of tech leaders within the company. It would also show that Microsoft is being proactive in eliminating the gender gap in tech."
Management experts further note that a female chief executive might also bring Microsoft a fresh leadership style that could help it avoid the missteps that have plagued the company in the past. Microsoft has struggled to create top-selling mobile devices that consumers covet, and it has lumbered along with what many argue is a top-down, rigid management structure that impedes innovation and collaboration in the company.
Though not all agree with their conclusions, some researchers have shown that women tend to embrace a more collaborative and democratic management style. With a woman in the top job, a more open approach at the tech behemoth could help bring together Microsoft's siloed product divisions -- yielding faster product cycles, streamlined offerings and improved communication across groups. Professors Cristian Dezsö and David Gaddis Ross, of the University of Maryland and Columbia Business School, respectively, demonstrated that firms engaging in research and development (like Microsoft) that had women in top leadership positions performed better than those that did not.
"Research in psychology claims that women are more democratic. They like to encourage their employees to speak up and they manage in a more open way. This is important in R&D environments because sharing ideas would help creativity," Dezsö noted in an interview. If a woman exhibiting these leadership qualities was elected to run Microsoft, other employees throughout the organization might be empowered to adopt similar principles, Dezsö observed.
Malli Gero, the executive director of advocacy group 2020 Women on Boards, argued that a female CEO could bring a novel approach to products that might help Microsoft fend off offerings from competing companies. However, it should be noted that many of Microsoft's rivals -- such as Apple and Google -- do not have female CEOs.
"There are probably very good male candidates, but a woman would bring a different skill set, a different temperament, different experiences, and would represent a different segment of stakeholders and customers," Gero said. "That might be really important for a company that receives so much negative attention for how they handle products and their management style."
Microsoft declined to comment on its CEO search. A spokeswoman for the company noted that Microsoft supports female-focused organizations and initiatives designed to increase the number of women in computing, and has fostered professional development programs for women internally.
With the help of search firm Heidrick & Struggles, Microsoft has reportedly compiled a short list of 40 potential candidates the company is evaluating for the top job. According to Reuters, three of Microsoft's top 20 investors are pushing the company to consider someone with experience turning around struggling companies, and put forth the names of Ford Motor CEO Alan Mulally and Computer Sciences CEO Mike Lawrie. Other tech industry experts have suggested former Nokia CEO Stephen Elop, former Skype CEO Tony Bates, former Windows President Steven Sinofsky, former Apple executive Scott Forstall and even Bill Gates.
Among the names being circulated by tech industry analysts thus far, the two women who have been mentioned most frequently as potential Ballmer successors are Sheryl Sandberg, Facebook's chief operating officer, and Julie Larson-Green, a 20-year Microsoft veteran who oversees its hardware division and reports directly to Ballmer.
Ladbrokes, a bookmaking conglomerate taking bets on who will be named Ballmer's successor, estimates Sandberg is the second most-likely candidate, behind only Elop. Ladbrokes currently lists odds for Sandberg and Elop at 7-1 and 1-4, respectively. Larson-Green is close behind at 8-1.
Sandberg, who joined Facebook after seven years at Google, has become one of the most visible executives in Silicon Valley for her role guiding Facebook to profitability and its initial public offering. At both companies, Sandberg has focused on monetizing online services through advertising -- experience that could come in handy for Microsoft's struggling search engine Bing.
"Just a name can excite investors," wrote the Motley Fool's Rick Munarriz, noting that Yahoo shares have almost doubled since Marissa Mayer took over. Sandberg is a bigger name, Munarriz wrote.
Some experts also counter that an internal candidate, like Larson-Green, would have the benefit of understanding how to navigate Microsoft's complex corporate politics. Two months ago, Ballmer announced he would streamline the company by consolidating Microsoft's eight divisions -- seen as warring factions that worked against each other –- into four broad units.
"I wouldn't rule out Sheryl," said Rebecca Wettemann of Nucleus Research, a technology-focused research and advisory firm. "But especially because she's an outsider, I think Microsoft would need to look at her record very carefully before considering her. They need not just someone who can 'lean in,' but someone who can 'break balls.'"
Wired dubbed Larson-Green the "heir apparent" at Microsoft, and she's one of four women who belong to the company's 14-person senior leadership team. (The other three women have also been discussed in connection with the CEO spot.) During the course of her 20 years at the firm, Larson-Green has gained firsthand experience across many of Microsoft's most recognizable and profitable products. She helped rethink the design of Office 2007, which earned her an award for Outstanding Technical Leadership in 2008; she's overhauled Windows on several occasions (first, following the disastrous launch of Vista, and again for Windows 8); and she was promoted in July to a post overseeing Microsoft's hardware unit, which includes Xbox and the Surface tablet.
When asked in May of this year whether she'd consider succeeding Ballmer as CEO, Larson-Green indicated some appetite for the role.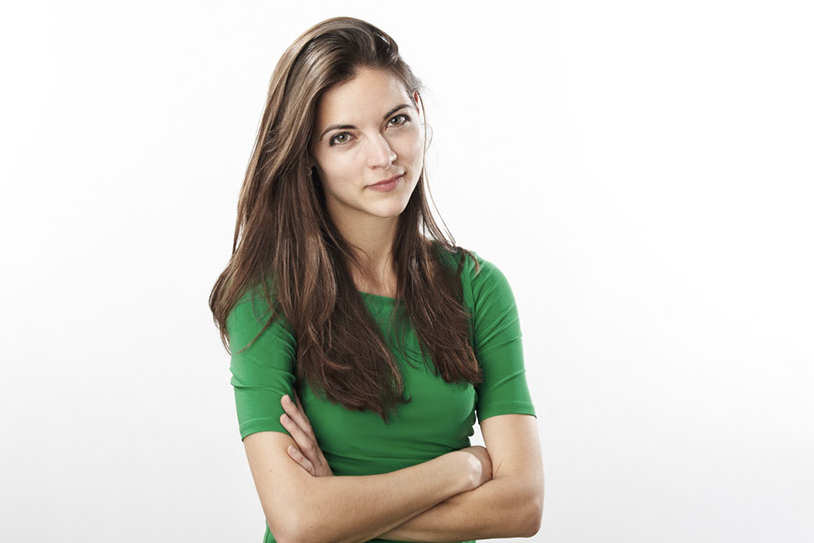 Worst Advice Given To Women In Tech