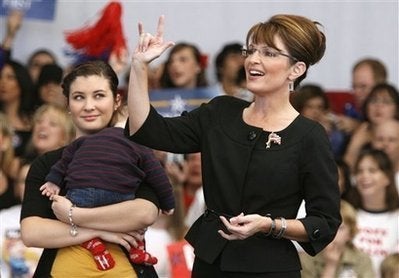 I can't wait for November 5.
But not for the reasons you think.
I am an inveterate Goodwill shopper. I have found Chanel shoes, a Judith Leiber bag, a couple of Bottega Veneta bags [authentic, none of your knockoffs], Dolce and Gabbana, Martin Margiela, Dries Van Noten, Ann Demeulemeester and sundry high-end items, none of them costing me more than twenty bucks each.
Now that the GOP campaign says it'll be donating everything to charity after the election is over, and always meant to, I'm thrilled. I am dying to get my hands on some of Sarah Palin's six-figure wardrobe -- from the campaign trail to my closet.
I already have my eye on that red leather jacket; as a vegetarian, my leather already comes from Goodwill -- and this will be perfect. Same goes for the black Cole Haan boots, and the Kate Spade red faux-croc pumps.
And when I was at the Republican National Convention last month, I got an eyeful of her fab shantung silk Valentino jacket, and boy, did I lust for it. How could I know I'd have a chance to own it?
Governor, please be a good steward of my future wardrobe. Try not to get anything dirty in the few days you have left to wear it, okay? No moose stew drippings, no smudges of snow-machine motor oil? These days, I really can't afford a dry cleaning bill.