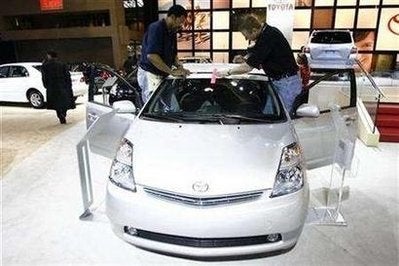 Big news about Toyota, both good and bad.
The company is well-known for taking years to make decisions which would take others months or even weeks. Now in a bit of a very fast two-step for that company, often called the "GM of Japan" for its culture of conservatism in all things, the company has announced that a new $1 billion factory, under construction in Blue Spring, Mississippi, near Tupelo (birthplace of the King!) and originally slated to build new versions of the Highlander, will make instead, when opened in late 2010, the latest version of the company's popular gas/electric hybrid Prius. (From 2007's Tokyo Motor Show, the front-end of a gas/electric hybrid sports car to be produced by both Toyota and Subaru).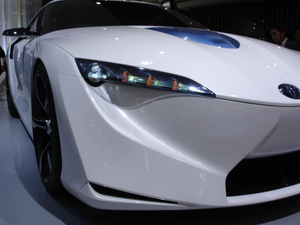 Prius will become the second gas/electric hybrid Toyota is building in the US; the Camry hybrid is already being made at one of their Kentucky plants. Toyota has also announced plans to install solar panels on the roof of the next-generation Prius, and the electricity produced will run the car's air conditioning system. Kyocera, a large Japanese engineering firm, will supply the photovoltaic cells for the solar panels, and will probably need to build a plant near Toyota's Mississippi plant, along with other suppliers from Japan already building facilities on the plant's campus.
As an aside, Japanese company Sharp has run a full-page, four-color advertisement in the main section of the Los Angeles Times every day of this week, proclaiming their belief that "the 21st century is the age of photovoltaic." The ads inform readers that the company has been responsible of fully 1/4 of all the photovoltaic cells yet produced worldwide.
Toyota's change of direction is an incredibly fast reaction to a US marketplace which almost overnight has stopped buying trucks and started buying cars, though even fewer of those, too. The US market for car and light truck sales is normally over 16 million annually, but it could lose as many as 1 million or more sales this year. (This iQ concept from Toyota at the Tokyo Motor Show might see production as early as next year with sales in Japan and Europe).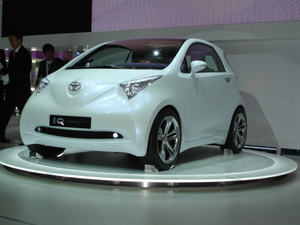 Toyota says Highlander production will be added to Toyota's underutilized truck plant in Princeton, IN. In even more rapid-fire moves, Toyota will suspend production of their full-size poor-selling Tundra pickups and Sequoia SUVs from August through November, and then, next spring, all Tundra output will be from the recently-opened San Antonio, TX plant.
But there was other news concerning Toyota, too, and not the kind which will have their corporate PR staff shaking hands and handing out cigars. This news is not the kind of thing which companies want to be known for.
For the second time in a year, a Japanese government agency has found that an employee of Toyota was killed by "karoshi," a relatively new term to the Japanese lexicon which means "death by overwork." (Sleeping on the train is a sport in every major city, though Japan's workers seem especially adept ... Maybe they're just more tired, too).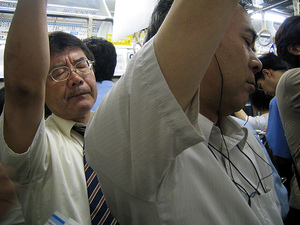 This most-recent finding, which enables the surviving family members to receive compensation from the government and collect benefits from the victim's "work insurance," concerned the death of a 45-year old worker, a lead engineer for the Toyota Camry hybrid.
This employee, who worked in Toyota City, the company's huge headquarters near Nagoya, a few hundred miles south of Tokyo, had worked more than 80 overtime hours in at least each of the last two months before he collapsed at his home, where he was determined to have died from ischemic heart disease, now officially said to be a result of karoshi.
The man was found dead at home by his daughter, and had been scheduled to leave Japan the next day for the US. The project on which he was working was to be exhibited at the 2006 North American International Auto Show, known popularly as the Detroit Auto Show.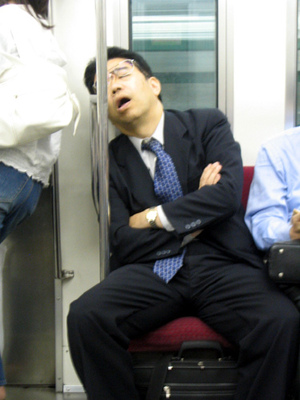 The engineer's widow was awarded the finding by a labor bureau. In 2007, another widow was ruled by a court to be eligible for the same kind of government and company benefits, but only after her 30-year old husband collapsed and died at work in 2002. In that case, the Toyota employee died of overwork after logging more than 106 hours of overtime in a month, a judge ruled in November, 2007, reversing a government ministry's earlier decision not to pay compensation to his widow. The employee, who was working at a Toyota factory in central Japan, died of an "irregular heart beat" in February, 2002 after passing out in the factory around 4am.
In a statement, Toyota Motor Corp. offered its condolences and said it would work to improve monitoring of the health of its workers.
The Japanese Ministry of Health made news around the world in 1987, when they adopted and clarified the concept of karoshi as law; Japan is thought to be the only industrialized country which accepts death by overwork as a legal cause of death and can implicate both the company involved and the government in paying benefits to the person's survivors. Some might call these payments blood money.
In Japan, the average worker uses less than 50 percent of paid holidays, according to government data. Before any of us in America start to "tsk, tsk" those hard-working Japanese, try the following on for size, from a United Nations 2007 report: "US workers put in the longest hours on the job in industrialized nations, clocking up nearly 2,000 hours per capita in 1997, the equivalent of almost two working weeks more than their counterparts in Japan, where annual hours worked have been gradually declining since 1980, according to a statistical study of global labor trends. Americans also work the longest hours among industrialized countries, Japanese second longest. Europeans work less time, but register faster productivity gains."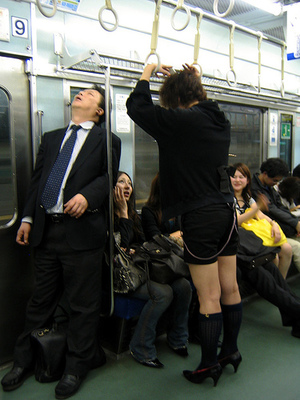 This is not the kind of contest where being "#1" means you're a winner. Trying to make death by overwork acceptable to any society, because survivors are able to get some monetary benefit is ridiculous, repulsive and outrageous.
Toyota remains a huge company which nonetheless can, at times, seemingly perform magic in the way they've been able to anticipate future technologies and then spend the money and hire the people to invent them, if no one else will or can. Competitor Honda is building robots to replace human workers on their assembly lines. Perhaps Toyota will find it in their corporate selves to do something more than "offer its condolences and work to improve monitoring of the health of its workers" if they're dropping dead on the assembly lines.

REAL LIFE. REAL NEWS. REAL VOICES.
Help us tell more of the stories that matter from voices that too often remain unheard.