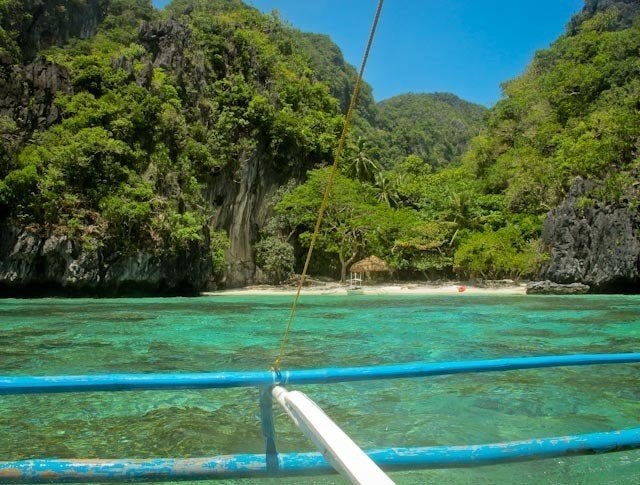 It's not what's in the Philippine beach town of El Nido that makes it one of the most talked-about places in Southeast Asia. Sure, you could deplete a digital camera battery on any given sunset. And the towering limestone cliffs surrounding it make for scenic street scenes, as well.
But the reason people are venturing hours by plane, boat and bus to the jewel of the Sulu Sea some 300 miles southwest of Manila lies just outside El Nido's city limits. Just ask producers of Survivor, the Amazing Race or the latest Jason Bourne film, which was shooting the final scenes of its movie in the waters nearby when my wife and I recently visited.
Travel in virtually any direction from town, and you'll discover hidden lagoons, secluded beaches, waterfalls, hot springs, and a myriad of jungle-draped islands pulled right out of Robinson Crusoe.

My wife Liz and I spent a week in and around El Nido on the first stop of a 12-month trip around the world. While it's a trek from the U.S. and Europe, rest assured the journey is worth it.
On water
A boat tour of Bacuit Bay is the reason people come to Palawan. Imagine peering from your privately-chauffeured outrigger canoe into a cave-like hole carved in a sheer limestone cliff. Through the entrance, a mysterious lagoon beckons, its blue-green waters luminescent in the tropical sun. As you stare, your boat captain says nonchalantly in broken English, "Go ahead, you swim right in. There are two more we visit soon much like this one."
In addition to the lagoons, the many islands dotting the bay are home to countless beaches of similar seclusion for you to explore. The largest, Cadlao Island, rises more than 2,000 feet above the bay and includes the aptly named Paradise Beach. The snorkeling is spectacular, as is the diving nearby.
Most hotels and numerous tour operators can book an island hopping trip, which can be taken privately or by selecting one of four available options. The cost is between $15 and $30 and includes a barbeque lunch on the beach.
On land
Whether you're up for hiking, biking, birding or simply lounging in the sand, the hills, valleys and rice fields around El Nido are rife with opportunities. An easy trek is to head east from town (turn right if you're facing the water) and walk the trail toward Caalan Beach. There's an upscale hotel around the point (Cadlao Resort) with food/drinks and great views of Cadlao Island. In addition, monkeys and countless birds live along the route and may join you, particularly at sunrise/sunset.
For adventures further afield, drop by El Nido Boutique & Art Café or any of the tour operators in town for details. Highlights include Bulalakaw and Nagkalit-kalit waterfalls, as well as a nearby Makinit hotsprings, all of which are within 15 miles of town. Scenic hikes accompany each. If you're looking for more beach time, head toward Corong-Corong and take your pick from long white strips of empty sand to more developed spots near the private resorts in the area. Wherever you go, you'll be treated to sightings of the ubiquitous Asian water buffalo, which are still used to plow the rice fields from which many locals still make their living.
Once you choose your activity go with a guide, hail a local taxi -- called "tricycles" -- or for the more adventurous rent a motorcycle or scooter and hit the road, which is what we did. Pack water and a lunch, as services beyond town are limited at best, and enjoy the ride.
Hotels
El Nido offers a number of options along the water, which is where you want to be. Properties run from four-star, with AC, satellite television, a pool and 24-hour power, to one-star, with dorm beds, fans and electricity that works on the same schedule as the local power grid, which is 2 p.m. to 6 a.m., black- and brown-outs notwithstanding. We stayed at the El Nido Reef Strand in an upstairs room with balcony. While the views were nice, it felt overpriced at around $30 a night, particularly when the electricity stopped, and with it, the fan that had been keeping the mosquitoes at bay.
Restaurants
After settling into your hotel, take a walk along the water and enjoy the views, particularly at sunset. Stop at one of the many restaurants or bars along the way. Most offer happy hour and dinner, complete with fresh fish and candle-lit tables in the sand. Some have live music on weekend. We tried xxxx and The Corner, both of which fit the bill. Breakfast and lunch are similar. There's little to see in the town itself beyond a few tourist shops, so it's worth turning in early for a good night's sleep.
Travel
Fly to Manila or Cebu and book a connecting flight to Puerto Princesa (try Cebu Pacific, ZestAir or AirPhilExpress), the largest city on the island of Palawan. From there it's a six-to-eight-hour van or bus ride to El Nido along a winding road that's mostly paved but always harrowing.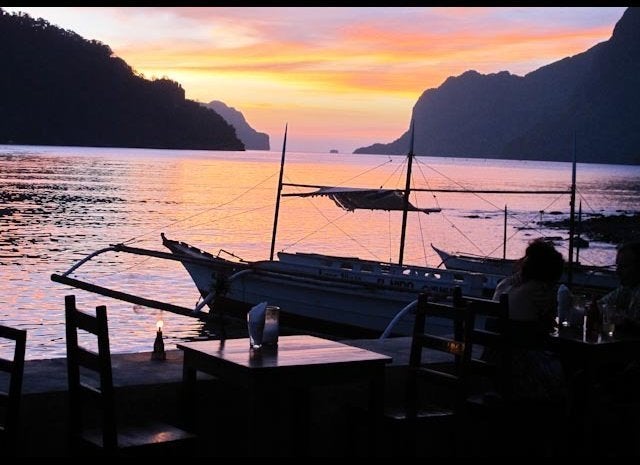 Southeast Asia's Next Hotspot
Popular in the Community