President Obama signs the Every Student Succeeds Act
Orchestras across the U.S. were thrilled when their advocacy efforts paid off as a new education law -- called the Every Student Succeeds Act -- received bi-partisan support from the House and Senate and was signed into law on December 10, 2015 by President Obama. On the long load to rewriting what is currently known as the No Child Left Behind Act, the nation's orchestras -- in partnership with arts advocates nationwide -- made contact thousands of times with Congress, calling on policymakers to close gaps in access to arts education in our nation's public schools.
Here are some highlights of why as a parent, nonprofit leader and arts advocate, I am so pleased with the direction of the new law, but also concerned about next steps:
The new Every Student Succeeds Act firmly establishes that every child deserves access to a "well-rounded education," including music and the arts right alongside reading and math in the list of subjects that comprise a complete education. It dials back the No Child Left Behind Act's high-stakes approach to testing in math and reading, prompting renewed hope that the time and resources for the arts -- and other subjects that were often "squeezed out" of the school day -- may find their way back into the classroom.
States now have flexibility to incorporate other critical measures of student success, such as student engagement. They are encouraged to use portfolio -- and project-based approaches when measuring student learning. These approaches align exactly with the integrated learning strategies, dynamic assessment tools, and social-emotional growth that the arts can deliver. The new law declares that a wide array of federal education dollars, including the Title I funds essential in our highest-poverty schools, may be used by states and local school systems to provide increased access to the full array of subjects in a well-rounded education.
But the battle is not over and there is more work ahead for arts advocates ahead at the state and local levels. A key shift in the law is that the role of the federal government changes. Now, many more decisions for how to use federal education dollars are left in the hands of state and local education policy leaders. So there is now also an urgency for the arts to partner with others in broader education policy circles to ask the question -- how can the arts be incorporated in state and local plans to better prepare students for success in school, work, and life?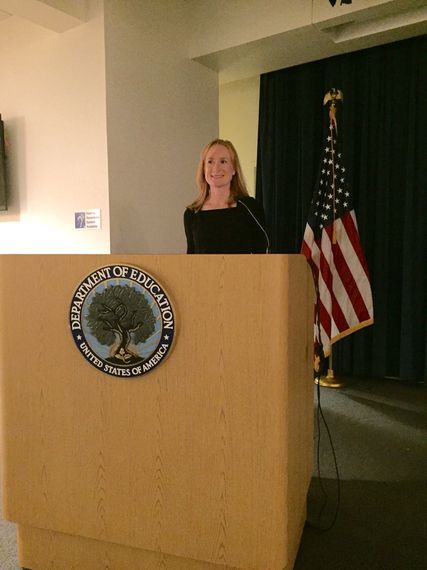 League of American Orchestras Vice President for Advocacy Heather Noonan testifying recently at a public hearing at the U.S. Department of Education. Photo: Narric Rome
It is not a forgone conclusion that states will choose this path. While No Child Left Behind named the arts as a "core academic subject of learning," gaps in access to arts learning persisted. In fact, despite the clear evidence of the value of learning in and through the arts, the U.S. Department of Education's own research finds that the highest poverty schools in this country have the least access to arts education. This is exactly the kind of disparity that federal education law -- originally crafted in 1965 -- is meant address, by closing gaps in access and improving outcomes for all learners.
To make progress, the gaps in access to arts education in our schools must be documented and made visible. So must the disparities in access to health and wellness programs, STEM, and the full array of services and subjects that will prepare our students and our communities for a new future. On January 11, the League of American Orchestras testified at a public hearing at the U.S. Department of Education's headquarters as initial decisions are made on how the new law will support schools in high-poverty communities.
Changing the outcomes of public education is a complicated business, with layers of decisions that will be made by school principals, educators, and policymakers at all levels. To realize the potential of the new federal law, arts organizations must join with parents, teachers, and community members in all sectors to ask school systems for greater transparency about student access to all parts of a well-rounded education.
Support HuffPost
The Stakes Have Never Been Higher
Related
Popular in the Community