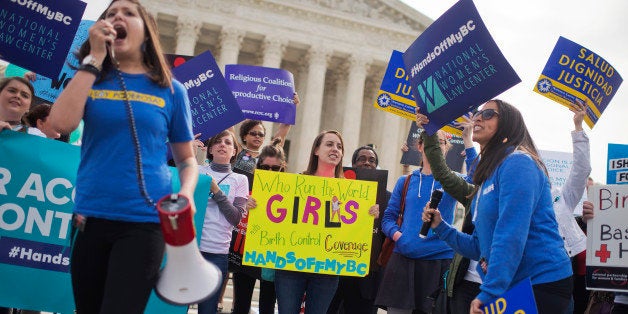 Monday's Supreme Court decision -- striking down onerous and dangerous Texas regulations on abortion clinics and requiring similar repeals nationwide -- was a major victory for women and families across the country. The costly and medically unnecessary provisions of the Texas law are hallmarks of TRAP laws (Targeted Regulation of Abortion Providers), which have been used as tools by anti-choice legislators to steadily and strategically chip away at a woman's right to choose in states around the country.
We should celebrate the Supreme Court's decision to strike down regulations that have made comprehensive health care access an impossible reality for millions of women, but we cannot allow ourselves to become complacent. Anti-choice legislators will continue to make reproductive healthcare as unaffordable and inaccessible for as many women as possible. As Secretary Hillary Clinton, has said, "Any right that requires you to take extraordinary measures to access it is no right at all....not as long as we have laws on the book like the Hyde Amendment making it harder for low-income women to exercise their full rights."
For those of us who understand that the Constitution truly does extend women the right to do what we decide is best for our own lives and bodies, ensuring that the right to reproductive access is a reality in practice, not just on paper, must be our focus. All women -- not just the privileged few -- must be able to afford and access this right.
Millions of women face an affordability crisis because their only option for healthcare coverage does not include abortion services. Most women in the military do not have insurance coverage that comprehensively covers abortion procedures, and our poorest sisters on Medicaid are also barred from insurance coverage for abortion in most states. Additionally, many state insurance exchanges do not allow women the opportunity to purchase plans that cover abortion care.
On the federal level, we must repeal the Hyde Amendment by passing the EACH Woman Act to ensure a woman's ability to exercise her constitutional reproductive rights will not be based on how much she earns or how she is insured. The Hyde Amendment is why military women, women on Medicaid and federal employees have healthcare coverage that does not include abortion services, severely restricting their access. This year is the first in which the Democratic Party platform calls for the repeal of the Hyde Amendment, a step in the right direction to finally end this attack on our rights.
The federal government should act to right this wrong, but states needn't wait for that to happen. I am proud that in California our state has stepped up to ensure that poor California women utilizing MediCal do have comprehensive reproductive insurance coverage despite the federal restriction. Sixteen other states have acted as well. Elected officials in more states must step up and declare that poor women should have an equal ability to exercise their constitutional rights.
Although we made great strides with the passage of the Affordable Care Act, women in 25 states are unable to purchase health care plans on the health insurance exchange that include full abortion coverage. There must be efforts launched in these states and at the federal level to require that women are able to purchase insurance plans that are truly comprehensive, and meet their healthcare needs.
For those of us who are not elected officials, voting and volunteering for campaigns are among the most important actions we can take. This year, we have the opportunity to change the course of women's health care in this country for a generation. On Monday, we saw the power of the Supreme Court. The next President could appoint as many as five justices, which will have a lasting impact on our nation's laws regarding women's healthcare access and affordability. Hillary Clinton has been an avid fighter for women's reproductive rights for decades. We know that, as President, she will continue that fight to ensure that all women will be able to exercise their constitutionally-guaranteed right to make decisions about their own reproductive futures. On the other hand, we must not leave our healthcare decisions in the hands of the reckless Donald Trump, who recently horrified even anti-choice activists by saying that women who need an abortion should be treated as criminals and punished.
To ensure that reproductive rights are an affordable reality, we need not only the next President to champion this effort. We must elect a U.S. Senate willing to confirm these Justices, and both houses of Congress must be ready to pass legislation like the EACH Woman Act. Down-ballot state elections will give us an even greater opportunity to elect pro-choice legislators who we can trust to pass laws that benefit the health and well-being of all women and families.
On Monday, the Supreme Court reminded us that the right to an abortion cannot simply exist on paper, but rather that it must be truly a reality for all women. While their decision is definitely cause for celebration, let's use the energy behind that victory to organize and vote to create real and lasting change, ensuring that our rights are not just privileges for the select few.
Calling all HuffPost superfans!
Sign up for membership to become a founding member and help shape HuffPost's next chapter