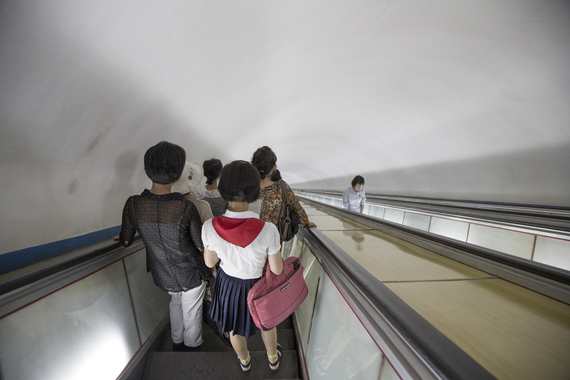 WELL, NOW THAT WE HAVE SEEN EACH OTHER, SAID THE UNICORN, IF YOU'LL BELIEVE IN ME, I'LL BELIEVE IN YOU.
- Lewis Carol, Through the Looking Glass
CHAPTER EIGHT
Next Stop: Normal People
I was sitting on the Pyongyang Metro interrogating Older Handler. As usual, I was trying to get to the bottom of things.
ME: Who are these people on the subway?
OLDER HANDLER: To be honest, normal people.
This was how it would go. She would reply to my question with such absurd nonsense that I would either have to just suck it up and stop asking questions or prepare to dig in, and let the baby-talk roll. But getting past her rehearsed lies--no matter how reductive my questioning--was impossible. And this exchange was no different.
And from what I've been told, "normal people" must work Monday through Saturday (Sunday is their day of rest, but they must do volunteer work then for the Party). It's midafternoon on a Thursday, and this place is packed. And since there are no dry cleaners, or shops, or banks, or other errand-type places, and the only let's-do-lunch crowd in town is me, I'm hard pressed to understand exactly who all these "normal" people are.
ME: Why aren't they at work?
ME: Then why can I see them?
Unfortunately, Q&As in North Korea are a zero-sum game. Some people probably find digging for answers fun. But I find the painfully slow extraction of information from an unwilling and therefore purposely obtuse source to be aggravating as all frick--especially when that someone, in this case Older Handler, had an unbelievably ironic vocal tic of starting half of her responses with, "To be honest..."
I am on an "Extended Ride on the Pyongyang Metro," which meant I was allowed to visit four (no longer surprisingly) dimly lit stations--this, despite the large number of elaborate chandeliers and light fixtures housed in each. And like everywhere else in North Korea, each station had that familiar mix of rousing, communist-era music and urgent-sounding talk radio blasting out of loudspeakers. Each was adorned with heavy-handed propaganda (murals, mosaics, carvings, and statues) extolling the virtues of NoKo's values and Great Leader love.
As we stood on one station's platform, an old wooden train rattled into the station, and people who I guess were commuters opened the manual doors.
ME: So that guy over there who just opened the door...is he just like a normal guy, going to or from work?
OLDER HANDLER: Yes, work.
We step into the car, which is nearly dark, illuminated by a single fluorescent bulb at the other end (and of course by the smiling portraits of the two Great dead Leaders), and stand right in front of the doors. A group of what must be at least a billion Young Pioneers (schoolchildren who are members of the Children's Party, easily identified by their red kerchiefs), who I guess are taking a field trip, come running for our car but stop comically short at the door when they spot me. They stare at me, giggling, too afraid to board. Is it because I'm a MILF?
Oh right, I'm an American Imperialist.
Excerpted from MY HOLIDAY IN NORTH KOREA: THE FUNNIEST/WORST PLACE ON EARTH. Copyright © 2016 by Wendy E. Simmons, Vendeloo, Inc., all rights reserved. To be published by RosettaBooks on May 3, 2016. Photos of Pyongyang Metro by Wendy E. Simmons.