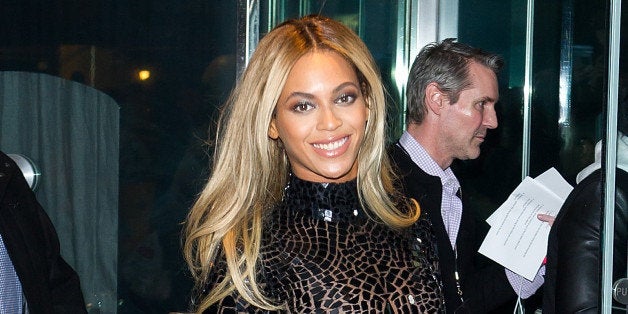 Can you even imagine Beyoncé now going on Twitter to tell her fans to tune in to Ryan Seacrest to listen to her newest single for a forthcoming album to be released four months from now?
Although the old way of marketing an album is still valid for emerging artists slowly building up an audience, the dragged-out promotional rollout for any pop star with millions of followers on social media seems silly, even counterintuitive considering leaks and cannibalizing teaser campaigns.
Yet, not every pop star has the gravitational force required to pull off a surprise drop. The artist needs to be at the peak of their demand and talented enough to make a masterpiece. No one is going to care about a surprise single or even a surprise run-of-the-mill deluxe album. The surprise only makes waves if the album is an opus.
Although Beyoncé's album, the textbook definition of an instant classic, was somewhat of a perfect storm, here are some artists that would fare well -- critically and commercially -- by keeping their next album locked tight until the shock and drop.
There is only one woman who can currently move as many albums as Beyoncé, and it's Taylor Swift. The cookie-cutter starlet showed enough depth in Red to hint at a formidable next album. If she goes the "visual album" route, then expect the world's first country-pop opera. Every song has to be as good as "I Knew You Were Trouble."
Speaking of best sellers, Madonna is still the girl on top as the best-selling female artist of all time. She may not be as musically relevant as she once was, and she's hasn't had a memorable music video in years, but if her next album is credited as her last -- a grandiose goodbye to the throne -- it could work. Every song has to be as good as "Vogue."
Love him or hate him, the always-controversial Eminem has been called the best rapper alive and is the best-selling artist of the 2000s. Obviously his bracing lyrics still resonate. A surprise album would surely liberate him from the radio-friendly tunes he has been churning out, but hopefully Rihanna would still be involved. Every song has to be as good as "Lose Yourself."
Miley almost made it to that New Year's Eve party as the most talked-about pop star of the year. Every little thing she did, from dressing in silly costumes to smoking marijuana to liking cat memes, became a guaranteed headline and a gateway to discussing race, gender and society. How will she outdo the biggest (and twerkiest) breakthrough ever? With a surprise album. Every song has to be as good as "Wrecking Ball."
White rappers are just bound to be superstars. A surprise digital album from Macklemore, after the heavyweight success of The Heist, seems appropriate for the internet-bred hit-maker. Every song has to be as good as "Same Love."
The chanteuse's previous effort, 21, snuck onto the charts and stayed there for two years. Anticipation for whatever she's about to do next is at an all-time high. Plus, a return to the spotlight after just having her first child raises the hype quotient Blue Ivy-style. Every song has to be as good as "Rolling in the Deep."
Imagine a world where Kanye West leaves Kim Kardashian at the altar, then takes two years off on a secluded island, only to come back as a humble human being whose passion for fashion and public displays of obnoxiousness have been replaced by a reignited love for good music. If any rapper has it in them to make a masterpiece, it's Kanye. Every song has to be as good as "Runaway."
Madonna has sold 164 million certified albums. Rihanna has sold 108 million. But guess which artist still has a very long career ahead of her? RiRi did not release new material in 2013, which is actually a good sign. With seven albums in seven years, it's clear she's got the work ethic. The fact that she has taken a year off hopefully means an all-around solid album is in the works, not just a skyrocketing first single and a bunch of half-baked fillers. Every song has to be as good as "We Found Love."
The new queen bee was already on the right track by releasing a "secret single." However it was overshadowed by Queen Bey's secret album. But that's not to discredit Lorde becoming a household name in less than the time of a typical college semester. Her sophomore album will be the most anticipated one of her career -- with critics closely inspecting whether she will rise or fall. Might as well bring it on with a shock. Every song has to be as good as her "Hold My Liquor" live cover.
The quintessential girl group doesn't actually need to have a great forthcoming album for a surprise drop to work. They just need an album of all-new material, a true musical comeback. The London Olympics and their stadium reunion shows proved that even though we aren't living in Spice World, the girls will always have a tiny space in our collective hearts. Every song has to be as good as anything by Girls Aloud.
There are also a few stars who had the traction and the talent to wow the world with a surprise album but didn't have the guts to go through with it.
Blackout was kind of a surprise album in that no one was entirely sure what the fuck was going on. Circus, her label-sanctioned comeback, should have been the surprise "yes, she can!" moment. But "record labels are boring." Britney Jean could have used the shock and drop as well, if anything to save it from being a total bore, and considering that no promo is probably better than half-hearted promo.
This girl should let her art speak for itself. In this case, let her Artpop do all the talking. Guess what happens when you tell your fans that your next album will be an iconic moment in pop culture unlike the world has ever experienced, or whatever nonsense she was spatting? Fans get instantly disappointed. Guess what happens when you just put the music out there and let the fans decide? Yeah, now you know what happens.
I'm not saying that JT can't pull off a surprise album; he may very well do it in the future. In fact, he was on the original list above, but I removed him because he really should have done it for The 20/20 Experience, instead of, you know, doing that video announcing the announcement of his musical comeback... c'mon!
REAL LIFE. REAL NEWS. REAL VOICES.
Help us tell more of the stories that matter from voices that too often remain unheard.