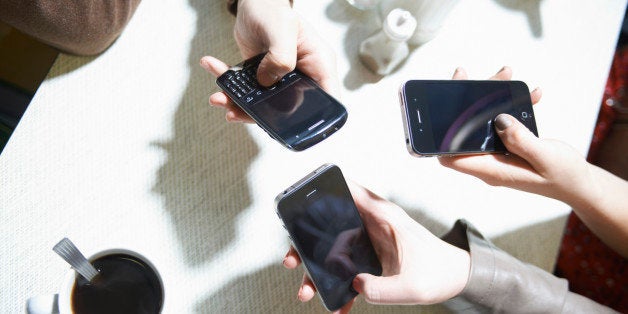 On two separate occasions this past weekend, I purposely left my smartphone at home.
While I admit the initial motivation came because I didn't want a large bump in my tight-fitting suit, the benefits turned out to be far greater than the contour of my torso.
I wore that suit because I was attending the National Dinner of America's largest LGBT advocacy group, the Human Rights Campaign, and if there's one place you want to be fashionable, it's with the gays.
Appearances aside, I also knew my smartphone would be a distraction. Even at this dinner with celebrity guests like President Bill Clinton, Sir Elton John and Jennifer Hudson, my little screen would beckon: tempting me to post photos and count their Likes, check the football scores of my ESPN Pick'em pool, or reply to non-urgent texts, because that's what we've come to expect -- an instant response.
As my phone-less evening transpired, I found myself fully immersed in the experience. When Elton John entered, throngs of people pulled out their phones to take a picture and I just enjoyed the fact that I was 20 feet from the Rocket Man. When Bill Clinton spoke about the need to continue fighting for LGBT rights, instead of taking selfies with him in the background, I pondered how I could be part of that action. And when Jennifer Hudson opened with a rousing disco number, I started dancing with my table mates -- noting the hundreds of people around me standing motionless and recording the performance on their phone.
When the night was over, I walked home, not scrolling through the Tweets or Instagrams of other attendees, but strolling the peaceful streets of Washington, D.C., reminiscing about the wonderful people I met.
Sure, not having my phone did cause a few minor inconveniences. I had to make sure I got to my date's hotel on time, unable to assuage a late arrival with a text. And when I wanted to explore a distant section of the dinner's silent auction, I had to set a rendezvous point with my fellow partiers. But overall, the ability to be instantly, digitally connected was completely outdone by the freedom that replaced it. When my date went to the bathroom, I didn't check my email; I interacted with the people passing by. Two of those were the plaintiffs from last year's Prop 8 Supreme Court case -- the one that brought marriage equality to California. Shaking their hands and thanking them for their work was far greater than any reply I could have sent while zoning out into my inbox.
When I reunited with my phone later that night, I found 41 texts, a number of emails, and a few notifications about my football games -- a combined collection of over 60 vibrations that would have teased me throughout the evening. None of the emails were urgent, my football picks won or lost the same as they would had I been following their scores, and none of the texts were important enough to warrant a distraction. The only text with any merit came from my date, who forgot I was sans phone and thought I'd been lost during my extended silent auction tour. Even without that text, we still reunited at our dinner table as planned. Nothing lost, only gained.
The next morning I pondered my phone-less evening and decided to repeat the experiment.
Gathered with friends for brunch, the only breaks in conversation came when their phones buzzed. When they went to the bathroom, instead of grabbing my smartphone to check the temperature of the abnormally warm October afternoon, I leaned back into the sun and watched people walk by -- many buried in their screens even as falling orange and yellow leaves danced around them.
That evening, as I admired the sunset on Georgetown's waterfront, I relished not being able to take a picture. If I really did need a photo of the Kennedy Center reflecting off the Potomac, I could easily find one on Instagram; pulling it from the people holding their smartphone cameras at arm's length, faces reflecting off screens with tags like #awesome, #grateful, and #livingforthemoment.
True, the sunset was awesome, but awesome things also happened to me that weekend; moments I'll remember and continue to be inspired by. There's no photographic proof on my phone, no text message to friends as they happened, and no Facebook post to show how-awesome-it-was-to-be-there.
There was, however, still one important status update. One just for me: an update within myself that taught me sometimes it's best to disconnect to have a great connection.