Nirav Tolia, the CEO of neighborhood social networking site Nextdoor, has always been passionate about community. In fact, he said he has always sought it offline and online, believing that that it is always more powerful to be part of a group: "We can all achieve greater things as part of a collective," he said.
Tolia's belief in the power of the group, or in this case, the team, is perhaps what has made the start-up he co-founded with six others, one of today's most rapidly growing -- and valued, as it recently hit the billion dollar "unicorn valuation," a term used to describe start-ups worth $1 billion or more.
Nextdoor, which is private for each neighborhood, recently received $110 million in funding, making its total raise $210 million. A few of the company's investors include: Benchmark, Greylock Partners, Kleiner Perkins, and Tiger Global Management. Currently, 63,000 neighborhoods in the U.S. are registered on the site.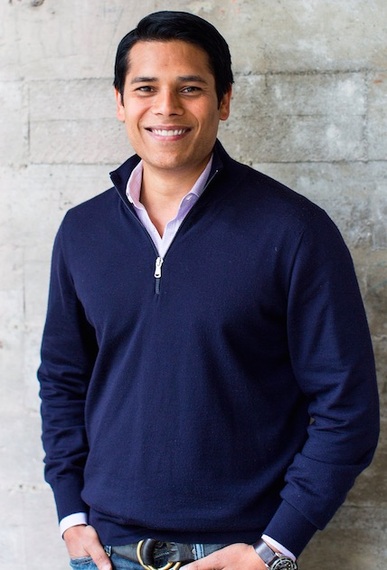 The idea seems so simple, some wonder why it did not come along sooner: how about connecting neighborhoods using technology and recapture what has been lost in much of the modern world? Tolia laments: "We have lost touch with our neighbors." So why not recover a feeling of connectedness and community?
Philosophically, Tolia said that neighborhoods play an essential role in our lives, and hopefully with Nextdoor, some of that old time connection will be found. Online conversations will become icebreakers and lead to interactions face-to-face, in the real world.
The company was born four years ago out of a pivot from an earlier company, Fanbase, a sports website where fans could connect with players and teams. "We had 15 million users right away. Not a horrific failure, but not a venture that was going to change the world," said Tolia.
He said that although the company had raised more than $10 million, it was a failure because the founders felt they could not scale and grow big enough. They had to come to terms with that, and then tell investors, friends and colleagues. "It was very, very scary, the notion that one thing that we had tried did not work, and now we had to come up with something else," he said.
"It is not like you can show up at 10 a.m. and come up with a billion dollar start-up idea. We didn't know what success looked like, and we weren't coming off a win, we were coming off a loss," he said.
Benchmark encouraged them to keep going. The team, who had worked together for some time before, went back to the drawing board. All were very passionate about community and how the Internet could facilitate it. "We wanted to continue working on solving a big problem and we wanted to become an essential part of people's lives, to become something they relied upon," Tolia said, citing the need for an extremely "broad relevance idea."
The sense of choosing to go back to the drawing board early on to alter the course may have been due to the wisdom of experience of the group, many who were seasoned entrepreneurs. "Given that we were coming off failure, we probably had more ideas for why this would not work, than for than why it would work," said Tolia. But the idea of a social network built to connect with neighbors was powerful, and Tolia felt there was an immutable truth behind it.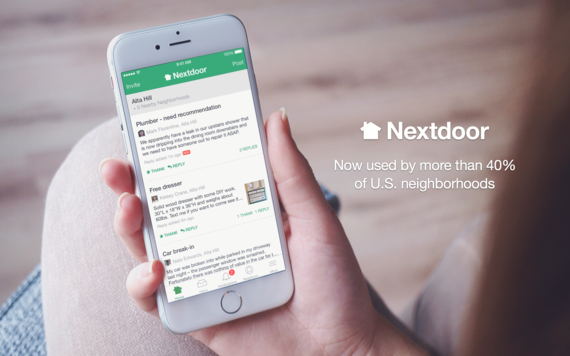 The team built a prototype and tested it over and over. The first year was slow going, and Tolia said that he was not confident of the direction at that point, but intellectually the idea was honest and the premise seemed logical. The site grew, one by one, and over the past four years, to over 63,000 neighborhoods.
Tolia noted that companies do not achieve greatness overnight, but that it comes as a series of moments. "Success is nothing more than a thousand failures, ending in one success," he said, adding that you have to be comfortable with the fact that you if you fail, you will have investors to answer to.
"The notion of (the idea) not working is not a failure, it is not a place to stop. The strength is to know that there is data to go in a different direction," he said, adding that to build an online community, you need to try a lot of different things. Most do not work, but help shape the path ahead.
Detractors feel Nextdoor won't work, arguing the site is a forum for people to complain about dogs making messes on lawns and neighbors not cleaning up after them. Others wonder if the world needs another social network, but the high number of users and growth prove that idea wrong, especially since the conversations on Nextdoor serve a different purpose. The site is not about photo sharing or status updates, but about bringing neighborhoods together to solve local problems.
The site has yet to monetize, although about 25 percent of the conversations on the site are transactional, which Tolia said could be augmented with ads, classifieds, or other forms of monetization.
But overall, the list of cheerleaders is long, and they have put significant investment into the venture. Bill Gurley of Benchmark, who is on the Forbes Midas list which ranks the top investors in tech, said that the site is well positioned because it fills a critical role in the local space. "Nextdoor was built around location (address), has established trust (privacy, verification, true identity), and has existing mass distribution (63,000 neighborhoods). These are three key ingredients to success." He chose to invest because he believes Nextdoor could be as big as Facebook, LinkedIn or Twitter.
David Sze of Greylock Partners, also on the Midas list, said that the team is laser-focused on the needs of individuals in their neighborhoods. "Soon, I think most people will be using Nextdoor for all matters related to running their local life, which is not a need other networks are capturing." He added building authentic trusted communities was difficult, but that the team understood the nuances of doing so.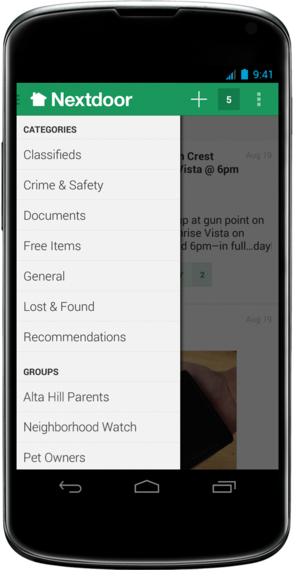 Of course, success can be an unknown in the world of venture capital. "You have to be comfortable with uncertainty and not let it get to you, and you have to use it. Sometimes being nervous is a positive, not a negative thing - it keeps you sharper," Tolia said. His recent round of funding has added extra responsibility, raised the stakes, and allowed him to execute on plans, although he keeps the company's burn rate low.
The responsibility is great, especially as the site grows. "Once you reach a stage where you've gotten 40% of neighborhoods in the U.S. using the service, there is a responsibility to do right by the members, to give them the experience they are looking for, the kind of value they deserve. If we feel we are going to get to a place where we don't feel responsibility, we won't get there," said Tolia, adding that there are things that could be done better.
Perhaps this perfectionism is what marks all company founders. "Being an entrepreneur is not for people who want eight hours of sleep. As the opportunity gets bigger, the stakes get higher. You have to enjoy the journey," he said, adding that his own personal highs came when his parents opened their neighborhood, and when others found missing children or helped with the aftermath of a natural disaster.
In terms of the company's growth, he said that, "The key is to take delight in the high points, rather than become paralyzed by the low moments." He takes a reasoned approach as the company moves forward: "It is not a terminal process here," he said, noting that Microsoft just celebrated its 40th anniversary, and that it is still going strong.
"We are in year four. I hope we get there, but we must remember, if the journey is not the joy, you won't make it four years, much less forty...With entrepreneurs, we believe the best is always yet to come," he said.
Popular in the Community