Neymar was awarded the Confederations Cup Golden Ball, –award for the top player of the tournament– after his masterful performance in the Brazil win in the Confederations Cup final.
Before the beginning of the tournament there were a lot of doubts about the player. Would he be able to perform with the national team the way he performed for Santos? Would the pressure be too much for him? Is he overrated?
It was as if this was a fairy tale story written for Brazil. The Brazilian wonder-boy, who had the hopes of an entire nation resting upon his shoulders before the start of the Confederation Cup, answered all those questions on the pitch.
Brazil was not performing up to their usual level coming into the Confederations Cup, but that all changed once the "mini World Cup" began.
The new FC Barcelona striker scored a total of 4 goals and had 2 assists in 5 games.
The Brazilian striker started off with a bang in the opening match of the tournament. He scored Brazil's first goal in the 3-0 win over Japan.
He shined once again in their final group match against Italy. He was very influential in creating chances for Brazil and scored a fantastic free kick from just outside of the box.
While Neymar did not score in the semifinal match against Uruguay he did play a part in the team's two goals in the 2-1 win.
The Brazil number 10 was highly impressive in their 3-0 win in the final of the Confederations Cup. Not only did he score the team's second, he played a part in Fred's second goal of the match.
Neymar must now prove himself in Spain
Now the young Brazilian will be taking his talents to FC Barcelona. There he will have to further prove that he is not just hype, but the future superstar of world soccer.
Before You Go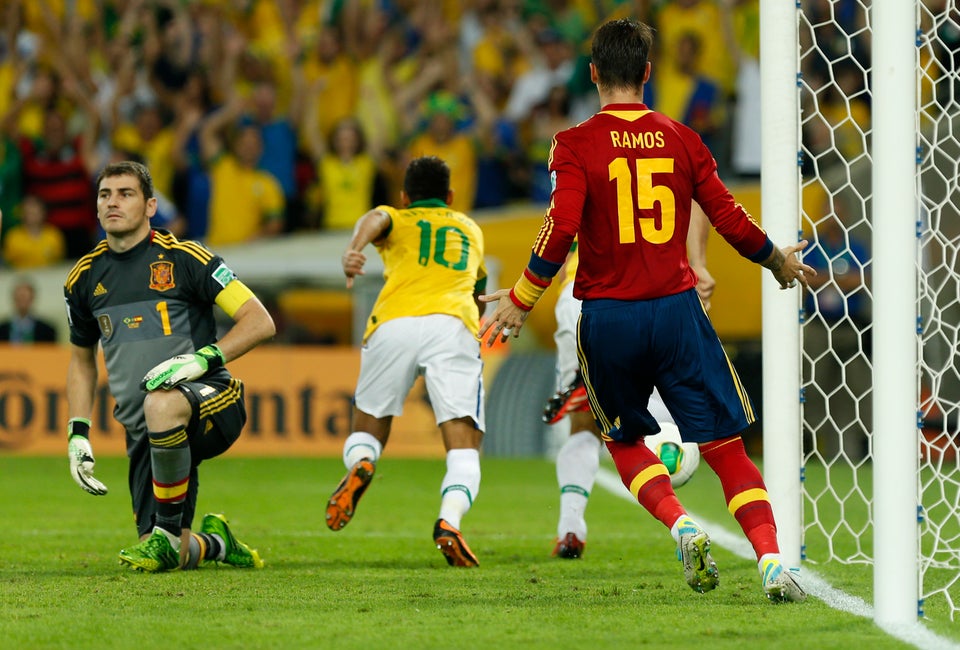 PHOTOS: Brazil vs. Spain
Popular in the Community