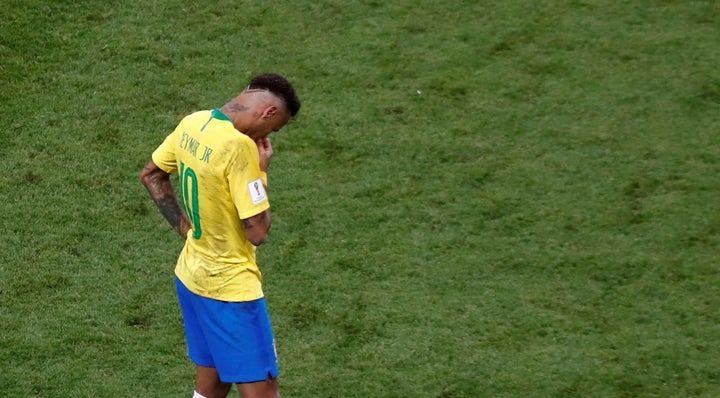 RIO DE JANEIRO — Brazilian comedian Jô Soares has a joke that came to mind last week during Brazil's round-of-16 World Cup match against Mexico. "In Miami," Soares says, "when a Porsche passes by, people think: 'I'm going to work hard, to buy a car just like that.' In Brazil, people say: 'The owner of that car must be a thief. He must have stolen to be able to buy a car like that.'"
It was a few minutes before 11 a.m. on July 2. There was a warm sun in a cloudless sky, and across the chaotic metropolis, Cariocas, as residents of Rio are known, were optimistic, excited and loud.
Brazil's national team, the Seleção, would go crashing out of the tournament a few days later with a 2-1 loss to Belgium. But at the moment, all was cheery and light. Brazil was the favorite, not only for this match, but to add a record-breaking sixth World Cup crown to its already glittering trophy cabinet.
All these hopes were borne by the team's slight forward, Neymar, and maybe there was a glimpse of his burden in his anxious, tight-lipped swaying as the anthem played.
And then there they were, as the camera trained itself on Neymar: Jeers and catcalls. From Brazilians. In Rio de Janeiro's city center.
There has never been a player quite like the current owner of the Brazil No. 10 shirt, a man of unquestionable natural talent who divides opinion ferociously even among supporters. In a country with an ever-churning superstar production line, the chatter around Neymar has been constant for almost a decade, during which the former Vila Belmiro prodigy has grown into one of the most marketable faces on the planet, counting his followers on social media platforms in the tens of millions. By early 2014, the Brazilian media had coined the term "Neymarketing" amid a swell of advertising campaigns featuring the country's latest footballing treasure.
But just as Argentina's Lionel Messi has been charged with a lack of affinity with his compatriots, Neymar faces similar accusations, particularly in the wake of the Seleção's failure. Former Brazil player turned TV Globo pundit Wálter Casagrande was scathing in his analysis of Neymar after the loss to Belgium: "Speaking via Instagram is easy. In a country like Brazil, where inequality is enormous and football is one of the few escapes for the population, hope and frustration walk side by side ... Those who want to lead must be present even at difficult times."
Booed before a victory, scapegoated after a loss, and marketed relentlessly, Brazil's star provides a case study in how the making of an international celebrity can be his unmaking as well.
Brazil's star provides a case study in how the making of an international celebrity can be his unmaking as well.
Of course, not all of the negativity is a function of Neymar's entry into a new realm of celebrity.
Neymar confounds some of the models of what a futebol god should be. His own story is at odds with certain cherished national myths about street football, for instance — about the possibility of genius flourishing in rough-and-tumble environments. Much like Ronaldinho Gaúcho, Neymar spent time learning the game on the futsal court, always under the watchful eye of a referee. Futsal is a variation of soccer, played indoors on a smaller, harder surface instead of a traditional grass pitch. While the game made him comfortable with the ball in tight quarters, it also taught him — or so the theory goes — to rely too much on the referees.
But did he have a choice? Neymar is diminutive; when he was coming through the ranks at Santos and initially broke into the first team in 2009, he looked as if a strong northerly wind might blow him into Suriname. He was slender and had the ball often at his feet, and as a result, he was and remains both an easy target for defenders and a player in particular need of a referee's protection.
Perhaps because of the constant provocations, Neymar has been prone throughout his career to omnidirectional bursts of petulance. In 2015, he was sent off after the final whistle during a Copa América clash with Colombia for kicking the ball at opposing left-back Pablo Armero. As recently as the second group game of this World Cup, he swore at his captain, Thiago Silva ― an act the skipper later described as making him "very sad."
But keep in mind that few players are hunted, tripped and kicked like the Brazilian forward; a close-up of his socks toward the end of the Costa Rica game revealed they had been torn up by the constant attention of opposition studs.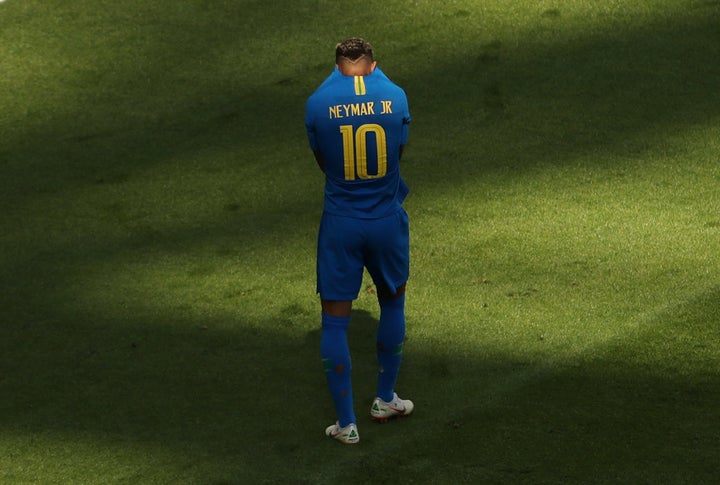 In Brazil's World Cup opener against Switzerland, Neymar was fouled no fewer than 10 times, the most fouls sustained by a single player since Alan Shearer at the 1998 World Cup. Yet somehow the story of the World Cup remains Neymar's willingness to go to ground rather than the persecution of a man who has 57 goals in 89 international appearances and sits third on the country's all-time scorer's list.
The rancor surrounding Neymar comes more or less from the same place as Soares' Porsche analogy — a sense that native genius is misbegotten in some way. And as Antônio Nascimento, sports editor at Jornal do Brasil, points out, much of the psychodrama is contingent on his success.
"It's a bipolar attitude. If he scores, he's a genius. If he isn't good on the pitch he starts to be called hot-headed, childish, a poster boy," Nascimento said. "It's obvious that Neymar exaggerates when it comes to marketing. It's called Neymarketing for a reason."
And sometimes even when he is successful, the drama happens anyway. After scoring in a 2-0 win over Costa Rica in Brazil's second group game, Neymar dropped to his knees in tears at the final whistle. This was the image, now deleted, that appeared on his official page, and it led to a torrent of insults and criticism.
After Brazil's elimination, fans left comments on the account belonging to his girlfriend, actress Bruna Marquezine. "Neymar learned to act with you," went one of the nicer posts.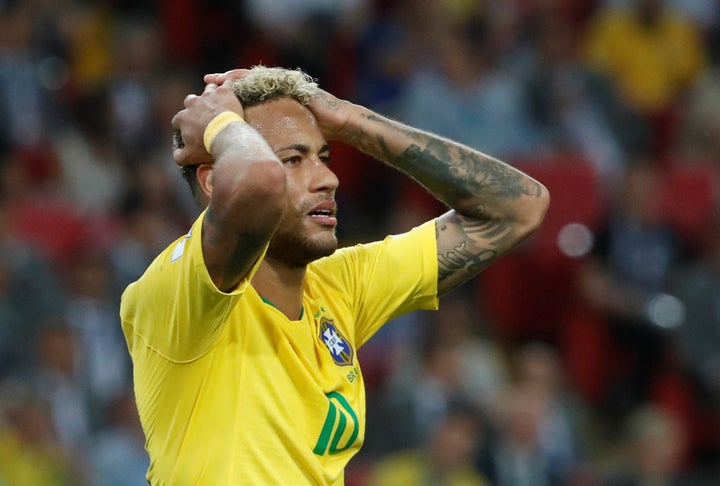 "In relation to Neymar, there is a very intolerant attitude when it comes to him on social media," Nascimento said. "If we join the success of a person with football in Brazil, we have an extremely passionate relationship. Social media ends up increasing even more this love/hate relationship."
This is the fruit of all that Neymarketing. The constant scrutiny had a polarizing effect on fans, according to 1970 World Cup winner Jairzinho, who still coaches in football schools today. "It's difficult to get down time today," he said. "The pressure and assessment from everyone is always there. It creates extreme opinions and views."
David Beckham may have been the first modern celebrity footballer, but in many ways, Neymar is more Beckham than the Englishman ever was, from the merchandising deals to the big money transfers to the famous girlfriend ― all factors in Neymar's alienation from his compatriots.
Buoyed by modern media and undone by it as well, Neymar goes home a World Cup loser to a country that demands he be the standard bearer of a standard — "o jogo bonito," the beautiful game — that no longer exists.
Brazil continues to dine at the top table of international football, but that's at least partly on the basis of past glories. Three of Brazil's five World Cup triumphs came in a 12-year spell nearly half a century ago. And after three successive appearances in the World Cup final, in 1994, 1998 and 2002, the country has not been back since.
This was the ultimate assault on Neymar during a tournament full of dirty tackles: fans using the country's sporting past as a cudgel on him. He'd been set up. He was the patsy. Neymar isn't a thief, it turns out. He's the fall guy.