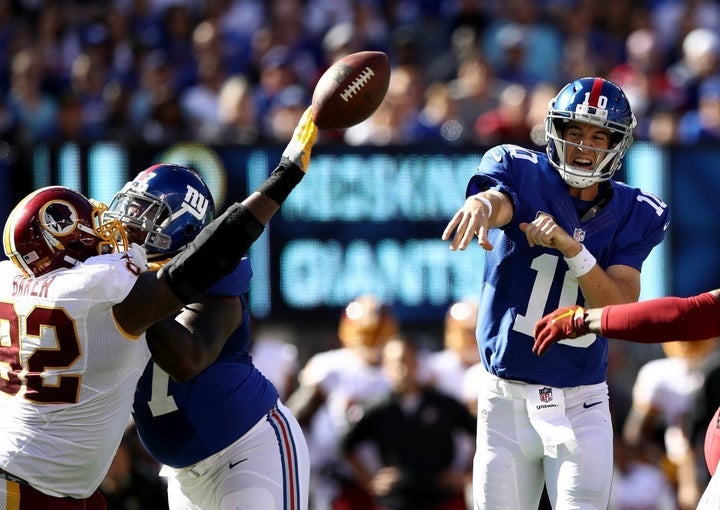 This past Sunday Giants fans were reminded of exactly that – they are fans of the New York Giants. This statement may seem ambiguous to many though it certainly should not to the Big Blue fan base. At home vs. the 0-2 Washington Redskins on Sunday, the Giants consistently handed the Redskins rights to the victory they soon got. Inexcusable penalties and flat-out sloppy football kept the Redskins in the game and soon culminated in a heartbreaking loss following an Eli throw that was reminiscent of a younger Eli. However, given his extensive success in crunch time, it can just as easily be said that the throw was uncharacteristic.
Confused? If so, join the rest of the Giants fan base.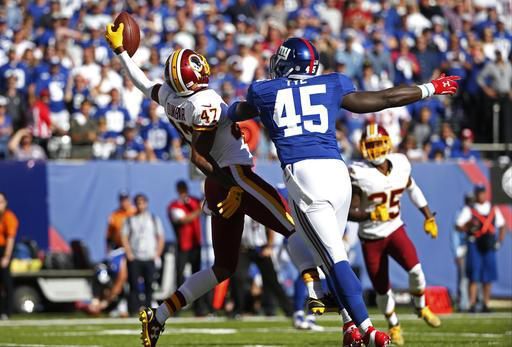 2 interceptions. 1 lost fumble. 11 penalties for 128 yards. It starts there. As a team in the NFL if you plan to win, these are not the kind of stats you want to see. It doesn't matter if you're playing the Kessler (or Pryor?) led Browns or a seasoned team like the Patriots, mistakes translate into lost football games. Both interceptions are on Eli. First in the red zone facing an all out blitz, Eli put the ball in a position where TE Will Tye could not utilize his body enough to secure a catch. Not to mention, Tye is 6 foot 2 and far from the most athletic pass-catcher this team has. The second interception was just a flat-out bad throw. RB Shane Vereen had rookie safety Su'a Cravens 1-on-1 and Eli was right to look his way, though should have went to his next read. Credit to Cravens, who made a fantastic play, but Eli has to be smarter with the ball especially in that situation. Vereen's fumble came off a simple dump-and-run which picked up 12 yards until he was stripped by DB Will Blackmon. The turnover did not result in points for Washington, however with a minute to go and the Giants rolling, this was a critical point in the game where the Giants could have given themselves a comfortable lead going into the half.
There is absolutely no excuse for 11 penalties. By committing 11 penalties on Sunday, the Giants handed the Redskins a whopping 128 yards. That is completely sloppy football and needs no real explanation. From unsportsmanlikes to holds, if the Giants plan to become an elite threat this year, they must clean up their act.
Mistakes aside, let's examine some other key takeaways heading into week 4:
1) Odell Beckham Jr. still has some growing up to do.
Through the first two weeks it seemed as if Beckham has turned over a new leaf. He kept his emotions in check for the most part and was not a distraction to the team – things changed Sunday. After being held relatively quiet in the first half, Beckham was visibly disappointed. He could be seen at times headbutting equipment. Then, as the game became more intense in the second half, Beckham retreated to his old habits as he engaged in a series of childish and emotionally-driven antics: stomping around, throwing his helmet, yelling and screaming uncontrollably. Even the mild-mannered and seemingly emotionless Eli Manning grabbed Beckham by the collar and had what looked like a "father-son" talk. To ice the cake on Beckham's meltdown, he paved the way for newspaper covers, memes, and Sportscenter specials in wake of the Giants' loss when he struck the field goal kicking net. Unfortunately for Beckham, the net hit back, leaving a red knob on the side of his face.
Coach McAdoo said following the game that Beckham needs to do a better job at harnessing his emotions and not being a distraction to the team. We'll see which Odell Beckham Jr. we get in primetime on Monday night when the Giants visit the Vikings.
2) Sterling Shepard is the real deal
We are only three weeks into the rookie WR Sterling Shepard's fetal NFL career, but boy do we have reason to be excited. Two plays jump out to me this past Sunday. First, Shepard caught a 23 yard touchdown (above) in the first quarter which showed off his highly praised route-running ability. Running a seam down the hash with the defense in cover 1, Shepard threw a sharp cut inside and showed tremendous burst getting out of it, enabling him to get on top of his defender with ease. This allowed for an easy pitch-and-catch from Manning. The next play came at the start of the fourth quarter. Manning hit Shepard across the middle of the field for a 12 yard gain. What impressed me here was Shepard's toughness. As the ball was arriving, Redskins CB Josh Norman was in prime position for a big hit – and Shepard knew it. Despite that, Shepard was unafraid to stick his nose in and secure the catch, while taking a brutal blow from Norman. As a receiver in the NFL one of the most nightmarish scenarios is a route over the middle in traffic. Luckily for the Giants, it seems as if they found a guy who will do it unflinchingly. And also to note, Shepard did not mosey up and walk back to the huddle following the hit; he immediately sprung up and flexed. You have to love the fiery and aggressive nature he has.
Here's some interesting stats: through the first 3 weeks, Shepard has only 47 less yards than Beckham with 11 fewer targets. Even more glaring, Shepard has managed to reel in 16 of his total 19 targets, while Beckham has reeled in 19 of his 30. The rookie Shepard also leads the Giants receiving core with two touchdowns (Beckham: none).
3) The injury bug has introduced itself
The injury bug – it's every team's worst nightmare though one every team must prepare for. Following this Sunday's defeat, the Giants are left rather thin at some key positions. Beginning with the secondary, rookie FS Darian Thompson is considered week-to-week with a sprained left ankle. His presence is surely missed. The Redskins completed a total of five plays for over 23 yards on Sunday though in Thompson's first two NFL starts (weeks 1 and 2), no play of over 23 yards was allowed. Next, cornerbacks Domonique Rodgers-Cromartie and Eli Apple suffered groin and hamstring injuries, respectively. Reports indicate nothing too serious, but they too are questionable at the moment to suit up on Monday to take on Minnesota. Lastly at the running backs position, after an efficient day on the ground RB Shane Vereen left Metlife with likely season-ending tricep tears. His start came at the expense of RB Rashad Jennings' thumb injury, though he should be back on the field soon.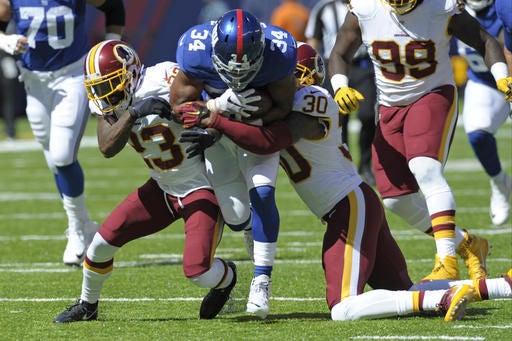 Most notably of these injuries are those sustained by the secondary. Filling in for Thompson was Nat Berhe, who showed great instincts and power when coming up to make hits in the run game, however gave up too many big plays. Next, losing DRC and Apple were big blows, as guys like Trevin Wade and Leon Hall struggled in coverage. Redskins slot receiver had a field day, including a bubble screen that went 55 yards to the house. If DRC and Apple are unable to suit up Monday night, the Giants defense may be in for some trouble. Finally, losing RB Shane Vereen is also a significant detriment to the Giants offense. Vereen was not only the third-down receiving back as he also spelled Jennings as a change-of-pace back, often seeing double-digit rushing attempts. The Giants hope to have Jennings back for Monday. If not, next up to handle the bulk of carries is RB Orleans Darkwa, who has shown flashes before and had much success this past Sunday rushing 10 times for 53 yards (5.3 YPC). Third down duties will likely be assumed by RB Bobby Rainey, who had an impressive catch-and-run for 24 yards on Sunday as well as a crisp route to the back of the endzone which would have resulted in a touchdown with a better throw from Manning.
To be clear, there should be no sense of hopelessness for the New York Football Giants. They are a talent-packed bunch who showed great signs of promise in their first two games. This Sunday was rough, yes, but it's a long season. Coach McAdoo and the rest of the Giants staff certainly have their hands full, however if they can clean up their act and manage their injuries properly... watch out.
REAL LIFE. REAL NEWS. REAL VOICES.
Help us tell more of the stories that matter from voices that too often remain unheard.