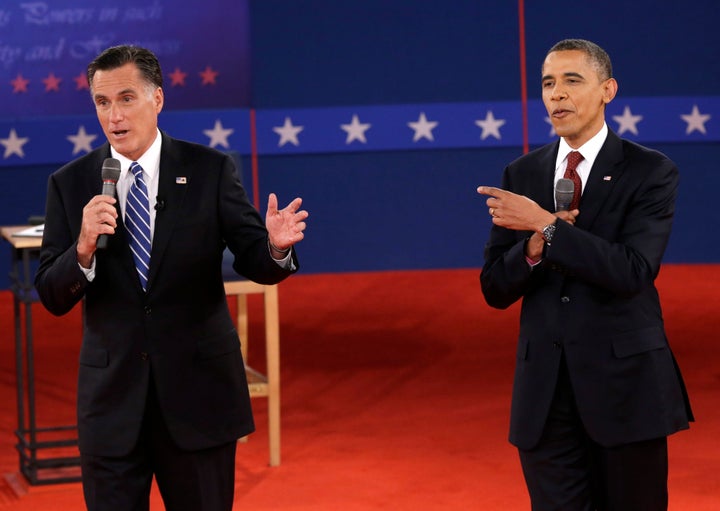 The National Federation of Independent Business will hold a training session for business owners next week instructing how to talk to employees about "the importance of the 2012 elections," a theme Republican presidential nominee Mitt Romney and several corporate CEOs have touched in recent weeks.
The GOP-backing NFIB, which has boosted candidacies of Republican hard-liners Todd Akin, Richard Mourdock and Josh Mandel, and has received $3.7 million from Karl Rove's Crossroads GPS, touts the training session as a way "to ensure business owners have the resources to grow their business."
On Oct. 30, the NFIB will host a two-hour seminar in Torrington, Conn., for business owners and top executives to learn how to "prepare [their] employees for the crucial upcoming election."
The NFIB, a self-professed nonpartisan "voice of small business", has waded into a number of national and local elections this year, and has almost exclusively supported Republican candidates. Most notably, the lobbying group endorsed Akin, the Republican Missouri Senate candidate whose comments on "legitimate rape" sparked national outrage. The group also has put financial support behind GOP Senate candidates Scott Brown and George Allen, and has donated to Paul Ryan's congressional campaign.
As HuffPost's Ryan Grim and Zach Carter reported last year, the NFIB has a history of siding with Republicans, even at the expense of the small businesses it purports to represent. Many of the issues the group has spent resources on, such as extending ex-President George W. Bush's tax cuts for the highest income brackets and fighting climate change legislation, have been largely unrelated to small business interests. The group also was a fervent opponent of President Barack Obama's 2009 stimulus package, although more than 30 percent of the federal contracts awarded have gone to small businesses.
Next week's conference isn't the only effort the NFIB has made to encourage employers to engage workers in the election. The group also released a video titled the "Top 5 Ways Employers Can Discuss Elections With Their Employees," which includes comparing the candidates and urging workers to look at the NFIB's "How Congress Voted" report
In recent weeks, a number CEOs have encouraged their employees to vote for Mitt Romney and other Republican candidates. Westgate Resorts CEO David Siegel sent an email to his workers detailing how Obama's policies would "threaten" their jobs.
"If any new taxes are levied on me, or my company, as our current president plans, I will have no choice but to reduce the size of this company," Siegel wrote.
In a June press conference call hosted by the NFIB, Romney urged small business owners to tell workers which candidate they support for president, and how the upcoming election would affect their employers.
"I hope you make it very clear to your employees what you believe is in the best interest of your enterprise and therefore their job and their future in the upcoming elections," Romney said. "And whether you agree with me or you agree with President Obama, or whatever your political view, I hope, I hope you pass those along to your employees."
Under the Supreme Court's Citizens United ruling, which significantly expands the political speech rights of corporations and labor unions, employers can compel workers to participate in campaigns -- a fact Romney noted on the call.
NFIB spokeswoman Jean Card said the training session and the video are get-out-the-vote efforts and are not intended to endorse one candidate over the other.
"NFIB's goal is not to pressure our members' employees to vote a certain way, but to encourage voting in general," Card said in a statement to The Huffington Post. "To compare our nonpartisan tips and information to the message that David Siegel sent to his employees is patently unfair; NFIB makes no reference to specific candidates when talking about employee communication. Our advocacy and political efforts are driven strictly by the issues that impact small business -- that's the area where we really want our members to engage their employees in conversation."
Below, a screenshot of the NFIB event listing.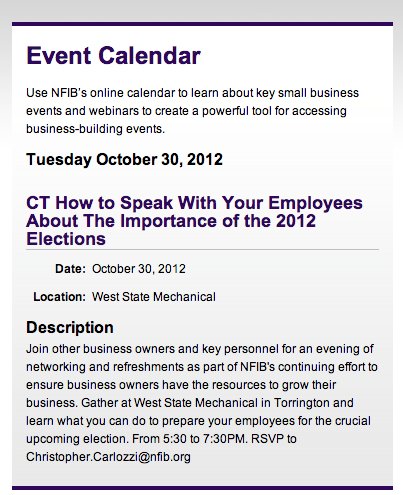 Before You Go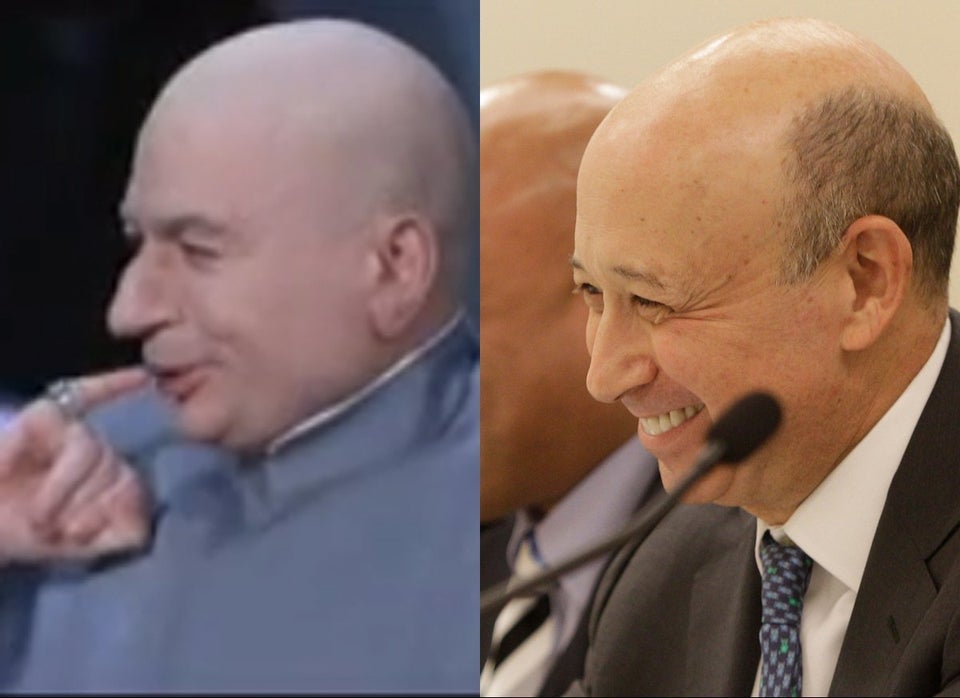 CEOs Who Look Like Villains
Popular in the Community