 NFIB is hardly operating in near-secrecy, like ALEC was. The organization, which describes itself as "the voice of small business," was the lead plaintiff in the ultimately unsuccessful lawsuit against the Affordable Care Act, taking it to the Supreme Court.
The left-leaning Center for Media and Democracy has posted on NFIBexposed.org, its new website, a study that reveals how consistently the NFIB lobbies on issues that favor large corporate interests rather than small-business interests; its thoroughly partisan agenda; and the millions it receives in secret contributions from groups associated with Karl Rove and the Koch Brothers.
"I think that this new site helps expose the fact that the National Federation of Independent Business is not so independent, and it certainly is not acting as the voice of small business," said Lisa Graves, the center's director.
But Jean Card, NFIB's vice president for communications, lashed out at the new website Wednesday. In an emailed statement to The Huffington Post, she wrote: "It is an insult to small-business owners across the country for another organization, with no connection to small business whatsoever, to imply that job creators don't know what's best for themselves."
"NFIB is a member-driven, issue-driven organization. All of our advocacy and legal efforts are based purely on the positions of our membership, whose views and priorities we monitor constantly … and its membership are not concerned with party affiliation; we focus on policies, not party."
The NFIBexposed.org website, however, chronicles how 98 percent of NFIB's campaign contributions so far in the 2012 election cycle have gone to Republicans, and how 100 percent of its advertising budget supported either Republicans or opposed Democrats.
Looking at all donations since 1989, the NFIB is ranked third highest on Opensecrets.org's list of political "heavy hitters," based on the percentage of its contributions going to Republican candidates. NFIB's 93 percent is higher than Koch Industries with 90 percent; Exxon Mobil with 86 percent; and the National Rifle Association with 82 percent.
By contrast, small-business owners are not as partisan. In fact, a recent poll showed that 47 percent of small-business owners plan to vote for President Barack Obama, compared to 39 percent who plan to vote for Mitt Romney.
The website also links to documents that detail NFIB's top executive Dan Danner's compensation package, totaling $743,676 in 2010. "That tells me that there's some big-money interests willing to pay a real big-business corporate salary for the head of this organization," Graves said. "That is not on par with a typical small-business owner's salary. It's a big-business salary."
Although NFIB doesn't disclose where it gets its money, some of its funders have to list their donations in public documents. The new website and other research shows that a big chunk of its budget came from the Donors Trust, a secretive conservative group that also funnels money to groups like the Koch Brothers' Americans for Prosperity Foundation, and from Karl Rove-founded Crossroads GPS.
Ironically, Rove's Crossroads GPS gave NFIB $3.7 million as part of Rove's efforts to persuade the IRS that his group spends less than half of its money on overtly partisan activities. According to Crossroad's tax return, the donation was in the interest of "social welfare."
"The industry has known that it can typically rely on the NFIB to carry its water," he said.
More than a dozen years ago, when the insurance industry was working to kill legislation that would have established a "Patients' Bill of Rights," Potter recalled, "they knew that messaging from them wouldn't work," so the industry partnered with NFIB.
"It was an organization that had the perception of representing small business and it really was representing the interests of the insurance industry," Potter said.
NFIB's opposition to the Affordable Care Act is the perfect example, he said. Obama's signature law "will enable more small business to offer coverage to their workers and get some tax exemptions for doing that," Potter noted. "In the past, small businesses have not enjoyed the same benefits from the tax point of view that the larger companies have."
So, in fact, NFIB was "working against the interests of small business," Potter said.
Mother Jones recently noted that the NFIB lobbied heavily against Obama's plan to increase taxes on the wealthy, even though "[o]nly 3 percent of small businesses net more than $250,000 a year, the lowest income that would be affected by Obama's tax plan."
"They're actually throwing the voice of big businesses," said Graves. "That has an impact on media coverage. The media will highlight the perspective of the NFIB as if it were representative of small business."
Before You Go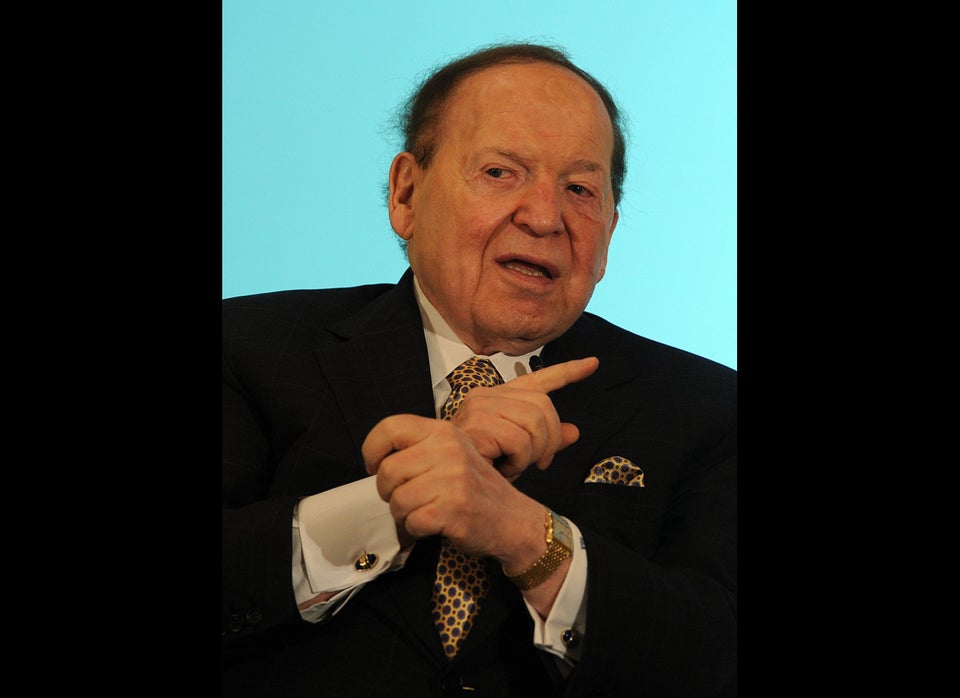 Donors Giving $500,000-Plus To Super PACs
Popular in the Community