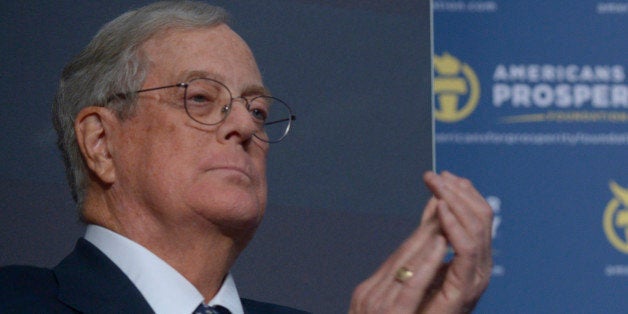 WASHINGTON -- The National Federation of Independent Business received a $500,000 contribution from a group funded by the daisy chain of conservative nonprofits linked to the billionaire industrialist Koch brothers.
Since Barack Obama became president, the NFIB has been the lead plaintiff against Obamacare in the Supreme Court case, advocated for the extension of tax cuts for upper-income Americans, launched a campaign to block regulations including new emissions rules for power plants, and spent millions through its affiliate organizations to support Republican candidates for the House and Senate.
The 350,000-member lobbying group has recently faced accusations from liberal-leaning organizations that it is less "the voice of small business" -- as it bills itself -- and more another piece of the national conservative lobbying infrastructure.
The contribution from Free Enterprise America marks the first direct donation from a Koch brothers-linked organization to the NFIB. Previously, the Center for Media and Democracy -- a liberal group that worked to expose the efforts of the American Legislative Exchange Council -- had linked the NFIB to Charles and David Koch through similar donors, like the secretive Donors Trust, but not directly to a Koch organization.
The NFIB strongly denies that the agendas of billionaires like the Koch brothers govern its agenda.
"NFIB is a member-driven organization," Jean Card, the group's vice president of media and communications, said in an emailed message. "Our issue positions and key votes are determined by our membership. From time to time, there are opportunities to amplify our members' positions more aggressively. When outside support exists that is aligned with positions our members have approved, we will take advantage of that."
Laura Waite, a small-business owner in Renton, Wash., and a former NFIB member, disagrees. "It's a front for big corporations calling themselves small corporations and running around Washington, D.C.," she said.
Waite, who owns Jay's Professional Automotive with her husband, said she canceled her membership over the organization's political positions, in particular its opposition to Obamacare. Waite noted that she has a preexisting medical condition and has needed extensive health care in recent years. She said she would have to close her business without the passage of Obamacare. Waite is now a member of the liberal-leaning Main Street Alliance.
While the NFIB is almost entirely funded by membership dues, it has received an increasing amount of money from grants and contributions in recent years. The total from grants and contributions nearly doubled from $4.1 million in 2008 to $7.3 million in 2011. The largest known contribution to the NFIB during this period was $3.7 million from the Karl Rove-founded Crossroads GPS in 2010.
The Koch brothers, owners of the massive Koch Industries, are prolific donors to conservative political causes and help to organize the donations of other wealthy Americans with conservative and libertarian politics. These contributions have fueled a host of political groups, think tanks and business organizations like the NFIB.
Koch Industries is actually organized under tax rules designed for small businesses. Those rules mean that company profits are "passed through" to its owners and only subject to personal income tax. Thus the NFIB's advocacy for the extension of tax cuts for individuals making over $200,000 directly benefits the Koch brothers.
Free Enterprise America was founded in 2010 by Koch operative Sean Noble, who did not respond to a request for comment.
But Free Enterprise America is not Noble's only role in the web of conservative groups and donors with ties to the Koch brothers. He also heads the Center to Protect Patient Rights, a Koch-linked nonprofit that provided a $3.6 million grant to Free Enterprise America in 2011. That grant accounted for 62 percent of the money raised and spent by Free Enterprise America in 2011.
The Center to Protect Patient Rights, which primarily makes grants to other organizations, has been at the center of controversy for its role in a 2012 ballot initiative campaign in California. According to California's Fair Political Practices Commission and the state's attorney general, the group was part of a scheme to hide the original source of an $11 million donation to the Small Business Action Committee, which opposed an initiative that would have increased state income taxes and supported another initiative that would have limited unions' political contributions. Both efforts were unsuccessful.
A recent story by Politico revealed that the previously unknown Freedom Partners, run by close Koch allies, provided some $250 million to Koch-linked groups and other conservative organizations in 2012. That sum included more than $100 million to the Center to Protect Patient Rights.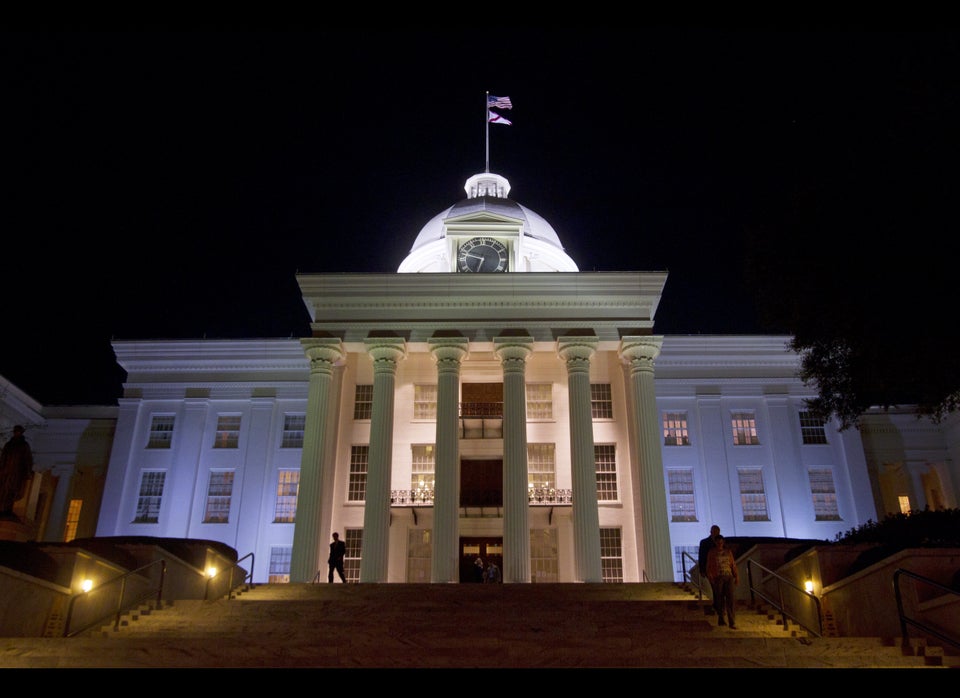 U.S. State Capitol Buildings
Popular in the Community