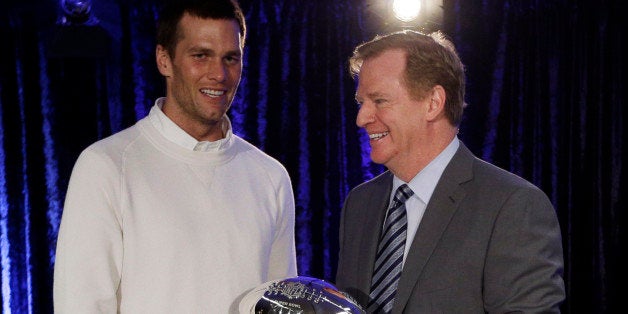 WASHINGTON, June 2 (Reuters) - National Football League Commissioner Roger Goodell on Tuesday rejected a request by the players union that he recuse himself as the arbitrator in the "Deflategate" appeal of New England Patriots quarterback Tom Brady.
Brady, a four-time Super Bowl champion, was suspended by the NFL for four games next season in connection with a scheme to deflate footballs in January's AFC championship game.
Goodell said he would exercise his responsibility under the labor agreement to serve as a hearing officer in any appeal of an offense that affects the integrity of the game.
"My mind is open," Goodell wrote in a letter to the union.
The scandal is the latest problem for the NFL. The country's most popular sports league was sharply criticized last year for the light sanctions it handed out to players who committed domestic violence.
The NFL Players Association called for Goodell to recuse himself from Brady's appeal, calling him a key witness, while citing his "evident partiality" to the investigator's report on how the footballs were deflated.
"I am not a necessary or even an appropriate witness, much less a 'central witness' as the NFLPA contends," Goodell wrote, adding that safeguarding the game's integrity "is the commissioner's most important responsibility."
"I decline to rewrite our collective bargaining agreement to abrogate my authority and discretion," he added.
The Patriots routed the Indianapolis Colts 45-7 to advance to the Super Bowl, which they won over the Seattle Seahawks 28-24 for a championship some now view as tainted.
Deflating a football below NFL standards could possibly enable a quarterback to grip the ball better, especially in the raw conditions in which the AFC title game was played.
Brady, a 15-year veteran of the NFL and one of its most popular players, has denied any knowledge of a plan to deflate the balls.
Ted Wells, hired by the NFL to investigate how the footballs lost the air, said Brady, a 37-year-old former sixth-round draft choice, was aware of the plan Wells said was carried out by two Patriots employees, officials' locker room attendant Jim McNally and equipment assistant John Jastremski.
The Patriots, who suspended both McNally and Jastremski, were fined $1 million and forced to surrender two draft picks because of the scheme, which Wells said was largely uncovered through incriminating text messages between the two employees.
The union had no comment on Goodell's decision. (Reporting by Steve Ginsburg; Editing by Peter Cooney)
Calling all HuffPost superfans!
Sign up for membership to become a founding member and help shape HuffPost's next chapter