As Senior Vice President and CIO of the most popular U.S. sports league, Michelle McKenna-Doyle is transforming the National Football League (NFL) to bring technology out of the data center and onto the field and into the locker rooms and hands of millions of fans across its 32 franchises. The fans have helped grow the NFL, founded in the 1920's, to what it is today - a huge part of American culture: Last year, Super Bowl XLVIII had over 200 million viewers making it the most watched television program in U.S. history. Super Bowl Sunday is the top at-home party to have ranking ahead of New Year's Eve and more food is consumed on Super Bowl Sunday in people's homes, second only to Thanksgiving!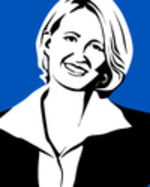 Michelle McKenna-Doyle (Twitter: @nflcio) - CIO of NFL
With such amazing stats, it comes as no surprise that fan experience is the central focus of the NFL and as the steward of that fan relationship; McKenna-Doyle is looking at how to apply technology to deepen it. To compete with the awesome at-home fan experience, McKenna-Doyle is working with partners, like Extreme Networks, to bring that same mobile technology that people experience at home to the unmatched in-stadium experience.
In a live interview at Gillette Stadium, home of the New England Patriots, McKenna-Doyle shares her advice to CIOs in any industry for tackling change the right way - collaboratively and from the point-of-view of the customer. It's interesting how whether we are talking about the fan experience or about internal IT, the common thread for success is putting the customer right at the center.
4 Ways to Tackle Change from your Customer's Point-of-View:
1.Know your customer - By understanding the demographics of the customer at different degrees, whether it be gender, age or industry, CIOs can understand how best to connect with them. McKenna-Doyle has used the data to learn more about their 188 million fans in the U.S., over three quarters of which are avid fans. In doing so, she learned that the NFL fan base encompasses a lot more than what you typically think of as your male 25 to 34 year old avid fan. In fact, a surprising 46% of NFL fans are female, 78% are kids aged 12 to 17 and 65% are U.S. Hispanics. By seeing that their fan base is a diverse group that covers all demographic areas means they have to have a diverse way of communicating to them and connecting with them.
Understanding customer behavior is also important. In order to provide an environment where fans can always be connected, the NFL did some analytics at this year's Super Bowl, in partnership with Extreme Networks, to learn what fans were doing in the stadium, how they were doing it and how they could continue to tweak the infrastructure environment. NFL teams like the New England Patriots are using data analytics to improve the fan experience.
2. Listen to your customer - In order to use technology to improve the customer experience, McKenna-Doyle says you have to listen to them first and then develop the technology to deliver a better experience. The NFL has introduced new products and new ways to connect to fans based on simply listening. For example, at Gillette Stadium, the Patriots have an amazing app that they have deployed based on the feedback of their fans. The app has everything in it from telling fans where the shortest line to buy a beer is, to where they can find the bathroom with the shortest line. McKenna-Doyle says that you would not necessarily think to offer these types of convenience-based things unless you listen to your fans: "We have to be flexible so that our fans can consume our content how they wish."
3. Personalize mobile content - The better the at-home experience gets, with more data and video analysis, the more fans expect the bar to be raised when they are in the stadium, which has led the NFL to a digital transformation around making content mobile. The NFL is first working on making sure that connectivity is a given. "It cannot be optional, you have to have it, so all of our clubs are undertaking syndicate investments," says McKenna-Doyle.

After that it's about building on that core infrastructure to personalize the in-stadium fan experience. Just last week they launched NFL Now, which is an on demand, personalized video service where fans can personalize all things NFL and watch content anytime, anywhere, on any device. "You have got to make a connection. Even though we make millions of connections, those one-to-one connections of that special moment or experience are what live on in your memory. So we recognize that technology is not a necessary evil, it's a way to connect to your fan and the customer," says McKenna-Doyle.
4. Enable progress - McKenna-Doyle advises CIOs faced with the challenge of transforming the business to first realize that they are not in control. CIOs have to learn how to enable, and not be a barrier, to progress and then they have to be willing to innovate and fail. She recommends shorter iteration cycles and to embrace shadow IT. "There are not enough IT people in this world to roll out the technology that your customers demand, so you had better find some shadow IT," says McKenna-Doyle, which is right in line with the thinking of the CIOs of Intel, McAfee and IBM. She says it is more about managing the risks than locking down assets: "If a project is low risk to the overall enterprise and helps speed along the business process, as long as I give them the tools and there is a process to check it, then I embrace it. My success is only a reflection of the success of my customers," remarks McKenna-Doyle.
You can watch the full interview with Michelle McKenna-Doyle here. Please join me and Michael Krigsman every Friday at 3PM EST as we host CXOTalk - connecting with thought leaders and innovative executives who are pushing the boundaries within their companies and their fields.
Related
Popular in the Community