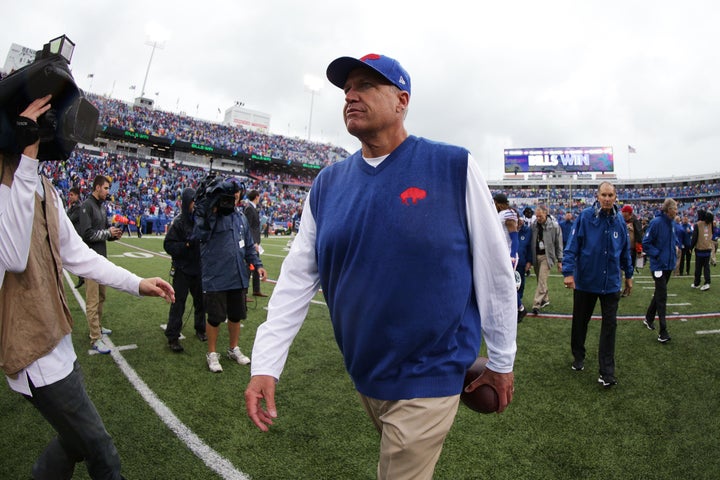 The 2015 NFL season is three weeks old, which means bye weeks have begun and we can start to formulate a realistic opinion on every team in the league. Baltimore is 1-3, but hardly out of it, and Seattle is 1-2, as is preseason darling pick Philadelphia. The New York Jets, with a new head coach, are 2-1, as are Rex Ryan's Buffalo Bills, who may have finally found a quarterback after all.  
This is the league of parity, and the old adage of "five teams in, five teams out," seems to ring true on an annual basis. As we get set for Week 4, let's take a look at the two- and three-win contenders and pretenders not named Denver, Green Bay and New England. We aren't including my favorite upstart, Oakland (not quite ready), nor are we including snakebitten Dallas (dead in the water) or Pittsburgh (let's wait and see what the deal is with Big Ben's injury).
New York Jets (2-1) -- Pretenders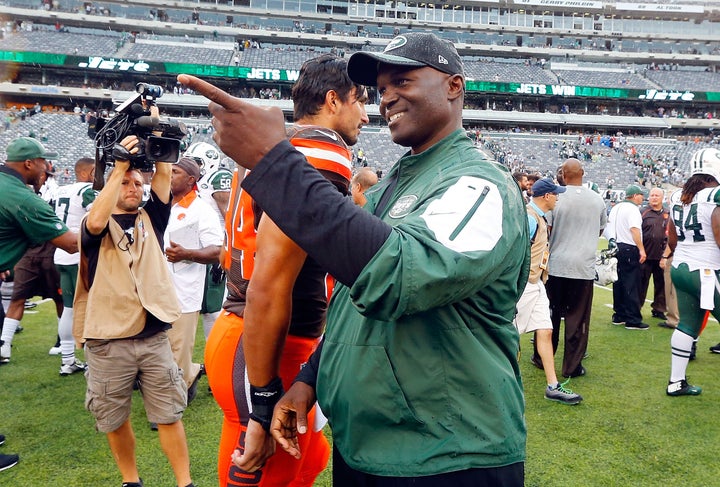 It's hard not to love Todd Bowles. It really is. Look at this! Even without suspended Pro Bowl defensive tackle Sheldon Richardson, the Jets defense under his tutelage has assembled one of the premier run-stopping units in pro football. Rookie Leonard Williams has been sensational at times, as has the cornerback duo of Antonio Cromartie and Darrelle Revis -- not to mention Buster Skrine -- who blanketed Andrew Luck and his quartet of receivers for nearly 60 minutes in a road win at Indy. But this column is about championship probability, and as much as we like the Jets defense, there remain significant question marks around its offense.
Can Ryan Fitzpatrick -- or Geno Smith for that matter -- win you a playoff game? Can you really trust Brandon Marshall after a play like this?
And will that suddenly shaky and injured offensive line hold up against an elite pass rush? My answers are no, no and definitely no. The Jets are a really good story and a team on the rise, but this is still not a championship-caliber offense.
Buffalo Bills (2-1) -- Contenders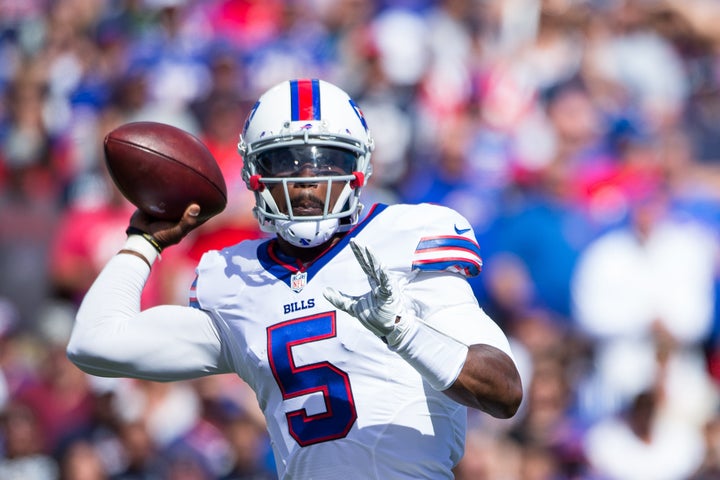 Let's stay in the AFC East and keep it friendly with Rex Ryan's Bills, who boast two extremely impressive wins over Indy and on the road at Miami. We knew that Rex would coach up a talented defense -- he did it for years in New York, and all jokes aside, he is undoubtedly one of the premier defensive coaches around. What has us most surprised is an offense that looks not only solid, but downright explosive and dangerous.
Tyrod Taylor under center (Ryan's decision) has given Buffalo a very accurate quarterback who loves to move the pocket and can make a play with his legs when the time is right. In the win over the Dolphins, he went 22-of-29 for 277 yards and three touchdowns. He's already amassed two 40-yard rushing games, but the beauty of Taylor is that despite his obvious athleticism, he isn't looking to tuck and run until he has to. In other words, he extends plays with this legs to throw first, run second. The Bills have become contenders as a result of Taylor's dynamic play and a defense that will continually keep them in games.
Arizona Cardinals (3-0) -- Contenders
Bowles may have left as the defensive coordinator, but there really hasn't been a drop-off for one of the NFL's best units. After two pick-six's against Colin Kaepernick and San Francisco, the Cardinals defense has now amassed three scores in as many games. More importantly, it ranks tied for third in points allowed and fifth in yards allowed. From an offensive standpoint, Carson Palmer has been lights-out for three weeks, tossing nine touchdowns (tied with Tom Brady for second most) and re-establishing his rhythm with the rejuvenated 32-year-old Larry Fitzgerald, who has caught five touchdowns already. The NFC West has been
dominated by Seattle for three straight years
, but the Cardinals were close last year before losing Palmer -- and then Drew Stanton -- for the season. This is a complete team with a dominant secondary that compares to Seattle's Legion of Boom.
Cincinnati Bengals (3-0) -- Contenders
Andy Dalton has put together some brilliant three-game stretches in the past, only to revert back to, well, being Andy Dalton. Marvin Lewis and his staff hope this is the new Dalton, though. The former second-round pick has led the Bengals to three wins, highlighted by a late comeback in Baltimore last week in which he threw a beautiful game-winner to A.J. Green. The thing about Dalton is that he doesn't have to be great for this team to win games. Cincinnati has a strong running game with Jeremy Hill and Giovani Bernard and a physical, attacking defense that is giving up less than 19 points per game right now. 
What Lewis needs from his quarterback is not to turn the ball over -- he's tossed 37 picks the past two years -- and to make winning plays late in games: namely to throw the ball away or check it down when he's supposed to. Even with the Ravens' miserable 0-3 start and the Ben Roethlisberger injury in Pittsburgh, this remains a very competitive division that Cincy isn't going to just run away with. Dalton and Lewis have lost four consecutive playoff games together, and although it's early, this appears to be the best and most complete team during their tenure together.
Atlanta Falcons (3-0) -- Pretenders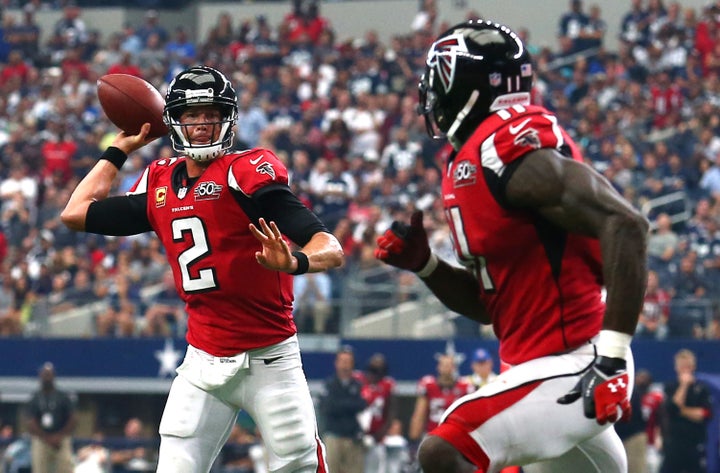 I loved Atlanta before the season began, picking the Falcons to win the NFC South under first-year head coach Dan Quinn. They would seem to have justified that pick with three wins, including the recent road victory against Dallas, who granted was sans Dez Bryant and Tony Romo. And yet, despite the stellar duo of Matt Ryan and Julio Jones, Atlanta's defense will be responsible for making it a Super Bowl contender -- and its defense hasn't improved enough for a real post-season chance.
One of the crucial issues last year was the inability to generate a pass rush, and therefore get off the field on third down. That element has been upgraded with the addition of Vic Beasley Jr., the eighth pick in the draft out of Clemson. Beasley, a pure speed rusher with elite athleticism, has looked the part through three weeks, despite going up against elite left tackles in Jason Peters and Tyron Smith. Both him and second-year corner Desmond Trufant should become terrific players, but this is still a defense devoid of upper-echelon talent.
Remember, this was a still a unit that surrendered 347 yards of total offense to Brandon Weeden (who has now lost an NFL-leading nine straight games as a starter) and that needed late-game heroics from Ryan, Jones and Devonta Freeman to win. The bottom line with Atlanta is that we're talking about a much-improved team on both sides of the ball. The offense is far more balanced with the run, and the defense is actually making plays. But the NFC still goes through Seattle and Green Bay, and the defense is not ready to dethrone either one of those offenses.
Carolina Panthers (3-0) -- Pretenders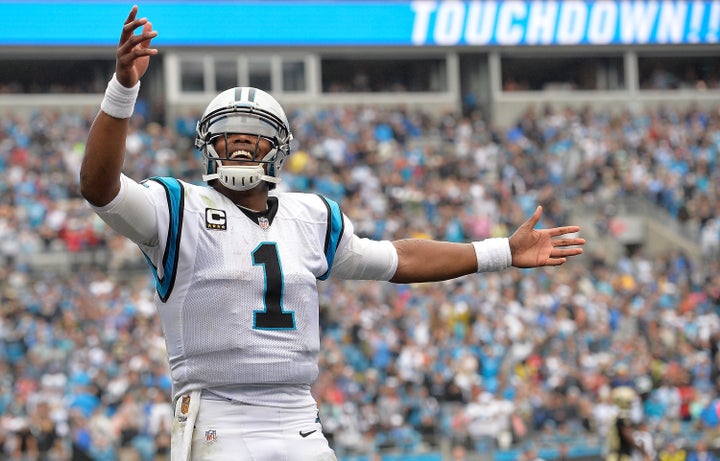 Maybe the much-maligned NFC South isn't as weak as we thought. Carolina is 3-0 for the first time since 2003 (its lone Super Bowl performance) and Cam Newton hasn't turned the ball over. Ah, but it can't last for the Panthers, can it? Give Newton credit, because he's been very good, amassing a 5-2 touchdown-to-interception ratio. But perhaps the best, most explosive player in this offense remains out for the season with a torn ACL. Kelvin Benjamin, who lit up NFL defenses for 73 catches and nine touchdowns as a rookie, makes Carolina far more predictable because Newton loses a sensational red-zone target and a 6-foot-5 behemoth who can really run.
Ultimately, the Panthers are going to be in a ton of tight football games and will ask Newton to win games without his best playmaker and without a consistent running game. He couldn't do so in last year's playoff game in Seattle, and it appears unlikely he will be able to do it this year either.
Minnesota Vikings (2-1) -- Pretenders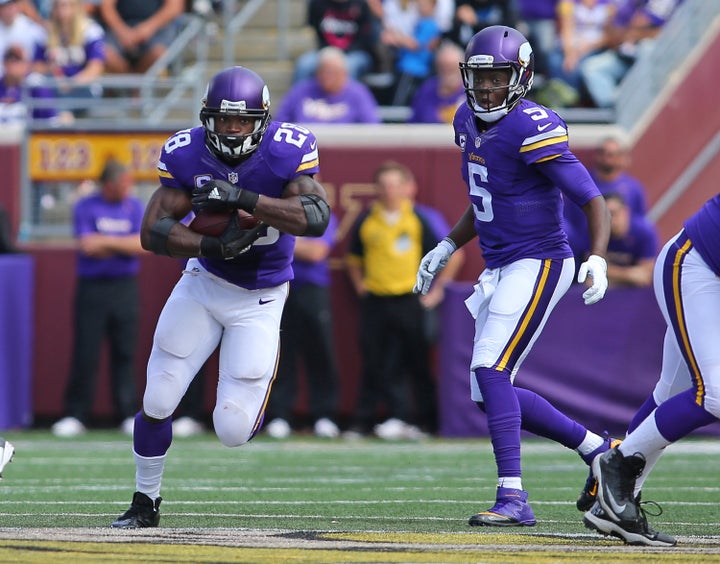 Teddy Bridgewater was 6-6 without Adrian Peterson as a rookie. He's 2-1 this year with his superstar flanked behind him, and Peterson has shown little rust from missing 15 games due to suspension. The 30-year-old leads the league in rushing and has looked extremely comfortable in Norv Turner's offense. Bridgewater is the key, and two total touchdowns through three games isn't getting it done. The one thing we know from watching Bridgewater in college and as a pro is that he's very accurate. That has proved true this season (67 percent), but he is not throwing the ball down the field.
What happened to the Charles Johnson hype train? Is Mike Wallace ever going to become a factor in this offense? Bridgewater's yards per attempt is down from 7.26 to 6.82, which is concerning because his two best wideouts are both burners. Head coach Mike Zimmer deserves a great deal of credit for replacing the highly inept Leslie Frazier, and his defense has shown promise, but this is a Green Bay Packers-dominated division and a conference loaded with competitive teams.
Calling all HuffPost superfans!
Sign up for membership to become a founding member and help shape HuffPost's next chapter