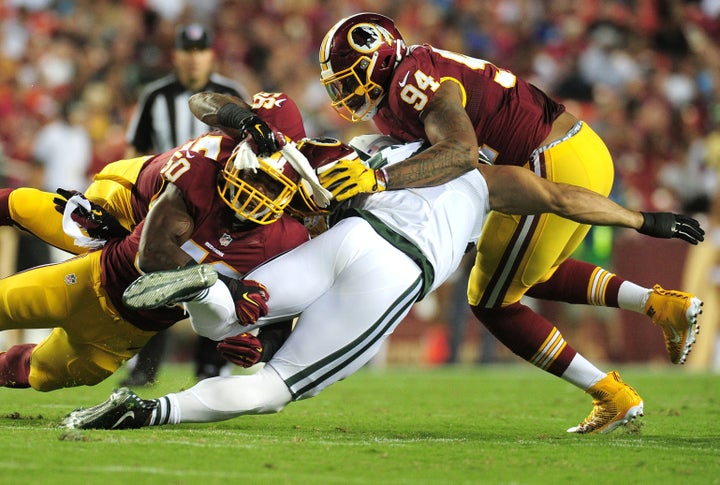 The NFL's 97th season kicks off Thursday night, marking the start of tailgating and Monday night football for fans. But for those who study traumatic brain injury, the start of the season means something different: It's the official kickoff to concussion season.
Most people are now aware that retired football players have a growing problem with a degenerative brain disease called chronic traumatic encephalopathy, or CTE. But despite this increased awareness, concussions during NFL games continue to be on the rise ― and not much is being done by the league to understand or address the devastating legacy of hard hits on a players' health.
The NFL didn't publicly acknowledge the link between football and CTE until May 2016, and pulled funding from an important brain injury study that didn't align with its interests last year. There's also bad blood between former players, who sued the NFL for hiding brain injury dangers from them, and the league, which settled with players for $1 billion in 2015. (The case is being appealed.)
But despite the NFL's apparent reluctance to take CTE seriously, doctors and researchers are moving ahead. Here's what we know about football-related traumatic brain injuries so far:
1. Concussions in the NFL are more widespread than we thought
Alarmingly, concussions are up. The NFL counted 271 concussions in practices, preseason and regular season games in 2015, up from 206 in 2014 and 229 in 2013.
It's not clear if there were more head-involved hits last year or if players were more candid about concussion symptoms than in the past, but the bottom line is obvious: Concussions are still a problem in professional football.
Concussions and other hard hits to the head can trigger CTE, according to Boston University research. Brain trauma from these head injuries triggers protein build-up, which is associated with memory loss, confusion, impaired judgement, impulse control problems, aggression, depression and progressive dementia. Even scarier, those brain changes can start decades after the initial trauma occurs.
Unfortunately for many professional football players, taking hard hits over the course of a career is all but unavoidable.
2. An estimated 96 percent of deceased NFL players had CTE
One important caveat: Because CTE can only be definitively diagnosed after death, players who suspected they had the disease may have been more likely to donate their brains to science than players who didn't. Still, researchers say the numbers track with previous data, which found a link between playing football and long-term brain damage.
"People think that we're blowing this out of proportion, that this is a very rare disease and that we're sensationalizing it," Dr. Ann McKee, director and chief of neuropathology at the VA Boston Healthcare System, told Frontline. "My response is that where I sit, this is a very real disease. We have had no problem identifying it in hundreds of players."
This isn't lost on players, either. Former Chicago Bears defensive back Dave Duerson and former San Diego Chargers linebacker Junior Seau both died by suicide after their NFL careers ended, with autopsies later revealing that they suffered from CTE.
3. Researchers are working on a test for living players
Definitively diagnosing CTE requires examining the brain with a microscope, which means scientists aren't able to tell living football players whether or not they have the disease. A new study aims to change that.
"I now feel like we are in the toddler phase of CTE," Robert Stern, director of clinical research at Boston University's C.T.E. Center and a lead investigator of the study, told scientists in June. (The C.T.E. Center is part of BU's Alzheimer's Disease Center, one of just 29 National Institutes for Health-funded centers focused on advancing Alzheimer's research.)
"We need to be able to move to intervention and treatment," said Stern, whose major research focus is the long-term effects of repetitive brain trauma in athletes. "Diagnosis during life is that critical next step."
4. The NFL has donated $0 to this important new brain injury study
The NFL agreed in 2012 to donate $30 million to the NIH toward advancing brain injury research, with the understanding that the NIH would disperse those funds without the league's influence. A long-term and influential CTE study like Stern's seemed like a natural fit for those research dollars.
An investigation conducted by a congressional committee in May, however, found otherwise. According to the report, the NFL tried to improperly influence the NIH's research dollars and pushed the agency to guide the study away from Stern and toward an NFL-associated doctor.
"Our investigation has shown that while the NFL had been publicly proclaiming its role as funder and accelerator of important research, it was privately attempting to influence that research," the House Energy and Commerce Committee wrote. "The NFL attempted to use its 'unrestricted gift' as leverage to steer funding away from one of its critics."
"While the NFL had been publicly proclaiming its role as funder and accelerator of important research, it was privately attempting to influence that research."
"It is deeply disappointing the authors of the Staff Report would make allegations directed at doctors affiliated with the NFL Head, Neck and Spine Committee without ever speaking to them," NFL spokesman Brian McCarthy said in a statement in May. "The NFL is deeply committed to continuing to accelerate scientific research and advancements in this critical area, and we stand ready to support additional independent research to that end."
U.S. Rep. Frank Pallone Jr. (D-New Jersey), a member of the House Energy and Commerce Committee, disagreed.
Without strong support from the NFL, it's crucial that sports media and fans remain engaged in the results of upcoming CTE research. If history is any indication, players' health and longevity depend on it.
Before You Go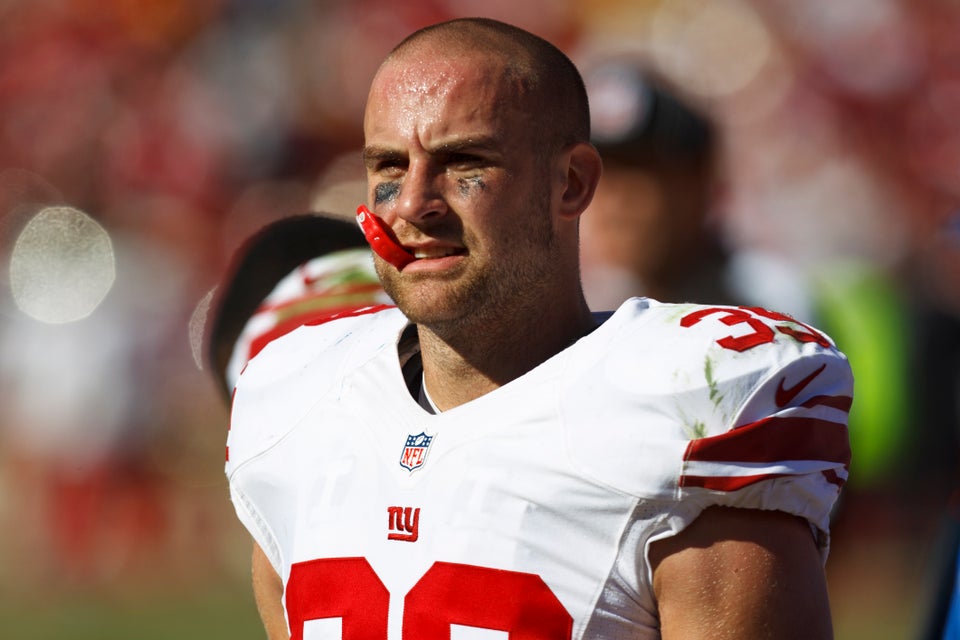 Former NFL Players With CTE