The NFL's wacky wild-card weekend is in the books, and for those who need a quick refresher, it was an unprecedented couple of days. For the first time in playoff history, all four road teams won in either a wild-card or a divisional round. Two of those teams, Seattle and Pittsburgh, needed nothing short of a miracle to move on. The other two, Green Bay and Kansas City, were flat-out dominant against the wildly overmatched Washington and Houston. 
With that in mind, here are the key factors to each game in round two.
Kansas City at New England -- 4:35 p.m. EST, Saturday (CBS)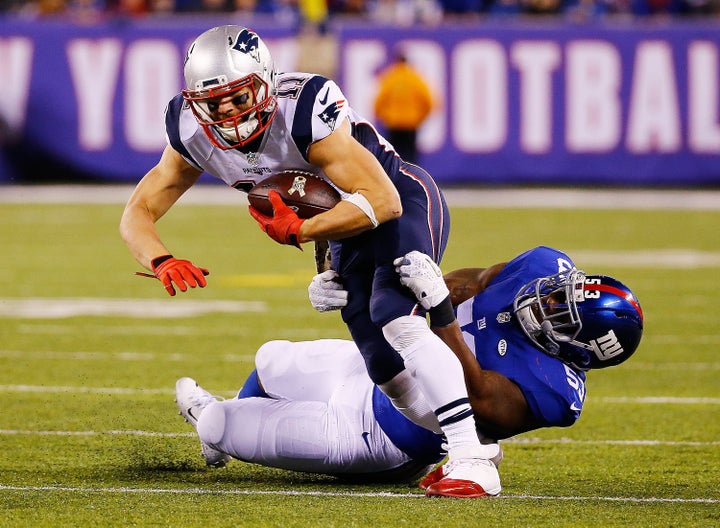 The last time these two met was a Week 4 battle last season in which Tom Brady endured one of the worst losses of his career while throwing for a measly 159 yards and two picks. You know what came next. Expect something much different this Saturday, but don't rule out Andy Reid, whose red-hot Chiefs have rattled off 11 straight wins to become the first 1-5 team in 45 years to make the playoffs.
They've done it behind terrific defense and the steady hand of veteran quarterback Alex Smith. How that defense checks Julian Edelman will determine whether or not Reid and company move on. Edelman, returning from a broken foot that forced him to miss seven games, says he's ready to go "full throttle." That's a boon for the Super Bowl-defending Pats, who are 9-0 this season with Edelman in the lineup and just 3-4 without him.
Edelman's superior quickness will force the Chiefs' defense not to merely double-team Rob Gronkowski, whose efficiency numbers -- along with Brady's -- have been significantly reduced sans Edelman. Furthermore, how the Chiefs elect to cover him will be crucial: Rookie cornerback Marcus Peters -- whom The Huffington Post recently profiled -- earned Pro Bowl honors. His eight interceptions ranked tied for first in the NFL, and the dynamic Edelman will surely be one of his most serious tests yet.
If Peters holds up, we could be looking at Kansas City's second postseason victory since Joe Montana was under center. But that's a big if.
Green Bay at Arizona -- 8:15 p.m. EST, Saturday (NBC)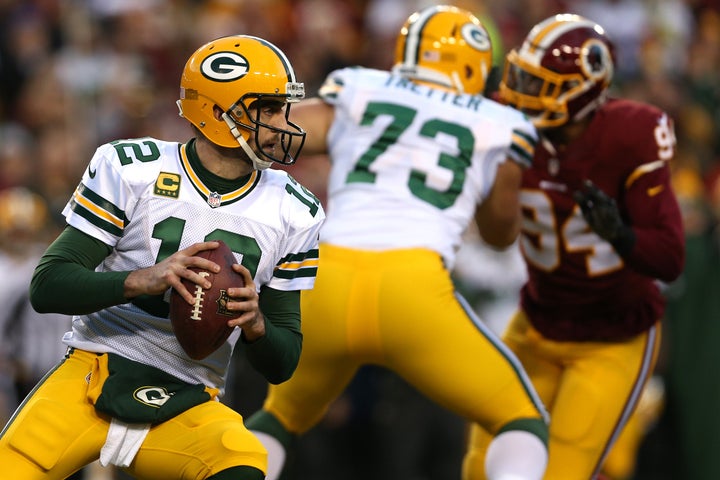 Balance is the vital factor for the Packers, as six-time Pro Bowl linebacker Clay Matthews recently told HuffPost -- and balance is something they had in abundance against Washington's team last week. 32 runs and 36 passes will do that for you. But in an embarrassing 38-8 defeat in Week 16 at Arizona, Aaron Rodgers was sacked eight times. The game got completely out of hand (Carson Palmer torched the Packer defense for 238 yards in the first half), and balance went out the window.
Even with Rodgers at the helm, this is clearly not the Packers offense of last year. The absence of All-Pro wide receiver Jordy Nelson forced the slot-oriented Randall Cobb into a role that doesn't suit him. In addition, the woeful regression of third-year running back Eddie Lacy (758 yards, 3 touchdowns) has essentially eliminated the threat of play-action.
The NFC West champ Cardinals have a tremendous offense, but the heartbeat of this team all year has been one of the league's premier defensive units, ranking fifth in total defense. Head coach Bruce Arians desperately wants to get after Rodgers, attacking a makeshift Packers offensive line that has struggled in pass protection all year. But Arizona doesn't excel at rushing the passer. It ranked just 20th in sacks, relying more on its secondary to shut down the aerial attack. That's why the loss of stellar free safety Tyrann Mathieu, who departed in late December with a torn ACL, could end up handing the Packers a victory.
Green Bay has to find running room early and it has to keep its franchise quarterback upright. If the Packers cannot accomplish this, a balanced offensive game plan once again goes out the window, and so do any chances for a potential road upset.
Seattle at Carolina -- 1:05 p.m. EST, Sunday (FOX)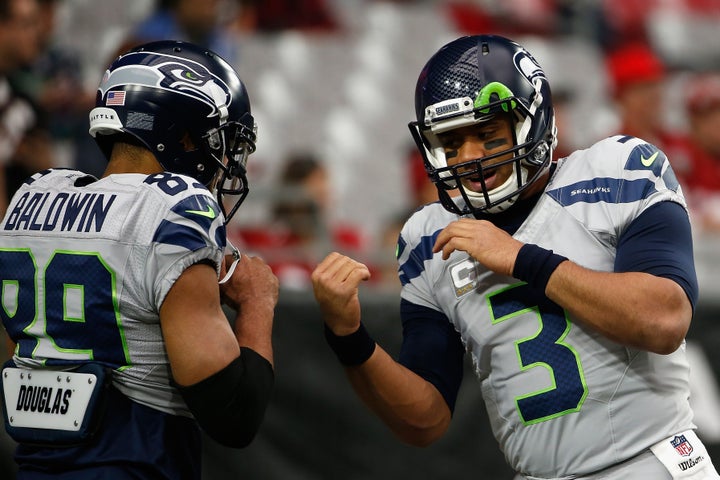 Seattle and Carolina are mirror images of one another. Both teams can boast of superb dual-threat quarterbacks, shutdown defenses, aggressive coaches, quality running games (give or take an off-peak Jonathan Stewart or Marshawn Lynch) and journeymen receivers enjoying career years (Ted Ginn Jr. and Doug Baldwin). The only difference is that Seattle has been to the mountaintop and Carolina wants to get there. The key to this game will be who blinks first. Both teams have the same winning formula: control the clock offensively, put the opponent in predictable down and distance situations defensively and, in turn, create turnovers (i.e. extra possessions).
In their past five meetings dating back to 2012 -- four of which the Seahawks won -- each tilt has been very close throughout. In Week 6 of this season, potential MVP candidate Cam Newton led a thrilling fourth-quarter comeback amid a 9-point deficit to secure a 27-23 road win. Despite leading the league in fewest points allowed for the fourth consecutive season (never done before), the prolific Seahawk defense -- second in total defense -- was unable to get off the field. But things are different now, with the return of previously injured corner Jeremy Lane, who has been lights out in the secondary.
Both Lane and Richard Sherman, an All-Pro four years running, will be tasked with covering the explosive Ginn (10 touchdowns). Once again, we revert to physicality. If Ginn -- and Pro Bowl tight end Greg Olsen, for that matter -- can handle the signature press coverage employed by Seattle, Carolina is likely to emerge victorious. The same can be said about Baldwin on the other side of the ball. Whoever blinks first will lose this game.
Pittsburgh at Denver -- 4:40 p.m. EST, Sunday (CBS)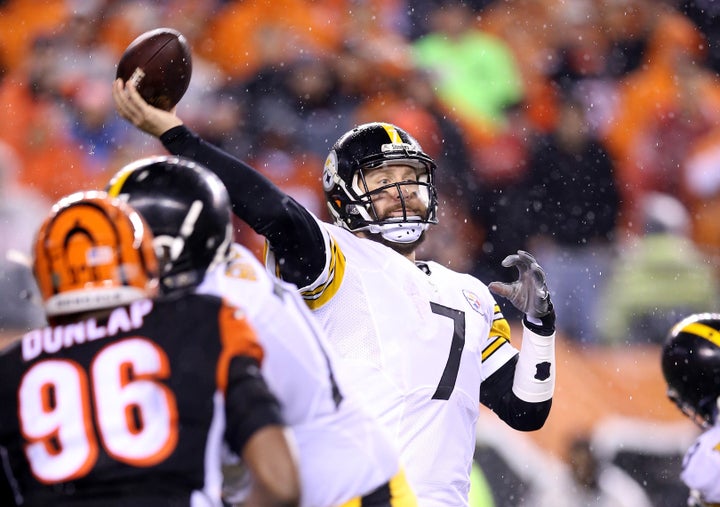 The national story all week has centered around Denver's 39-year-old quarterback Peyton Manning and Pittsburgh's 33-year-old Ben Roethlisberger. To be sure, both players are massively significant: Can either one vertically push the ball down the field in the cold? And maybe just as importantly, how mobile will each quarterback be? But one element of this game that's not getting enough attention is the drastic discrepancies between the two teams' pass defense.
The top-seeded Broncos lead the NFL in the category, boasting arguably the premier cornerback duo in football between Chris Harris Jr. and Aqib Talib. The Steelers, meanwhile, rank 30th out of 32, allowing a staggeringly high 29 touchdowns through the air to go along with a 64.3 percent completion percentage by opposing quarterbacks. It's the Achilles' heel to a team possessing one of the most proficient and most balanced offenses in the league.
In other words, how much does it really matter whether head coach Gary Kubiak trots out Manning or Brock Osweiler at quarterback? Pittsburgh must apply a tremendous amount of pressure, because it simply cannot hold up on the back end. Denver must do the same, because Big Ben -- laboring with a sprained AC joint and torn ligaments in his throwing shoulder -- will not be the same threat to extend plays. Punish him for that.
Expect shorter, more concise routes from superstar receiver Antonio Brown, and more creative ways of getting the ball into the hands of his highly capable sidekick Martavis Bryant (17.3 yard per catch average in his first two seasons), a home run threat every time he lines up.
CORRECTION: A previous version of this article incorrectly stated that the Seahawks led the league in total defense this season. In fact, they were second in that category and led in fewest points allowed.
Calling all HuffPost superfans!
Sign up for membership to become a founding member and help shape HuffPost's next chapter