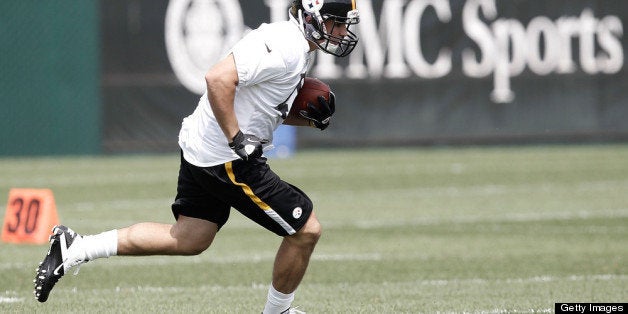 As sportscasters and football fans predict which players will be snatched up early or late in the NFL Draft's first round and which team will benefit the most, they'll consider a number of factors leading up to this highly anticipated event.

Top running back prospect, Alabama's Eddie Lacy, for example, is drawing much attention because a hamstring injury kept him out of the NFL Combine and Alabama Pro Day. By the time his hamstring had healed sufficiently, Lacy had two weeks left to train, which is hardly adequate preparation. Some reporters referred to his current state as "deconditioned," a term I believe to be a little strong. If his training has been hampered, he is certainly not at peak, but that's still a far cry from being deconditioned.
So what does it take for an athlete to reach peak condition as the NFL Draft begins?
Combine preparation is rigorous. I have a foot in two different worlds, which has given me a unique perspective. I work in the field of sports medicine, and I have also been a professional strength and conditioning coach. This includes helping top-10 draft choice prospects prepare for the NFL Combine, which-of course-heavily influences NFL Draft selection.
An NFL prospect usually begins preparation for the Combine as soon as the college football season bowl games end, which allows approximately six weeks to prepare. This preparation has various components: 1) address injuries from the college season; 2) improve strength; 3) improve speed; 4) improve position-specific skills; and 5) improve body composition as needed. In some cases, the player assembles his own team to achieve this, or more likely the agent will have his own performance team. It is difficult to coordinate all of these components of preparation, so someone usually has to serve as the "quarterback" of the team.
Injuries, such as a hamstring tear, low back injury, calf strain or shoulder injury, can severely hamper the hard training leading to the Combine, so for the injured athletes, a focused treatment is the highest priority. The athlete's sports medicine team typically consists of an orthopedic surgeon, board certified sports medicine chiropractor, a physical therapist or athletic trainer, and a perhaps a sports psychologist.
Strength training is a key component. The strength and conditioning coach will determine the method of training, which will focus on either improving overall strength so the athlete can perform better during testing or getting them ready for the Combine strength test, which requires a bench press of 225 lbs. for a maximum number of repetitions. Maximum-weight bench presses, squats or power cleans have fallen by the wayside due to the risk of injuries from athletes trying to over perform.
Speed training is typically guided by a track coach who focuses on 40-yard dash improvement. With the best 40-yard dash times reported on sportscasts, a player who performs poorly on 40-yard dash time, such as Notre Dame's Manti Te'o, makes sports headlines. Poor performance on this single component can lower a draft prospect an entire round. Te'o improved his 40-yard dash time from 4.82 to 4.71 seconds, which salvaged his draft selection to some degree.
The vertical jump is also tested, as it is an indicator of overall explosive power, and coaches are brought in to assist players with specific positions (e.g. quarterback coach, offensive line coach, linebacker coach, etc.).
Training alone requires many hours per day, and proper nutrition is vital in order to provide proper fuel and recuperation from such a rigorous schedule. When athletes appear a little softer than they should, this is addressed by the nutritionist and training. As one agent said to me, "The 40-yard dash, vertical jump and bench press are important, but this is a bit of a beauty contest too. Teams expect the player to look the part."
I ask Dr. Douglas Andersen, a nutrition consultant in Los Angeles, to provide these services for the players. Players who have little knowledge of nutrition are taught to shop the periphery of the supermarket. The periphery of the store contains vegetables and fruit, dairy and meats. Dr. Andersen advises the players to stay away from the center of the stores, which contain the sugar-concentrated and refined flour products.
Finally, the sports psychologist may assist with relaxation techniques for recovery, and imagery for improved performance.
As you watch the NFL Draft selections, keep in mind these players began training last spring for the college season and then went straight into six weeks of focused training to try to reach peak performance at the NFL Combine or their college Pro Day. Their Combine performance will most likely determine the round in which they are selected and their rank, which has a direct effect on salary and signing bonus. It's a very serious business for the players like Manti Te'o, who will soon find out how much his 40-yard dash time affected his draft position, and Eddie Lacy, who hopes an entire season of stellar performance will bypass scouting tests in proving his first-round merit.
REAL LIFE. REAL NEWS. REAL VOICES.
Help us tell more of the stories that matter from voices that too often remain unheard.