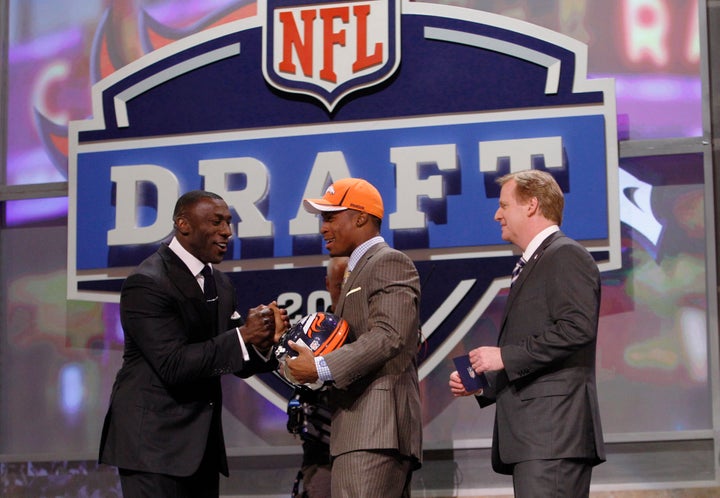 Everyone grades the NFL Draft. Ex-players, ex-coaches, ESPN viewers with these fancy new SMS capabilities, people whose name rhymes with Bell Biper who're just happy that Todd McShay's hair isn't as impressive as theirs. For now.
Before the players even get a chance to hold out during training camp, we're told exactly why they're going to be good, bad, or Leaf-y, which picks were "values" and which were "reaches," and none of it is ever right. So it's high time someone graded what can be graded: the graders themselves, and various other Draft happenings that have nothing to do with football. Let's go:
Treating the Commissioner With the Respect He Deserves:
Fans: A. They booed him every time he breathed! As they should! There's a lockout on, who cares if it's actually his fault or not.
Players: D. Except for Newton, who knew for days he was getting picked first, and Nick Fairley, who seems like a real prick, they all hugged him like Grandma on Christmas with all manner of techniques: the hearty-handshake-into-one-armed-man-grasp, dual-arm-embraces, the side-to-side rock. Roger Goodell is many things, one of which, now, is cuddly.
Being the Panthers and Drafting Cam Newton, Even if Just to Make Sure You Never Have Another Reason to Start Jimmy Clausen Again, Ever: A+
The Almighty ESPN Braintrust Actually Having "Areas of Concern" for Players the Almighty ESPN Braintrust Decided "Have No Areas of Concern": C-
In his conveniently bulleted breakdown, because all athletes' skills neatly bisect into three positives and three negatives, LSU stud corner Patrick Peterson was listed as having no areas for concern. So naturally, we get this:
Kiper: "Technically, using his hands he's got some problems, he's little stiff in the hips, and he's not tremendously fluid."
Gruden: I think he needs to improve his bump-and-run mechanics, he carries his hands low, he plays from recovery a lot. This guy has a lot of raw ability, but I've rarely see him put his hands on anybody."
But I've been told to not be concerned, so I'm not, at all.
Chris Mortensen Getting ~Four Total Minutes of Camera Time, and Still Somehow Managing to say "Welcome back to Radio Music City Hall": A
Adam Shefter Transparently Creating "Compelling" Circumstances, Then Quickly Realizing There Isn't Always a "This Year's Aaron Rodgers Situation": B+
Shefter as the Cowboys are on the clock for the 9th pick, following Jake Locker getting selected at 8: "The Blaine Gabbert slide is on!"
Shefter 12 minutes and one pick later: "The Blaine Gabbert slide stops at no 10!!! As soon as I sat down with Blaine Gabbert to talk about a possible slide, a 904 number came up on his cellphone, and he's been on his phone since then. All smiles and lots of use of the word 'awesome.'"
Quarterbacks With Lots of Hair Propositioning Suzie Kolber: F
Gabbert barely even made eyes with her.
Confusing This Draft For The NBA's: B+
Gruden: "Instead of worrying about trading down or trading up, I'd take this kid Da'quan Bowers ... I had him as a lottery pick!"
(Note: There is in fact no lottery in the NFL draft, and the NBA Draft's lottery is the first 14 picks. This takes place during pick No. 12.)
John Gruden Continuing to Be Hellbent on Entertaining Us: B
On FSU QB Christian Ponder going No. 12 to the Vikings:"This is a surprise, but it's the only way they could go"
On Illinois DT Corey Liuget: "He's not a big human being, he plays at 300 pounds".
On his exhaustive pre-draft research: "The Saints had one problem last year, and it was injuries in their backfield. Their leading rusher last year was Chris Ivory from Tiffin College. You know why I know he's from Tiffin? Because that's where I was born!!"
Fashion: B-
Pocket squares were in full effect, hipster glasses had been carefully selected, and entire hillside towns in South Africa had been raided for unfathomably blingy watches. This isn't the NBA circa-1993. This is not necessarily a good thing.
Nebraska DB Prince Amukamara Family's Fashion: A+
Um, apparently this guy is an actual prince. First hint of this: certain members of his family coming out onto the stage for the hold-the-jersey photo op in full Nigerian regal garb just one massive lion head short of James Earl Jones. He hugs someone who might be his mother in a gold dress and gold hat, then moves onto a possible-father-possible-uncle whose wielding some form of ceremonial dagger, whom Prince naturally gives a complicated secret handshake they probably don't do in Nigeria. I want these people to adopt me.
Social Media Integration!: A
According to Shefter, teams were monitoring Colorado DB Jimmy Smith's Facebook page and didn't like what they saw, causing him to drop. Stop taking Hipstamatic photos of your non-fluid hips, Jimmy Smith!
Mandatory Drew Rosenhaus-Looking-Rosenhausy Appearance: A
At pick 27 it's a little late, but he's just like we want him: wearing a pastel polo shirt and spreading douchebag cooties to Colorado DB Jimmy Smith at his Downey, California home to show us that he's a family man. Unsurprisingly, as mentioned above, Smith has character issues. With that in mind, Gruden says "[Baltimore] is the perfect locker room for him to go into." Good thing Ray Lewis hasn't killed anyone.
REAL LIFE. REAL NEWS. REAL VOICES.
Help us tell more of the stories that matter from voices that too often remain unheard.