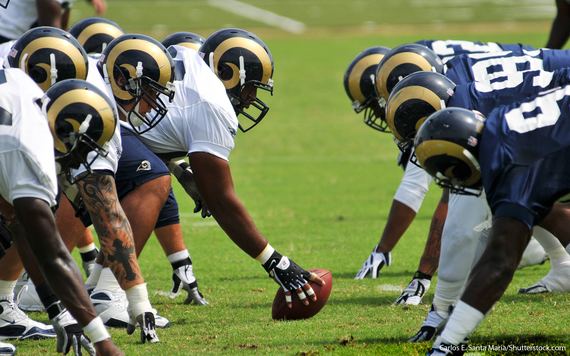 By Laura Woods, Contributor
The 2016 NFL Draft kicked off April 28 in Chicago. The draft saw Jared Goff, Carson Wentz and Joey Bosa as the top three picks. The salaries of these NFL players will be determined by the league's Salary Cap and its Rookie Compensation Pool, which limits how much teams can spend on a rookie's first year and four-year contract.
This year's salary cap is approximately $155.27 million, reported Forbes. Here's a look at how much this year's top NFL draft picks are projected to earn.
No. 1 NFL Draft Pick: Jared Goff
On the clock first were the Los Angeles Rams, who chose Jared Goff of Cal as their first pick and No. 1 pick overall in the 2016 draft. The quarterback made a name for himself early in his college football career with the California Golden Bears, where he started for three years, helping his team go from a 1-11 season in 2013 to 8-5 in 2015.
During his junior year in 2015, Goff passed for 4,719 yards with 43 touchdowns and a 64.5 percent completion rate. Goff will join the Rams in their return to Los Angeles this fall.
Jared Goff Salary With LA Rams
Forbes provided estimates on the value of Jared Goff, Carson Wentz and Joey Bosa's contracts. Signed with the LA Rams, Jared Goff is expected to earn approximately $27.9 million over his rookie contract, including an $18.5 million signing bonus. Following news of the Rams' pick, Goff tweeted an image of himself with his new team's jersey:
No. 2 NFL Draft Pick: Carson Wentz
Quarterback Carson Wentz of North Dakota State nabbed the No. 2 draft pick, picked up by the Philadelphia Eagles. Although Wentz is lined up to be the quarterback of the Eagles' future, the team's executive vice president Howie Roseman said current quarterback Sam Bradford will continue to lead the team for now.
Carson Wentz Salary With Philadelphia Eagles
Carson Wentz's salary is expected to be around $26.7 million with the Philadelphia Eagles, including a $17.6 million signing bonus. Here's a look at Carson Wentz with his Eagles jersey.
No. 3 NFL Draft Pick: Joey Bosa
One of the biggest shocks of the night came when outside linebacker Joey Bosa of Ohio State was chosen as the No. 3 draft pick, picked up by the San Diego Chargers.
He beat out more buzzed-about players like Jalen Ramsey of Florida State and Laremy Tunsil of Ole Miss. Ramsey was later picked up by the Jaguars as the No. 5 pick and Tunsil was picked No. 13, drafted by the Miami Dolphins.
Joey Bosa Salary With San Diego Chargers
With the Chargers, Joey Bosa is expected to earn $25.9 million on his contract, including a $17 million signing bonus. Leading up to the 2016 NFL draft, Bosa tweeted his gratitude for the support he received throughout his football career:
NFL Salaries of Past Rookies
The NFL draft is a lucrative business. Here's a look back at top picks that made millions.
Andrew Luck Net Worth: $20 Million
Andrew Luck was the No. 1 pick in 2012. Spotrac reported he signed a four-year, $22.1 million contract with the Indianapolis Colts, including a $14.5 million signing bonus. Andrew Luck's net worth is $20 million.
Cam Newton Net Worth: $25 Million
Cam Newton was the No. 1 overall pick in 2011, picked up by the Panthers. He signed a four-year, $22 million contract, including a $14.5 million signing bonus. Cam Newton's net worth is $25 million.
Sam Bradford Net Worth: $25 Million
Sam Bradford was the No. 1 pick of 2010, picked up by the Rams. He signed a six-year, $76 million contract, reported the International Business Times. Sam Bradford's net worth is $25 million.
Endorsements and Sponsorships of NFL Players
NFL players earn big paychecks, but not just from their teams. According to Forbes, nine NFL players raked in more than $5 million in endorsements, sponsorship deals and more. Here's a look at what some of the top earners of 2015 made off the field:
Peyton Manning: $12 million
Drew Brees: $11 million
Eli Manning: $8 million
Aaron Rodgers: $7.5 million
J.J. Watt: $7 million
Russell Wilson: $6.5 million
Tom Brady: $6 million
Marshawn Lynch: $5 million
Tony Romo: $5 million
More from GOBankingRates:
Calling all HuffPost superfans!
Sign up for membership to become a founding member and help shape HuffPost's next chapter